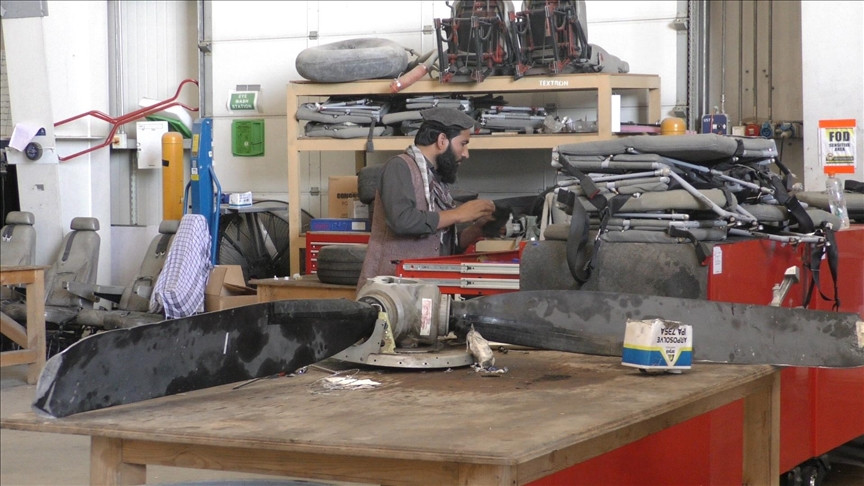 ---
KABUL:
The Taliban interim administration repaired 70 damaged military planes and helicopters that were damaged by US soldiers before they left Afghanistan after 20 years in August last year.
The Afghan Air Force has repaired 70 damaged military planes and helicopters given to the previous government of President Ashraf Ghani by the US and its allied forces, Afghan Defense Ministry spokesman Inayatullah Khawarizmi told Anadolu Agency in Kabul.
He added that all of them are now in service and being used by the Afghan Air Force.
US soldiers had damaged military aircraft, helicopters, and a wide range of other military vehicles before leaving the country on Aug. 31, 2021.
"We didn't have a single operational aircraft when we came to power," he said.
The Taliban interim administration then began to rebuild the Afghan Air Force, Khawarizmi said, adding that "over 70 destroyed planes and helicopters have been repaired and put into service so far with our own means and the support of our technicians."
Other damaged and unusable military aircraft and helicopters are still being repaired, he added.
Approximately 600 pilots and technicians worked for the Afghan Air Force during the previous Ghani government, and a significant number of them left the country in August of last year.
On the Taliban's request, approximately 40 pilots and technicians returned to Afghanistan and began their work, he said, thanking them for repairing the damaged planes and reintroducing them into the air force.
"We supply the parts we require in the repair of airplanes and helicopters from planes or helicopters that are severely damaged or beyond repair because we cannot purchase spare parts for them. We completed these works entirely on our own," he said, adding that they are also not in a financial position to purchase new military planes or helicopters.
Military jets, helicopters in neighboring states
During the Ghani government, the Afghan Air Force had 183 planes and helicopters, nearly 70 of which were taken to neighboring countries, Uzbekistan and Tajikistan, by Afghan soldiers at a time when the Taliban were seizing provinces one by one and finally the capital Kabul in the first half of August last year.
Since forming the interim Taliban administration, Kabul has asked both countries to return its military aircraft and helicopters, but its requests have gone unanswered.
However, Khawarizmi said negotiations on the issue are still ongoing, "because these aircraft belong to the Afghan people, they must be returned. Good neighborly relations necessitate this as well," he added.
Meanwhile, a Taliban official said the Kabul administration has succeeded in re-establishing the Afghan army and has raised it to over 100,000 personnel, with plans to increase the number of personnel in the coming years.
"We recruited soldiers from the previous administration and inducted them into the new army," he said, urging all former soldiers to return to their positions.
"We accepted everyone who came," he said, adding that "We are all working together for Afghanistan's future. The newly formed army includes people from all ethnic groups. It is important for us to be Afghan and Muslim, regardless of race," the spokesperson said, using his Uzbek-Turk ethnicity as an example.
"With the establishment of the interim government, our training activities for the new army are continuing," he said of the training of soldiers in the new army.
"Initially, we used to provide a 40-day short-term training program. However, we have now increased the training period to three and six months," he added.
ISIS/Daesh presence
Khawarizmi claimed that security has been ensured throughout Afghanistan and that the criticism of security negligence is mere "propaganda."
He claimed that "no region in the country is controlled by ISIS/Daesh."
They did not consider the terrorist organization to be a potential threat to the country in this situation, he said, adding that "sometimes they carry out attacks. However, this does not imply that Daesh is powerful in Afghanistan."
The spokesman denied that the ISIS/Daesh terrorist group has any camps in Afghanistan, saying that the militants carried out terrorism not only in Afghanistan but also in other countries.
In response to a question about armed conflicts with Pakistani and Iranian border troops, he said there are occasional clashes, but these are due to "some misunderstandings."
COMMENTS
Comments are moderated and generally will be posted if they are on-topic and not abusive.
For more information, please see our Comments FAQ