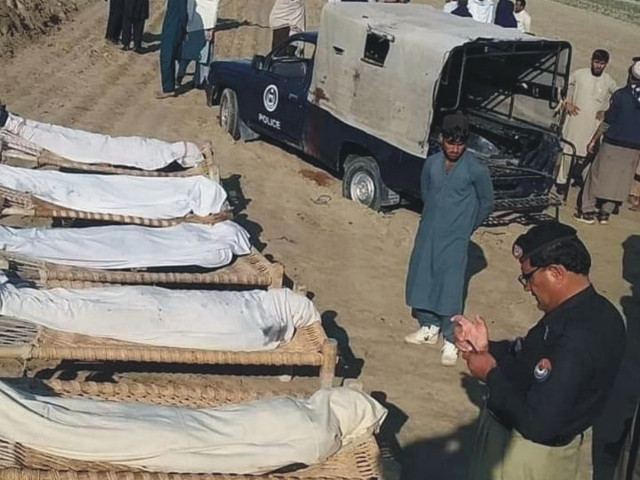 ---
PESHAWAR:
The year 2022 has been yet another bloody year for Khyber-Pakhtunkhwa (K-P) police as it remained the primary target of militants despite the on-going peace talks with Tahreek-e-Taliban Pakistan (TTP).
As many as 105 police personnel were martyred in 151 militant attacks this year across the province.
K-P Inspector General of Police Moazzam Jah Ansari said that a total of 105 police personnel embraced martyrdom in 151 attacks since January 2022.
According to a report issued by the Central Police Office (CPO) here on Saturday, a total of 109 policemen sustained injuries during these attacks.
The report said the weapons left bahidn by NATO forces in Afghanistan were used against K-P police including thermal imaging devices which enabled them to stage surprise attacks under the cover of darkness.
"These attacks were carried out by militants released from prisons after the fall of Kabul last year," says the report.
The report stated that 16 policemen were martyred in April and 19 injured in September this year.
Police registered 151 cases in the first eleven months of this year under 7 ATA.
The biggest target of militants was police mobile vehicles, the report added.
Militants also carried out attacks against individuals from Sikh and Christian community with utmost success.
In March a Shia mosque was targeted by a suicide bomber inside the walled city of Peshawar, killing 56 worshippers and injuring 190.
The attack was claimed by ISIS-Kurasan.
Police also claimed killing of the mastermind of the attack in a police encounter on the outskirts of Peshawar.
In September this year TTP militants suddenly appeared on the mountain tops in Matta, Swat. They also kidnapped a police DSP who had been sent to the area to verify the reports of the presence of armed militants in the area.
It was followed by a deadly suicide attack at a former peace committee member in Swat which killed eight people.
This attack sparked widespread protest across Swat and other districts.
In August PTI MPA Malik Laiqat Khan was shot dead with three other family members in Dir Lower apparently when he refused to pay extortion money to militants.
Local residents in Swat, Dir Lower, Kurram, Shangla, Buner, Khyber, Kurram, Lakki Marwat and North and South Waziristan staged protest rallies against increasing lawlessness and return of armed bands to the parts of Malakand Division.
They demanded of the government to establish its writ with iron hand and allow police to take action against militants.
Published in The Express Tribune, November 20th, 2022.
COMMENTS
Comments are moderated and generally will be posted if they are on-topic and not abusive.
For more information, please see our Comments FAQ