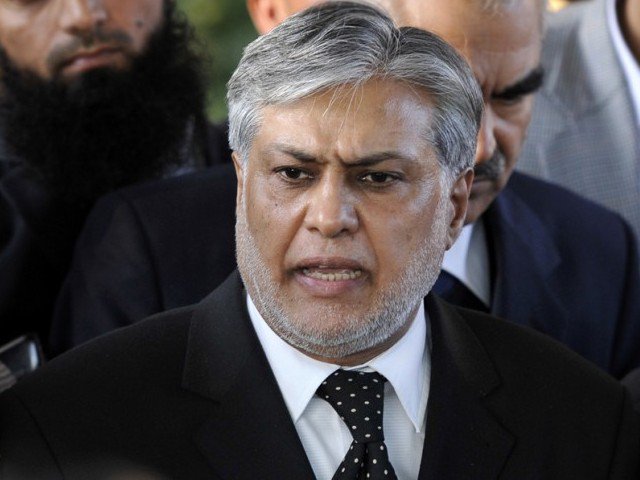 ---
ISLAMABAD:
Finance Minister Ishaq Dar on Saturday rushed to quash rumours about an impending default and reiterated that Pakistan woud not seek extension in the payment of $1 billion Sukuk bond, maturing next month.
He also claimed a reduction of $6 billion in the country's external financing requirements against the initial estimates.
In a brief video statement, Dar said rumours were circulating that Pakistan would not be able to pay $1 billion Sukuk bond on December 5. "Pakistan never defaulted except in 1971 on a small amount and I want to categorically state that the bond will be paid, and there is no possibility of delay," said Dar.
He also appealed to political opponents, mainly Imran Khan without mentioning his name, that no one should play with the economic future of the country for petty political interests.
Dar claimed that Pakistan has made in-principal arrangements for external debt repayments during next one year.
However, his ministry is facing serious challenges in arranging the required loans, as Pakistan could get only $4.2 billion foreign loans during July-October period, hardly equal to 19% of the annual budget estimates.
He also came down hard on people, mainly the PTI, for blowing out of proportion Pakistan's perceived default risk indicator. Measured by the 5-year credit default swap (CDS), the risk hit 75.5% on November 15, 2022.
Dar said that the rumours were spread on a political basis pertaining to the CDS, which need to be avoided for the sake of the country. The minister claimed that the indicator was irrelevant and often used for ulterior objectives by those who run it. "Pakistan's international bonds are a very small transaction, and technically, there should be no impact on them," he added.
Pakistan's 5-Year CDS increased from 5,620bps on November 14 to 7,550bps on November 15, an increase of 1,929.6bps. The increase comes in tandem with falling foreign exchange reserves held by the State Bank of Pakistan (SBP) that remained less than $8 billion as of November 11, 2022, according to data released on Thursday.
The finance Minister also said that the country's current account deficit remains below the initial estimates, which should be a relief to the policy maker.
Dar said that people were making irresponsible statements that the current account deficit would reach its peak and become unmanageable by the end of this year. "I would like to state that there are no such concerns, we are keeping a vigilant eye. It is being managed in a professional manner."
He said that the current account deficit remained at $316 million, and in October it is expected to be below $400 million. This will translate into $5 billion to $6 billion by the end of this year as against the earlier estimates of $12 billion.
The IMF had worked out Pakistan's gross external financing requirements at $34 billion on the basis of the $12 billion deficit.
The SBP governor said two weeks ago that the current account deficit will remain far below the $10 billion mark compared to nearly $18 billion in the previous fiscal year.
The government has massively slowed the industrial wheal and contained the imports through administrative controls to bring down the current account deficit.
It has not been allowing free imports of machinery, equipment and vehicles.
The IMF has given relaxations to Pakistan on introduction of the capital controls, which a member state cannot introduce except in emergency circumstances.
Dar also dismissed rumours of a looming fuel shortage, saying that adequate reserves stocks were available without giving the exact number.
"Rumours regarding shortage of petroleum products were also spread. We have sufficient petroleum reserves to meet the country's requirements," said Dar.
The finance minister said that such rumours should be avoided, as it has caused concern among masses including international financial institutions.
COMMENTS
Comments are moderated and generally will be posted if they are on-topic and not abusive.
For more information, please see our Comments FAQ