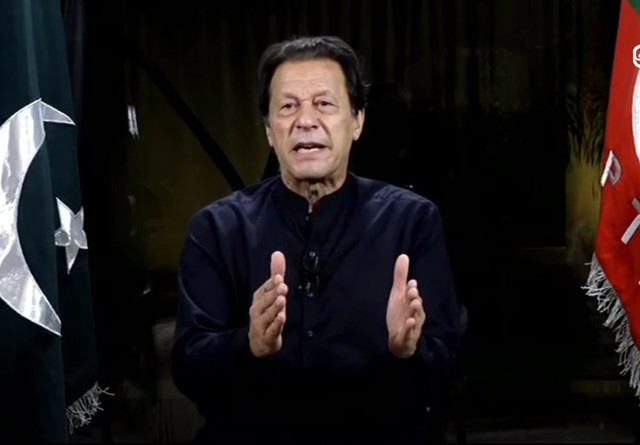 ---
ISLAMABAD:
While announcing what appeared to be the final showdown with the government to force it to announce early election date, PTI Chairman Imran Khan on Saturday asked people to converge on Rawalpindi on November 26 to restart "Haqiqi Azadi March".
Addressing the participants of the rally in Rawat, some 200 metres away from the federal capital, the PTI chief announced via video link that he was temporarily ending the march and its next phase would continue from Rawalpindi on the 26th of the current month.
"Our campaign hasn't ended. We will gather on November 26 and demand transparent elections," he added.
Imran inquired what goal the security establishment had achieved by bringing the new rulers.
He claimed that terrorism had increased by 53% and 88% of investors had declared the country's economic policies as faulty.
"Then why were they [current rulers] imposed on us? It has been seven months since they came into power. Tell me one area where there has been an improvement, he added.
The PTI chief asked the security establishment what happened during the course of over three years that it changed its perception about these people.
Imran paid tribute to the participants of the long march, saying there had never been such a political struggle in the past.
"Our Mir Jafars and Mir Sadiqs shook hands with the foreign conspirators and our traitors overthrew our government," he maintained.
The PTI chief said his party had been spreading awareness among the people since that day,
"Even women participated in our long march. Only an enlightened nation struggles for its independence," he added.
The former premier recalled that it had been seven months since their struggle started and many people had made sacrifices for it.
"I will never forget the atrocities inflicted upon us on May 25 [this year]. These fascist people [current rulers]mare involved in the murder of peaceful protesters," he claimed.
The PTI chief alleged that there was a report according to which PM Shehbaz Sharif had several people murdered between the years 1997 and 1999.
Similarly, he claimed that Interior Minister Rana Sanaullah was involved in several killings.
"They were never able to stage massive rallies such as ours. Two of our activists embraced martyrdom when they [law enforcement agencies] resorted to shelling and firing at our people," he added.
Imran pointed out that he had been booked in 23 cases and FIRs had been registered against almost every leader of his party.
The PTI chief claimed that PPP Chairman Bilawal Bhutto-Zardari and JUI-F chief Maulana Fazlur Rehman had staged long marches against his government but they were never stopped.
"[During the current government's tenure] one 'Dirty Harry' arrived and created an atmosphere of fear in Islamabad through his cruelty. Such cruelty was not even witnessed during [former military ruler] Musharraf's era," he added.
Imran further claimed that he was treated like a traitor and intelligence agencies bought the loyalties of his servants by paying them money.
"[Imran's aide] Shehbaz Gill was rounded up over a sentence. The producer [of the talk show] was also whisked away. Shehbaz Gill was stripped naked in custody and brutally beaten," he maintained.
The PTI chief also alleged that a university professor was murdered to spread fear and panic.
He added that 75-year-old Azam Swati, a PTI senator, was stripped naked and beaten over a tweet.
"If that was not enough, a video of Swati and his wife was sent to them. They thought such tactics would deter Imran Khan. They even tried to assassinate me during the rally but I was already aware of their plan. They even tried running a blasphemy campaign against me," he said.
Imran claimed that he was receiving letters that his life was in danger but despite that, he was going to reach Rawalpindi to lead the long march.
"I'm not stepping out for politics, but to achieve real independence... to save the people from the slavery of thieves. It's better to die than being slaves to the children of these thieves" he said.
The PTI chief maintained that the children of these thieves had become billionaires without even working for an hour in a day.
He added that Hassan Nawaz, one of the sons of PML-N supremo Nawaz Sharif, had sold a property in London for Rs10 billion.
Imran said Bilawal had no political future and he would continue searching for his father's plundered wealth.
COMMENTS
Comments are moderated and generally will be posted if they are on-topic and not abusive.
For more information, please see our Comments FAQ