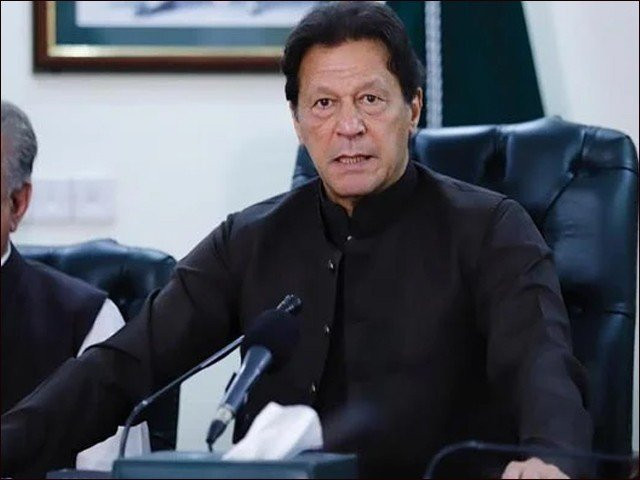 ---
Pakistan Tehreek-e-Insaf (PTI) Chairperson Imran Khan on Wednesday slammed a local news channel and its anchor for a 'baseless story' a day after a well-known Dubai-based businessperson came on the channel and claimed he had bought some of the state gifts from Farah Gogi and Shahzad Akbar.
Taking to his official Twitter handle, the deposed premier maintained that the TV network and anchorperson were "supported by handlers".
Enough is enough. Yesterday Geo & Khanzada supported by Handlers slandered me through a baseless story cooked up by a known fraudster & internationally wanted criminal. I have spoken to my lawyers & I plan to sue Geo, Khanzada & the fraudster not only in Pak but also in UK & UAE.

— Imran Khan (@ImranKhanPTI) November 16, 2022
He furthered that he was "slandered … through a baseless story cooked up by a known fraudster and internationally wanted criminal".
Imran stated that he had spoken to his lawyers and planned to sue the network and anchor, "not only in Pak but also in UK and UAE".
His remarks come after businessperson Umar Farooq Zahoor, in an interview, said he bought expensive items, gifted to the PTI chief by Saudi Crown Prince Mohammad bin Salman, for $2 million.
He further alleged that the adviser to the former premier on accountability Shahzad Akbar had contacted him in 2019 to sell watches, rings, and other gifts and said also has evidence to substantiate the claims he was making.
The businessman went on to allege that he was later blackmailed, and fake cases of money laundering were registered against him by the Federal Investigation Agency (FIA) at the behest of Shahzad Akbar after he refused to listen to the demands made by his former wife Sophia Mirza.
Read Toshakhana reference sent to trial court against Imran
"Farah Khan herself brought the gifts to my office in Dubai and told me that the items had been gifted to Imran Khan by the Saudi crown prince," he claimed and added that he was convinced to buy them after he confirmed through his sources.
Farah's husband denies allegations
Meanwhile, Ahsan Jameel Gujjar, husband of Farah Gogi, immediately denied the allegations of any such trade, terming it "a fabricated and baseless story". Gujjar, speaking to Express News anchorperson Javed Chaudhry on his show 'Kal Tak', said neither he nor his wife knows Shahzad Akbar and Umar Farooq.
"We do not have a transactional relationship with Imran Khan and he never gave any gift to me or Farah," he claimed and demanded CCTV footage evidence to back the allegations.
Toshakhana reference
The official documents, available with APP, revealed in April that Imran and his wife had retained 52 free gifts worth millions "without paying a single penny".
The list of Toshakhana gifts received by ex-PM Imran between August 2018 and December 2021 had remained a secret during his tenure, making the situation scandalous to reports of hiding the information from the tax authorities.
Toshakhana is a department under the Cabinet Division which maintains the record of the precious gifts given to rulers, parliamentarians, and officials by heads of other governments, states, and foreign dignitaries as a goodwill gesture.
The then government had adopted the stance that the disclosure of any information related to Toshakhana would jeopardise international ties.
The list of gifts showed that the other valuables were kept by the couple after paying a meager amount than the assessed value.
From seven luxurious Rolex and other expensive watches to gold and diamond jewelry including multiple necklaces, bracelets, rings, multiple diamond chains, an expensive pen and cufflinks worth millions, dinner sets, perfumes, and Oud fragrance, the couple retained everything that different states of the world were gifting to Pakistan.
The most precious gift was presented by Saudi Crown Prince Muhammad Bin Salman during the very first visit of Imran to the kingdom. However, the Rs85 million Graff wristwatch was retained by the former prime minister by paying only Rs20 million.
COMMENTS
Comments are moderated and generally will be posted if they are on-topic and not abusive.
For more information, please see our Comments FAQ