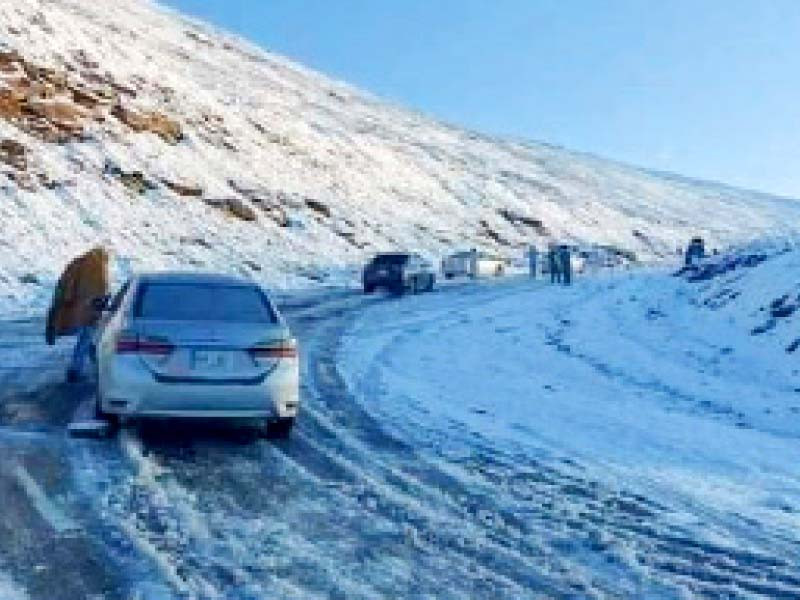 ---
BALAKOT:
The Babusar highway has been closed till the next season as it received over 5 inches of snow. In Kaghan and Naran Valleys the mercury dropped below zero, forcing locals to stay indoors.
According to the spokesperson of the police department, the tourist destination of Naran has been closed for all types of traffic. He added that up to 3 inches of snow has fallen in the Babusar Top area so far. Moreover, over four feet of snowfall has been recorded in Naran, he said, adding that tourists will not be allowed to go beyond Kaghan. "The police post in Naran has been closed. During the snowfall in Naran, the temperature dropped to minus 7 degrees Celsius."
According to DSP Balakot Siraj Khan, Naran police post has been abolished. He said that during the snowfall, the police personnel were always present on the Kaghan highway and were by their side in the problems faced by the tourists during the slippery conditions. Kaghan highway from Naran to Babusar Top will remain closed till next season, he confirmed.
On the other hand, with the start of snowy weather, the scenic valleys of Kaghan, Naran Babusar top, and Murree had transformed into a white wonderland that was offering tourists multiple opportunities for adventure and become a source of attraction for the visitors.
In Mansehra and Ayubia, rain and snow have fallen.
As per sources, rescue workers have been dispatched to the area to rescue tourists stranded with their vehicles.
Published in The Express Tribune, November 16th, 2022.
COMMENTS
Comments are moderated and generally will be posted if they are on-topic and not abusive.
For more information, please see our Comments FAQ