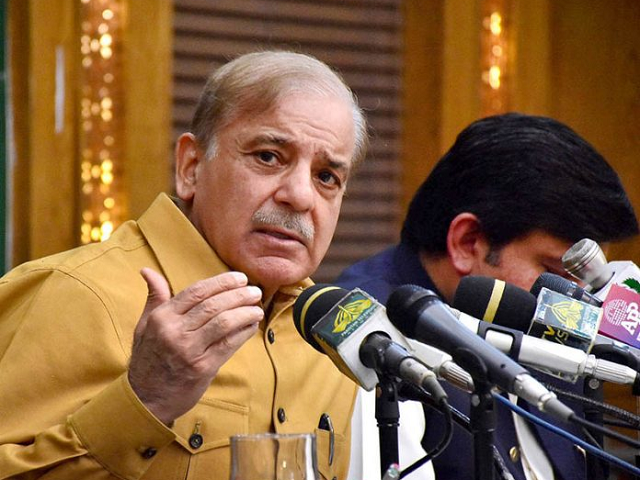 ---
PM Shehbaz tests positive for Covid-19 for third time
Information minister says premier had been unwell for two days, took test on doctor's recommendation
---
Prime Minister Shehbaz Sharif has tested positive for the coronavirus once again on Tuesday.
Minister for Information Marriyum Aurangzeb, through her official Twitter handle, stated that the premier had been unwell for the past two days and took the Covid-19 test today on a doctor's recommendation.
She requested the nation and Pakistan Muslim League-Nawaz (PML-N) workers to pray for Shehbaz's speedy recovery.
وزیراعظم شہباز شریف کورونا پازیٹو ہوگئے ہیں۔ دو روز سے طبیعت ناساز تھی۔ ڈاکٹر کے مشورے سے آج کرونا ٹیسٹ کروایا گیا عوام اور کارکنان سے وزیراعظم کی جلد صحت یابی کی دعا کی اپیل ہے۔

— Marriyum Aurangzeb (@Marriyum_A) November 15, 2022
This is the third time that the PM has tested positive for the virus. He was previously diagnosed with the coronavirus in January this year as well as in June 2020.
The premier was in London last week and had delayed his departure due to sickness. He returned to Pakistan on Monday.
Read Shehbaz slams Imran for taking 'U-turn on US conspiracy'
Sources had claimed that the prime minister had stayed in London for two extra days. He had a mild fever just before leaving the airport, and his family had advised him not to fly.
The extended stay of PM Shehbaz Sharif along with his key advisers in London purportedly to discuss the appointment of the army chief and other issues of national importance with his elder brother Nawaz Sharif heightened confusion and sparked rumours about the appointment.
Shehbaz had reached London last week after attending the COP27 Summit in Egypt.
Meanwhile, Pakistan Peoples Party (PPP) co-chair and former president Asif Ali Zardari prayed for PM Shahbaz's speedy recovery.
"It is hoped that Prime Minister Shehbaz Sharif will recover soon and serve the country and the nation," he said.
President Arif Alvi also wished for the premier's early recovery.
صدر مملکت ڈاکٹر عارف علوی کی وزیراعظم شہباز شریف کا کورونا ٹیسٹ مثبت آنے پر ان کیلئے جلد صحتیابی کی دعا

صدر مملکت کا وزیراعظم کی صحت کیلئے نیک تمناؤں کا اظہار

کورونا کے دوران احتیاط کریں، اللہ تعالیٰ آپ کو جلد صحت کاملہ عطا فرمائے، صدر مملکت

— The President of Pakistan (@PresOfPakistan) November 15, 2022
He expressed good wishes for Shehbaz's health and emphasised taking good care during the phase of illness, the President's House said in a statement.