 ---
After Danyal Zafar shared photos of his burgundy-coloured hair on social media, the singer received an array of demeaning comments regarding his body, hair, and "masculinity." In response, his elder brother and singer Ali Zafar shared an Instagram Story in his defence.
Ali stressed that outdated concepts of masculinity needed to be done away with and urged his brother to refrain from going back to his black, short hair, just because a few haters keep hatin'. He penned, "Yo, Danyal. Now I will get upset with you if you cut your hair or dye them black."
He further encouraged Danyal to "kill the concepts of masculinity" that are not relevant to the current society. "Gotta kill these concepts of masculinity from stone ages," he stated.
The Teefa in Trouble actor then proceeded to order his younger brother to dye his hair "pink" for his next shoot and pair it with a "fuchsia-coloured jacket." He wrote, "For the next shoot, have long pink hair with a fuchsia coloured jacket, and a clean shaved face."
Ali concluded his story by giving a nod to Generation Z, letting them know that they have the right to define themselves. "Who are Gen Z?" he chanted.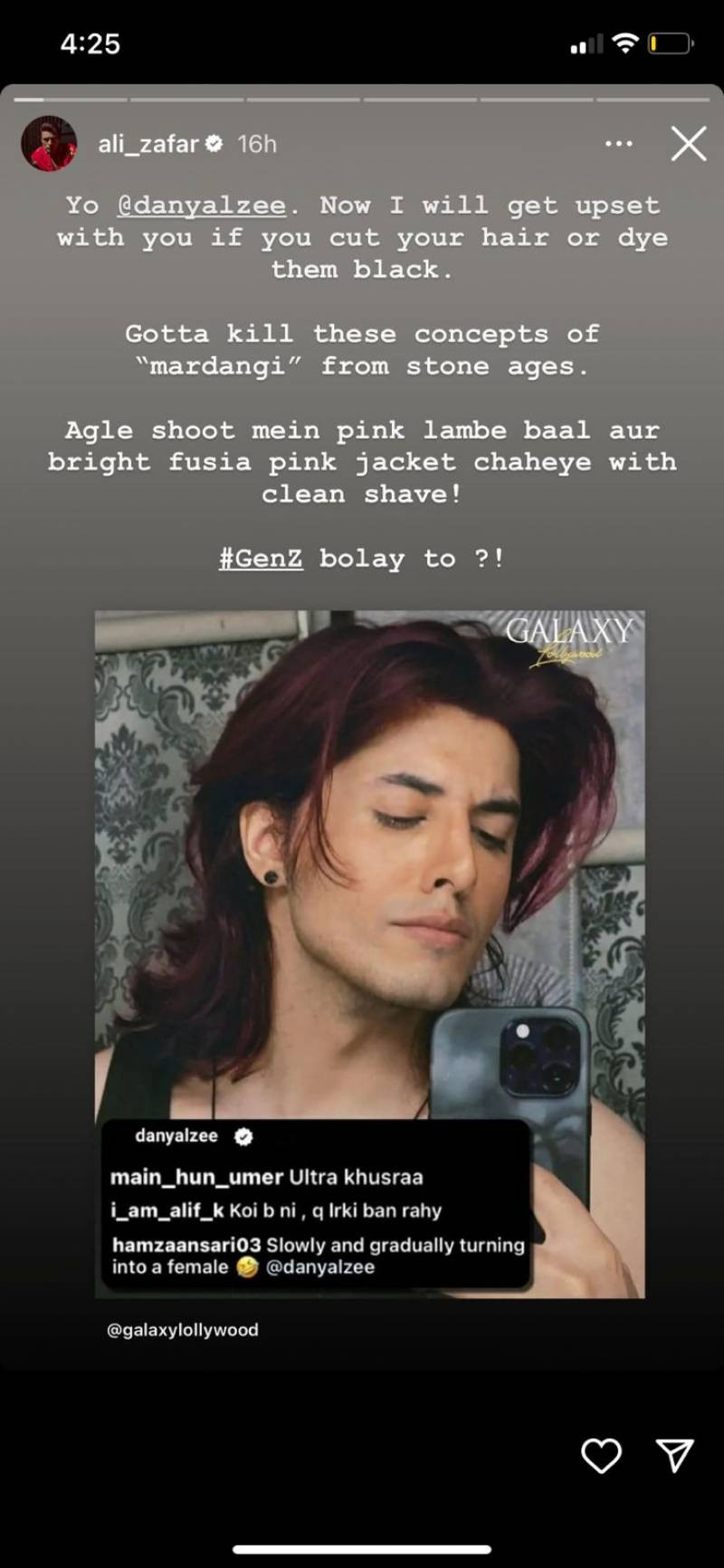 On November 7, Danyal posted a photo of his new hair, which received numerous insulting comments about his appearance. Most of them referred to the singer as a female, such as "Who is she," "You used to be a man," and "six months transformation from male to girl."
The singer responded to the criticism by sharing the aforthmentioned derogatory remarks on his Instagram story and defended his new look with confidence and pride.
Have something to add to the story? Share it in the comments below.
COMMENTS
Comments are moderated and generally will be posted if they are on-topic and not abusive.
For more information, please see our Comments FAQ