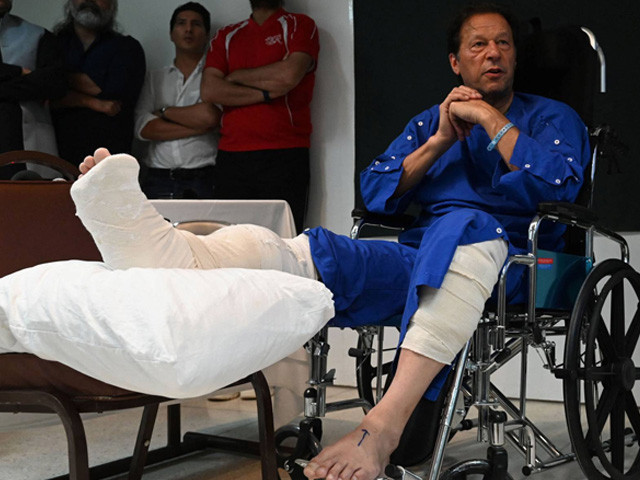 ---
Pakistan Tehreek-e-Insaf (PTI) Chairman and former prime minister Imran Khan has alleged that "deep state" in Pakistan controlled everything and that it was stopping the Punjab police from registering a First Information Report (FIR) of the assassination attempt on him in Wazirabad last week.
In an interview with Turkish news channel, TRT, Imran said that justice was promoted when every person, even the most powerful, was brought under rule of law. He urged the chief justice of Pakistan to be "more assertive" when it came to dispensing justice.
"My party rules in Punjab […] I'm the former prime minister and head of the largest political force in the country, yet I could not get a case registered against these three people," he said, referring to Prime Minister Shehbaz Sharif, Interior Minister Rana Sanaullah and a senior military officer.
"I know they were involved. I know that these three people will be implicated. But even then I can't register an FIR against them," he stated. "It is my right […] they almost killed me […] it was a death trap that I survived, at least I should have the right to find out whose motive was to bump me," he added.
Imran sustained bullet wound to his leg when shots were fired at him while he was leading his party's 'Haqeeqi Azadi March' in Wazirabad last week. Later in a video message, Imran named the three responsible for the assassination attempt on him.
However, the registration of the FIR of the attack was kept on delaying. On Monday, the case was registered by police after the Supreme Court's ultimatum to the Punjab inspector general of police. However, the FIR did not mention any of the three men, accused by Imran Khan.
The former prime minister pointed out that despite having a government in Punjab, he had been unsuccessful in registering the FIR of the attack. "The Punjab police refused. Who is controlling the Punjab police," he raised the question.
"I, as the head of a province, can't get the three people to be investigated, imagine what will the situation be for the common man," the PTI chief said, stressing that justice was when every person, even the most powerful, was brought under the rule of law. He said that PTI's movement for "real freedom" demanded rule of law.Assassination plotIn a separate interview with Becky Anderson for the CNN, the former prime minister maintained that he was in power for three and half years and still had "connections within intelligence agencies" who "notified him" of the attack in advance.
"About two months ago this plot was conceived, I went on in public on September 24 and I announced this plot," detailing "exactly" how the events would unfold, and how in the name of blasphemy a religious fanatic would attempt to kill him and the government would blame him.
Giving the "background", Imran said that it started when he was removed from the government. "It was expected that our party would just fall apart [but] in fact… there was a big public backlash to those two families [the Sharif and Zardari families] being imposed upon us again who have been ruling for 30 years".
Imran highlighted that the PTI garnered public support and "won 75% of by-elections after being removed from power" thus causing the government to make him run "out of the race" by trying to disqualify him and accusing him of terrorism.
"They tried everything to get me out of the way, and when that did not happen, this [the assassination attempt] was planned," he said, adding that two months ago, an agency produced a video of him accusing him of blasphemy and then a journalist came up with another video claiming that Imran had offended religious sentiments.
Imran stated that it was then he went on air and claimed it was a planned attempt because "if they assassinated me, the evidence would go to the government, so they made it out that I was [killed by] a religious fanatic".
Anderson pointed out that the attack was condemned by Prime Minister Shehbaz Sharif and Interior Minister Rana Sanaullah, and Imran's allegations were deemed "unacceptable" by the military. She questioned if it was "not conceivable that the perpetrator was acting alone".
Imran replied that "there were two shooters", the first hit him in the legs and was only stopped because a person in the crowd "pulled his gun down". He claimed that another volley then attacked the top of the container and came over the PTI leaders' heads.
Imran maintained that the "cover-up" after the attack was the reason he sought an independent investigation. "An independent investigation cannot happen with these three people on top," he stated, adding that he had appealed to the chief justice of Pakistan to conduct an independent inquiry.
When asked about the reversal of the ban on his speeches by Prime Minister Shehbaz, Imran stated that the ban would not have stood in any court of law, adding that they had no basis to ban him. He added that "clampdown on media in Pakistan is unprecedented".
He also mentioned the killing of "one of the best investigative journalists, Arshad Sharif", in Kenya. "Two of my closest aides…one a senator, were stripped naked and tortured and both blamed the senior intelligence officer," he added.
COMMENTS
Comments are moderated and generally will be posted if they are on-topic and not abusive.
For more information, please see our Comments FAQ