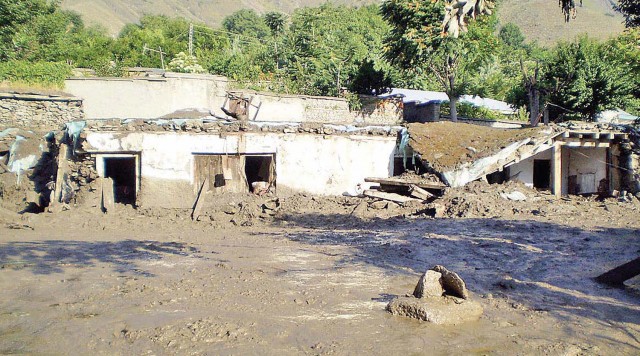 ---
PESHAWAR: Six people are missing following flash floods that hit a village late on Thursday in the northern district of Chitral, officials said.

A police official told The Express Tribune that eight bodies had been recovered but warned the numbers could rise as the flood had caught locals off guard. He said that five of the dead were women and the six injured people were being treated at the hospital. The floods also destroyed a mosque and two houses in nearby Mustajapandeh.

Locals told The Express Tribune that the flood hit Uchusht, a village in Chitral on Tuesday evening, and destroyed 25 houses. The village is situated close to the Chitral town, the capital of the district.

"The Tushen Gol stream overflowed its banks following torrential rains and the flood happened so quickly that villagers were not able to even leave their homes," Farzand Ali, a resident of Chitral, told The Express Tribune.

Ali said that the flood washed away several houses and damaged standing crops. Telephone connections and electricity supply in the area were also disrupted, he said, adding that authorities had restored electricity and water supply to the affected village and tents were being set up for affected families.

He said that relief activities were severely hampered as the flood had hit during the night and electricity supply was suspended. He said that the local authorities and volunteers were engaged in relief activities and those affected by the flood were staying with relatives. Rescue workers are being helped by personnel from Chitral Scouts, the police and Focus International volunteers. Residents and students from local schools and colleges are busy in relief activities.

The district administration has arranged tents and water, and free food supply has also been set up for the people stricken by the floods. Locals said that the Al-Khidmat Foundation had also set up a camp for the affected people while the district government has announced that affected families will be provided ration for a month. DCO Chitral has also announced Rs1 million for flood victims and said that affectees would be compensated for their losses.

Published in The Express Tribune, June 26th, 2010.
COMMENTS
Comments are moderated and generally will be posted if they are on-topic and not abusive.
For more information, please see our Comments FAQ