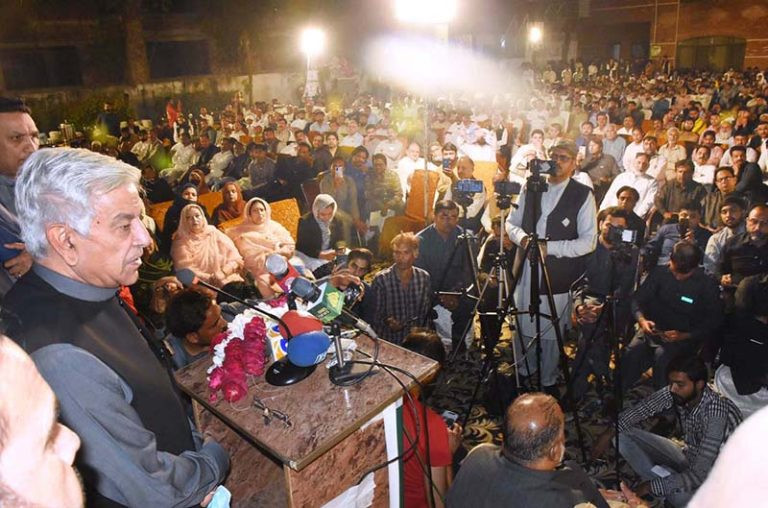 ---
LAHORE:
Defence Minister Khawaja Asif on Friday claimed that Punjab Chief Minister Pervaiz Elahi will abandon former prime minister and Pakistan Tehreek-e-Insaf (PTI) Chairman Imran Khan, who had recently survived an assassination attempt in Wazirabad.
"Imran Khan used to call Elahi the biggest criminal of Punjab and today this incident happened under the same 'biggest criminal'," he said while addressing workers' convention in Sialkot.
Bashing Imran, Asif said that no medical tests were conducted on the injured and the crime scene was not even cordoned off which showed a plan in motion to push things towards a "certain direction".
Read more: Continue protests until three accused involved in attack resign, Imran tells supporters
He said that even the FIR of the incident couldn't be lodged as PTI was trying to lodge a whimsical FIR by nominating Prime Minister Shehbaz Sharif, Interior Minister Rana Sanaullah and a senior military officer.
The defence minister said that there was little to doubt after the video statement of the attacker. "Three videos of his statement went viral. He regretted that he failed to hit his target," he added.
Khawaja Asif said that the bullet casings found from the crime scene indicated the usage of SMG as well. He said that it was important to bring details before the people that sound minor as PTI could use them to cobble up a propaganda campaign.
He said that Imran Khan's long march had actually turned into a "short march" as by the time it reached Wazirabad, it lost all its steam.
The PML-N leader said that Imran Khan's biggest regret is that he was deprived of the opportunity of selecting the army chief of his own choosing, adding that the former prime minister wanted to hand-pick the army chief which would allow him to extend his rule for another five-year term.
He said the army chief will be appointed by PM Shehbaz Sharif, in line with rules and procedure. He said that former prime minister Nawaz Sharif has the honour of having appointed the most number of army chiefs in Pakistan's history.
He said that Imran Khan was the biggest thieve in the country. "He called others robbers and thieves but the ECP's decision found him to be the thief, exposing him before the people," he added.
The minister further said that they will file another case against Imran for "high treason".
COMMENTS
Comments are moderated and generally will be posted if they are on-topic and not abusive.
For more information, please see our Comments FAQ