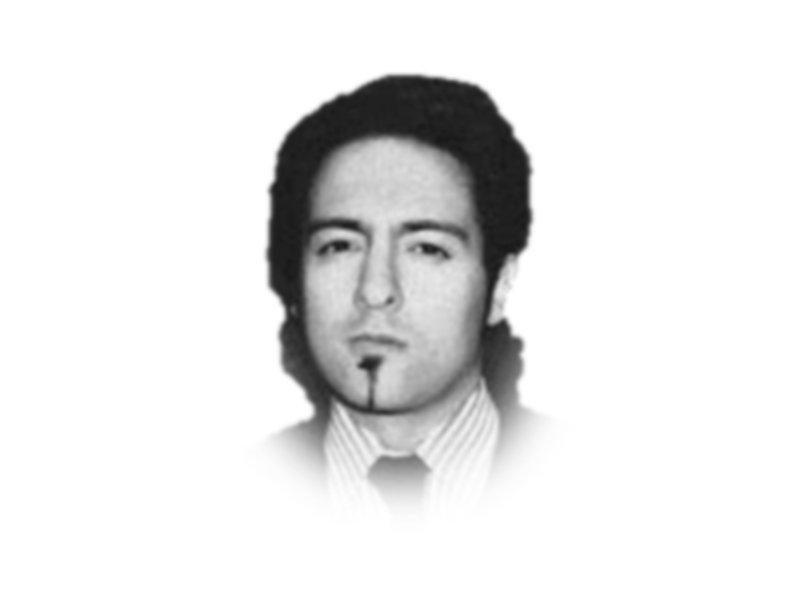 ---
At a Congressional Campaign Committee reception in Los Angeles on October 14, US President Joe Biden brought up Pakistan's nuclear programme with shockingly undiplomatic language. He mentioned Pakistan twice at the public form first vis-à-vis China, then stating that Pakistan is "one of the most dangerous nations in the world" which has "nuclear weapons without any cohesion".
Tragically, these were not off-the-cuff remarks and ramblings, as an official White House transcript indicated President Biden meant what he said, leading to strong rebuttals from PM Shehbaz Sharif and FM Bilawal Bhutto-Zardari and a demarche by the Pakistan's Ministry of Foreign Affairs.
Biden's remarks lacked explanation, context and coherence. Ely Ratner, US Assistant Secretary of Defense, last month reminded that "US interests associated with defense partnership with Pakistan were primarily focused on counterterrorism and nuclear security".
Given Washington's mounting rivalry vis-à-vis Russia and China, it could be that Biden's comment was a veiled threat at isolating Pakistan if it continued to pursue rapprochement with Moscow and Beijing. If so, it would be déjà vu of the 'either you are with us or against us' ultimatum issued by George W Bush post-9/11. Whatever his intentions, it was irresponsible of Biden to leverage regional-bloc politics to make unsubstantiated remarks about Pakistan's secure nukes.
The Biden administration, humiliated by its frenzied exit from Afghanistan, seems bitter towards Pakistan for its own myopia in Afghanistan. Biden's attitude towards PTI was diplomatically distant; and after such comments, relations still seem frosty under the present government. Biden's latest outburst indicates anything but warmth towards Pakistan.
Pakistan ill-deserves such unwarranted remarks given its impeccable nuclear stewardship with the Strategic Plans Division and diligent adherence to international IAEA best practices.
The Nuclear Threat Initiative (NTI) report ranked Pakistan as the most "improved country" on Safety and Security of Nuclear Assets, ahead of India. Pakistan demonstrated exemplary restraint and sangfroid in response to India's "accidental" firing of a BrahMos cruise missile that landed across the border in March, 2022. The BrahMos incident was a clear violation of global nuclear safeguards for which India faced no accountability.
In March 2022, an International Atomic Energy Agency (IAEA) mission confirmed that Pakistan's updated nuclear safety regulations by the Pakistan Nuclear Regulatory Authority strengthened its nuclear and radiation safety. This includes the modernisation of Pakistan's National Radiation Emergency Coordination Centre (NRECC) which strengthens Pakistan's ability to respond to a nuclear or radiological emergency.
At the request of the Government of Pakistan, the IAEA's Integrated Regulatory Review Service confirmed the country's strengthening arrangements for regulatory inspections, authorisations, emergency preparedness and response, occupational radiation protection and environmental radiation monitoring.
The IAEA confirmed safety of Pakistan's five civilian operating nuclear power reactors and that the country successfully implemented all 13 recommendations adequately addressing 29 out of 31 suggestions.
For President Biden to single out a responsible nuclear steward like Pakistan, with resilient nuclear safeguards, commands and controls in place with no reported incidents, while remaining conspicuously silent on serious incidents from India raises consternation.
The implications of Biden's statements can be concerning especially as they can further embolden an already bellicose BJP Party and Delhi's defence establishment's nuclear posturing and brinkmanship. India's Defence Minister Rajnath Singh hinted that New Delhi may alter its "no-first-use of nuclear-weapons" policy. If such Indian-provoked hostility occurs, New Delhi's war-mongering hawks can trigger a renewed nuclear arms race in a South Asia already teetering on a nuclear knife's edge.
Such Indian escalation could also strong-arm China to similarly alter its "no-first-use nuclear weapons" policy, triggering a sinister snowball effect of South Asian nuclear armament and proliferation.
Increasing US-Indian collaboration in sensitive defence technologies tilts the strategic power balance in South Asia. Groupings like AUKUS, Quad and the I2U2 (India, Israel, the UAE and US), with India shoring up their own nuclear capabilities, could force Islamabad's hand to further strengthen its alliance with China and Russia on the strategic chessboard.
A sobering reality is that Biden Administration's just released 2022 National Security Strategy does not mention Pakistan anywhere. A humbling reminder of its dwindling significance is Washington's security framework. India, by contrast, is declared a key bilateral partner for the 'Free and Open Indo-Pacific (FOIP)' policy. Washington will provide economic assistance to countries in China's sphere to checkmate the CCP's geo-economic foothold. Pakistan does not figure in any 'over the horizon' framework and its role as a "frontline state" against terrorism is not needed by DC.
Biden's comments should have been directed at a negligent India which blatantly disregarded the 1968 Treaty on the Non-Proliferation of Nuclear Weapons, the UN's UNSC Resolution 255 and the UNSCR 984 related nuclear security assurances and operates nuclear combat vessels in the Indian Ocean.
India has proven itself highly negligent with nuclear weapons. The state-induced nuclear smuggling and uranium theft in Jharkhand, Tamil Nadu and Nagpur can easily exacerbate black market smuggling and sales to terrorists. This must be of grave concern to the international community. The radioactive fallout could be cataclysmic.
If indeed Biden's misplaced remarks enhance Indian defence establishment hubris they can embark upon further hegemonic brinkmanship in South Asia escalating Pakistan's threat matrix.
Pakistan diligently foiled an Indian nuclear submarine's attempt to breach its territorial waters on March 1, 2022. India deployed its Kalvari submarine breaching Pakistan's maritime zone for reconnaissance. Delhi already operates the Chakra II stealth offensive submarine and the INS Arihant class of nuclear-powered ballistic submarines missiles jeopardizing regional maritime stability.
The US administration should highlight how India egregiously added a nuclear dimension to the Indian Ocean Region (IOR). The nuclearisation of the Indian Ocean is a threat to all the littoral states, most notably for Pakistan seeking a credible nuclear deterrence vis-à-vis India.
President Biden and his administration need to rectify and smoothen their recent incendiary comments. Islamabad cannot afford to fall into the trap of becoming a US "rentier" state, as during the epoch of Ayub, Zia and Musharraf.
Pak-US cooperation is required where mutual interests converge, from geo-economics to education to technology and more. Whereas in areas of divergence — such as Russia and China — Washington and Islamabad can agree to disagree.
It is quintessential to preserve a positive trajectory in the ever-evolving Pak-US relations to cement regional and international peace.
Published in The Express Tribune, October 21st, 2022.
Like Opinion & Editorial on Facebook, follow @ETOpEd on Twitter to receive all updates on all our daily pieces.
COMMENTS
Comments are moderated and generally will be posted if they are on-topic and not abusive.
For more information, please see our Comments FAQ