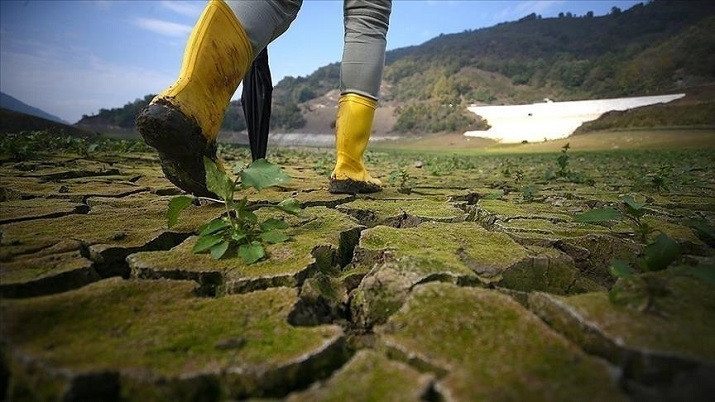 ---
ISLAMABAD:
Attributed to Louis XV of France, "Apres moi, le deluge" is often interpreted as the monarchy's indifference to financial excesses and a foreshadow of the French revolution.
In recent times, it has come to signify a nihilistic attitude of indifference to whatever happens after one is gone and literal forecasting of ruination, especially in the perspective of climate change and humanity's collective response to it. Even though climate change has received increased attention in recent years due to extreme weather aberrations worldwide, studies on global warming date back to the 1970s and were paradoxically funded by the oil and gas sector.
An inquiry into an alleged claim revealed that a multinational oil and gas corporation knew about climate change as early as 1977, years before it became a public issue.
Despite extensively investigating the effects of carbon-dioxide emissions on climate change, the company remained publicly hostile to the relevance of fossil fuels to global warming. It was a leader in climate change denial, run through campaigns of confusion, misinformation efforts, and opposing regulations to curb global warming.
In May 2022, the Massachusetts high court ruled against the company in a case filed by the state, accusing the company of "greenwashing" and deceiving the public about its contribution to climate change.
However, to truly fathom humanity's fecklessness, we must visit the Rio de Janeiro Earth Summit in 1992, when the United Nations Framework Convention on Climate Change (UNFCCC) was signed.
The goal was to encourage global collaboration to safeguard the planet, asking developed nations to lead the climate change revolution and rejecting scientific ignorance as a rationale to delay action.
However, at the behest of global powers, who were also the largest emitters at the time, the convention included no timetable or specific targets for action. With no benchmarks to meet, there was no motive to do anything.
The Kyoto Protocol (KP) was the first genuine effort to further develop and operationalise the UNFCCC commitments. It created legally binding "quantified emission restriction and reduction responsibilities" for developed countries, with no similar requirements for developing countries.
The KP was deemed insufficient for exempting developing and emerging economies with rapidly growing emissions from legally binding mitigation requirements.
Furthermore, some developed countries, the world's greatest emitters, withdrew from the accord, which deterred other countries, including China and India, from signing the treaty.
Canada officially renounced the KP in 2011, claiming its aims were unrealistic and a new deal was needed to reduce emissions.
The following decade did not see a decline in world emissions; rather, they increased by around 500%. As a developing country, China had no Kyoto target and surpassed the then-lead emitter as the world's largest annual emitter.
By 2009, it was evident that the globe was bound for catastrophic warming, and the parties resolved to create a new, comprehensive accord. This effort infamously failed in Copenhagen (COP15). Developing nations were unprepared to accept legally binding mitigation responsibilities; a cap on emissions was seen as a restriction on development and was thus ruled unacceptable.
At the same time, developed nations were not prepared to sign an agreement that did not recognise the increasing significance of GHG emissions in developing economies. An announcement was made before the conference that "world leaders have decided to put off the difficult task of reaching a climate change agreement."
Instead, they converted the mission of the Copenhagen conference to reach a less specific, "politically binding" agreement that deferred the most challenging issues for the future.
At COP17 in Durban in 2011, parties agreed to draft a new agreement to bridge the gap between developing and developed nations and discard the flawed tactic of negotiating mitigation obligations from the top down.
A watershed moment occurred in 2013 at Warsaw (COP19), when the concept of (intended) nationally determined contributions (NDCs) was first introduced, and parties affirmed bottom-up climate action targets consistent with their national development plans.
However, a year later in Lima (COP20), parties could not settle on a standard framework for these NDCs.
At COP21 in Paris, countries were encouraged to submit voluntary emission goals. This choose-your-own-adventure plan aimed to avert a repeat of the Copenhagen Accord by imposing obligations on all parties.
However, the achievement of the INDCs was not made legally obligatory when some developed nations realised at the last minute that "shall" had been adopted instead of "should," implying that developed countries would be legally required to decrease emissions.
The problem was diplomatically resolved by calling it a "typographical error" and replacing "shall" with "should." After tallying up the 158 nations' voluntary targets, experts estimated that global warming is on track to exceed 3-degree Celsius: a devastating scenario.
At COP26 in Glasgow last year, the principal goals were to achieve worldwide net zero emissions by 2050, limit warming to 1.5-degree Celsius, expedite the phase-out of coal, and mobilise $100 billion in climate finance annually.
However, the conference did little to assuage vulnerable countries' concerns about long-promised climate financing from developed nations. They contended that developed nations must fund their efforts to move away from fossil fuels and adapt to severe climatic repercussions.
India and China rejected the pledge to "phase out unabated coal" and pushed for "phase down coal" in the final draft, arguing that developing countries' efforts to meet the 1.5-degree Celsius target should be seen in the context of their efforts to eradicate poverty. Various nations opposed the modification, stating that "phasing out coal" was imperative for achieving the 1.5-degree Celsius goal, and not doing so would be a death sentence for small island states.
The UN secretary-general noted, "The approved texts are a compromise. …they take important steps, but unfortunately, the collective political will was not enough to overcome some deep contradictions."
This leads us to COP27, slated for next month in Egypt. Given that the barriers to addressing climate change are mostly not technological or scientific but primarily political, we must be critical of the efficacy of "delicate diplomacy."
Part 2 of this article will thus address what developed and developing nations must do jointly, in collaboration with the UN, IFIs, civil society, public and private sectors, and global citizens, to combat climate change.
Among the people genuinely concerned about climate change, the future of the planet, and coming generations, many are either ignorant of the magnitude of the problem or seem to hold the attitude, "After me, the deluge."
Whether war, deforestation, or climate change, people with no control over these matters always suffer the most. The time for procrastination is over. There is no backup plan. There is no backup planet.
The writer is a Fulbright alumnus, passionate about sustainable energy consumption and climate change
Published in The Express Tribune, October 17th, 2022.
Like Business on Facebook, follow @TribuneBiz on Twitter to stay informed and join in the conversation.
COMMENTS
Comments are moderated and generally will be posted if they are on-topic and not abusive.
For more information, please see our Comments FAQ