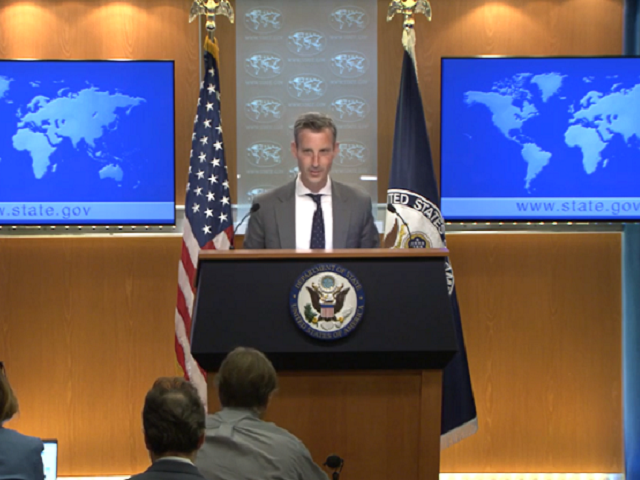 ---
The United States Department of State Spokesperson Ned Price on Tuesday said that the civilian government of Pakistan is the "primary interlocutor" in bilateral ties between Islamabad and Washington as he answered questions related to the country and the army chief's recent visit.
Referring to Chief of the Army Staff (COAS) General Qamar Javed Bajwa's trip, Price said, "The Deputy Secretary Wendy Sherman did have an opportunity to meet with the chief of the army staff Mr Bajwa," said Price during a press briefing in Washington DC adding that "we value our longstanding cooperation with Pakistan".
Read Price of status quo will be devastating: COAS
"There are a number of areas where our interests are aligned. Of course, the stability and the future of Afghanistan, of the Afghan people, the security challenges that the region and potentially beyond face there always are on the agenda when we have high-level engagements with our Pakistani counterparts," said Price.
"We meet with and speak with them regularly on a range of issues," Price noted but also stated that "as is standard practice, we don't delve into the details of those engagements always".
Earlier this month, General Qamar Javed Bajwa was in the US on a five-day trip in yet another sign of stepped-up efforts by both sides to improve their fraught and difficult relations.
During the press briefing in Washington, journalists probed for further details of the visit and asked if Gen Bajwa had also met with US Secretary Blinken. However, the US spokesperson brushed off the questions saying "we do not have any meetings to read out".
"The meeting I referred to was between Deputy Secretary Sherman and the chief of the army staff," Price clarified.
Read More COAS says army to stay out of politics
"I am just not going to characterise the meeting beyond what I said earlier," responded Price to further questions raised about the timing of Gen Bajwa's visit, before he reiterated earlier comments about "shared interests" between the two countries.
"There are security interests, there are economic interests, there are people-to-people ties and connections as well, but I'm just not going to speak to it," said Price.
"Of course, Pakistan has a civilian government that is democratically elected, and that is our primary interlocutor," he added.
Flood Aid corruption
During the briefing, Price revealed that the US had put "adequate tracking mechanisms" in place to ensure flood aid reaches the affected population.
This he said while responding to a question about allegations that "massive corruption and looting of relief items, especially in the province of Sindh" was taking place. The journalist also cited a UN report according to which "out of $150 million only $38 million has been converted into assistance".
"This is something we take very seriously, not only in Pakistan but anywhere around the world where American taxpayer dollars are implicated," said Price.
Also Read Floods wipe out crops worth Rs529 billion
He then went on to cite examples of checks that the US government keeps ensuring humanitarian aid is used for intended purposes such as regular site visits by USAID staff as well as partners that work in collaboration with local organisations.
"We have what's called a DART – a Disaster Assistance Response Team – and their members travel to more than 10 flood-affected districts in Balochistan, in Sindh province," revealed Price, "to assess not only the humanitarian conditions but also the response activities and to make sure that those response activities were meeting the humanitarian need".
"We also are required to provide regular program updates on the progress of activities and any security concerns, and we require them – our partners – to immediately report any potential diversions, seizures, or losses immediately," he added underlining that the issue "is something we take very seriously".
Pakistan-Israel ties
Price was also probed about the controversial visit of a group of Pakistani Americans and Pakistani nationals, including a former government minister, who met Israeli Foreign Ministry officials in Jerusalem.
However, Price shied away from making any strong remarks on the matter saying "I would refer you to our Israeli and Pakistani partners to speak to a bilateral engagement between those two countries".
Read More Israeli, Turkish leaders hold first meeting since 2008
However, he then went on to add that "a goal of this administration has been to build bridges between Israel and its Arab and Muslim-majority neighbours, and even countries that are slightly further afield".
It may be noted that Islamabad has categorically rejected the notion of any delegation from Pakistan visiting Israel.
The Foreign Office spokesperson, in a statement in September, had said that the "reported visit in question was organised by a foreign NGO which is not based in Pakistan".
He had said that Pakistan's position on the Palestinian issue was clear and unambiguous.
"There is no change whatsoever in our policy on which there is a complete national consensus. Pakistan steadfastly supports the Palestinian people's inalienable right to self-determination," he had remarked.
COMMENTS
Comments are moderated and generally will be posted if they are on-topic and not abusive.
For more information, please see our Comments FAQ