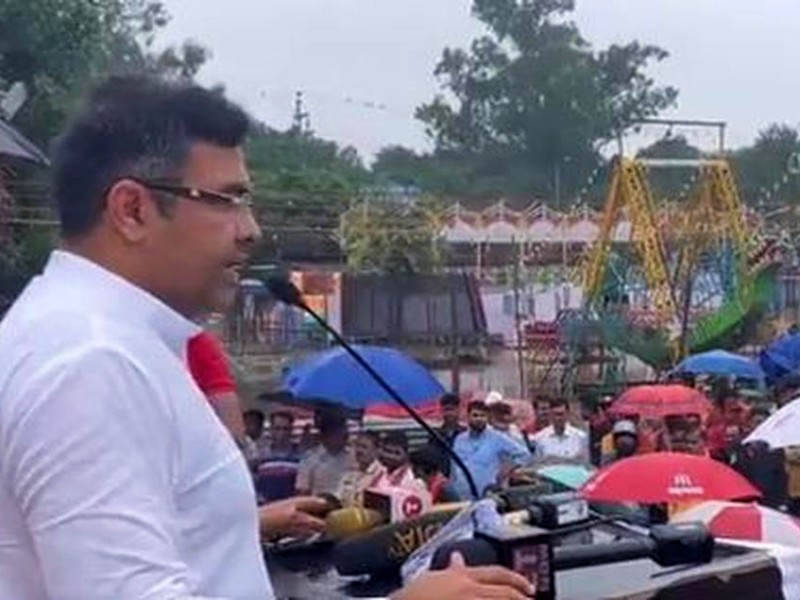 ---
A lawmaker from India's ruling Bharatiya Janata Party (BJP) ignited a huge controversy with his call for a "total boycott" in a speech apparently aimed at Muslims, NDTV reported.
At a public event in New Delhi, BJP MP Parvesh Sahib Singh Verma is seen addressing supporters on what should be done to "fix their head and set them straight".
"They keep opening handcarts, you don't need to buy vegetables from them. They open fish-meat shops. We should tell the MCD [municipal corporation] to close them if they don't have a licence," Verma said as he tells the audience to repeat certain pledges after him, which the people did at the open venue.
"Wherever you see them, if you want to fix their head, if you want to set them straight, then the only cure is total boycott. Raise your hand if you agree," the BJP MP said, and gestured towards the crowd. All of them raised their hands.
BJP Delhi MP tells a crowd at a VHP event that the only 'ilaj' for India's Muslim is for their shops abs restaurants to be boycotted and that they not be hired for any work pic.twitter.com/OQRQuAE4vN

— omar r quraishi (@omar_quraishi) October 10, 2022
"Say after me, we will boycott them," he said. The people repeated after him. "We will not buy anything from their shops. We will not give them any work," Verma said. This, too, drew a loud "yes-we-will" response.
Verma, when asked about his remarks, told The Indian Express that he "did not name any religious community". "What I said was that the families whose members carry out such killings should be boycotted. Such families, if they run any restaurant or business, should be boycotted."
The latest hate speech controversy comes at a time when India has been trying to fend off the bad press, especially at the global level, over how it has been treating its large Muslim population.
The US government's commission on religious freedom in June asked the Biden administration to categorise India and 11 other nations as "countries of particular concern" in the context of religious freedom. India called the report "biased and inaccurate".
India frequently bristles at foreign criticism of its record. It has routinely denounced the US Commission on International Religious Freedom, an autonomous government panel, which has repeatedly recommended India be put on a blacklist.
The State Department is highly unlikely to take action against India, identified by successive US administrations as a key strategic partner in the face of a rising China.
Prime Minister Narendra Modi's Hindu nationalist government has championed a series of measures that critics have called discriminatory.
COMMENTS
Comments are moderated and generally will be posted if they are on-topic and not abusive.
For more information, please see our Comments FAQ