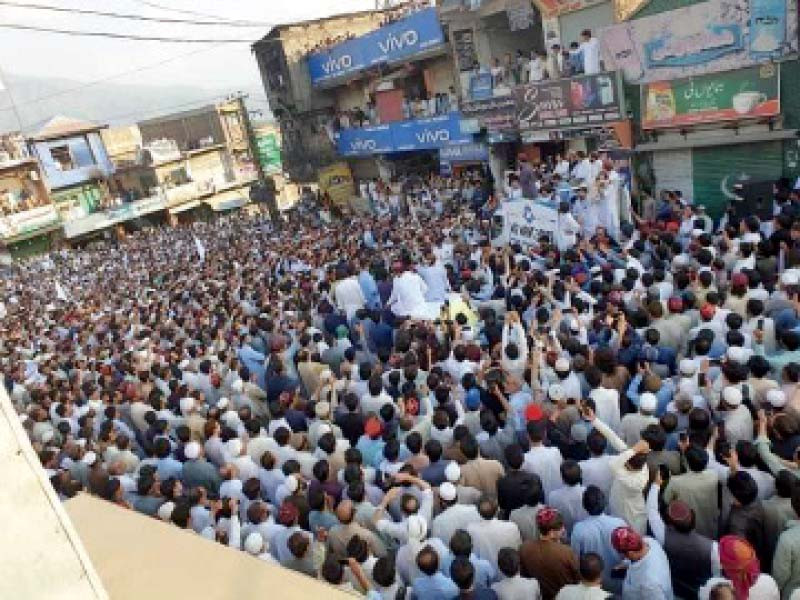 ---
SWAT:
Locals continue their protest demonstrations against the return of militants to the mountains of Swat district without inviting any attention from the law enforcement agencies as thousands participated in a rally in Khwazakhela on Friday.
Addressing the rally, Awami National Party (ANP) district president Ayub Khan Ashari said that no one will be allowed to threaten the peace of the region.
"In the name of Sharia rule some people want to establish a state within state in Swat which is not acceptable," he maintained, adding that militants killed people brutally in the name of religion.
Local elders also addressed the rally and said that militants wanted anarchy in Swat which is not acceptable.
"We will resist any such attempt and Swat will not will be surrendered to militants by any means," they said, adding that other ethnical groups in Pakistan were prospering and advancing in all fields but Pakhtuns were experiencing a reverse growth which is unfortunate.
"For the past four decades there is a war going on in Pakhtun regions in Afghanistan and Pakistan," they said.
The participants also hit out at the police and district administration for disconnecting mobile internet services in Swat and demanded that it should be restored forthwith.
COMMENTS
Comments are moderated and generally will be posted if they are on-topic and not abusive.
For more information, please see our Comments FAQ