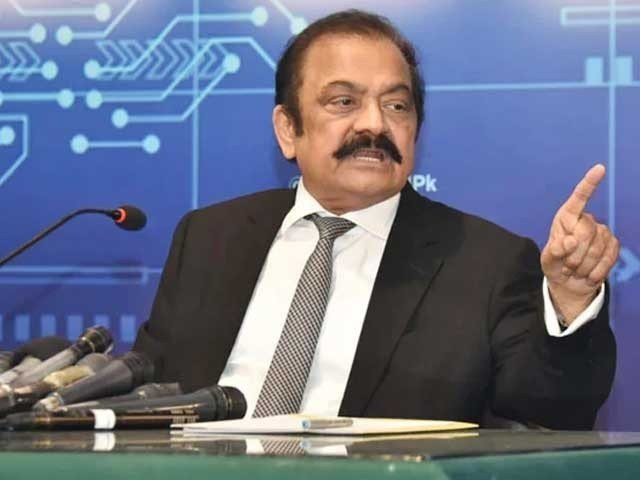 ---
ISLAMABAD:
Federal Minister for Interior Rana Sanaullah convincingly ruled out on Friday involvement of any internal or external agencies in the cyber security breach at the Prime Minister Office that led to audio leaks.
As the ongoing "cipher imbroglio" deepened in the country in the aftermath of recent audio leaks, the interior minister completely eliminated spy or any other agencies' role in the audio leaks and pointed finger at individuals.
"There is nothing to hide; neither any internal nor any external agency is involved in it; I'm categorically saying that no hostile or internal agency is involved in this," the minister said in a press conference while responding to a question about agencies' possible involvement in recording and leaking the audio recordings with frequent intervals.
Sanaullah said that "things are pointing towards individuals," saying that technology has reached to an extent where any individual could record and hacking a telephone was no more a big deal.
"People are also doing it for money," Sanaullah said while defending the contents of the audio conversations featuring Prime Minister Shehbaz Sharif, PML-N vice president Maryam Nawaz and other government officials.
The minister's categorical denouncement of the notion that security agencies had a hand in the recent audio leaks come as leaks have put spying as well as monitoring via technology in the spotlight.
"I refute that any agency was involved in the cyber security breach of the Prime Minister House," Sanaullah reiterated before moving to other subjects.
Earlier in the day before interior minister's press conference, an audio surfaced purportedly featuring PTI chairman Imran Khan talking about "buying" MNAs. In the audio, a voice attributed to the former prime minister can be heard and he is apparently talking about 'horse-trading'.
The audio starts with Imran purportedly stating "don't think everything is over", a possible reference to the vote of no confidence in March this year. "Nobody should worry and think if this is right or wrong, whatever tactic it is. Breaking even a single [MNA] will make a big difference," the voice attributed to the PTI chief instructs party members.
After Sanaullah's press conference, another audio leak emerged in which Imran apparently can be heard instructing party leaders Asad Umar and Shireen Mazari to brand lawmakers as traitors. "What we have done has created an impact, now the strategy is to brand and spoon feed public on Mir Jafar and Mir Sadiq. Their (public) minds are already fertile to accept this. We have to brand them (traitors) for life," Imran allegedly can be heard saying so.
During the day, interior minister presided over the first meeting of the high-powered committee constituted by PM Shehbaz to oversee investigation into the cyber security breach at the PM Office & House at interior ministry.
Federal Minister for Law & Justice Azam Nazeer Tarar, Minister for Climate Change Sherry Rehman, several secretaries and experts attended the meeting. The interior minister directed the committee to complete the work within two weeks as per the terms of reference
On Tuesday, PM Shehbaz had constituted the committee to oversee investigation and to suggest measure to secure the cyber space and ensure electronic security of public offices of strategic importance.
The prime minister, while constituting a 12-member committee, had directed that it is to be ensured that it has representation from major coalition partners and the director generals of Inter-Services Intelligence (ISI) and Intelligence Bureau (IB) along with technical experts from the ISI, the FIA, the PTA, among others, are part of it.
The prime minister had ordered an investigation into several leaked audio conversations allegedly between Imran Khan and his associates, saying the leaks were a risk to national security.
COMMENTS
Comments are moderated and generally will be posted if they are on-topic and not abusive.
For more information, please see our Comments FAQ