 ---
ISLAMABAD/ LONDON:
Pakistan Muslim League-Nawaz (PML-N) vice president Maryam Nawaz reached London on Thursday to meet her father, party supremo Nawaz Sharif, after three years, days after a court ordered to return her passport.
Maryam left from Lahore's Allama Iqbal Airport two days ago. She travelled via Qatar, where she stayed for a day and met with political figures, according to Express News.
She later left for London with her son and daughter-in-law. Maryam was received at the Heathrow Airport by her brother Hasan Nawaz.
A large crowd of party supporters had also gathered at the airport to receive the PML-N leader, where supporters of the rival Pakistan Tehreek-e-Insaf (PTI) had also gathered to protest Maryam's arrival. According to reports, a scuffle also broke out between the respective parties' supporters.
The PML-N leader reached the Avenfield apartment where she was welcomed by a crowd of PML-N supporters, chanting slogans in her favor. She thanked the workers for welcoming her.
Shortly after, the PML-N leader tweeted a picture of her meeting her Nawaz Sharif.
Information minister and PML-N leader Marriyum Aurangzeb also shared a picture of their reunion on Twitter, commending Maryam on her "bravery", and the "resilience" of the father-daughter duo in the face of "unjust imprisonment, slander, mental torture and the grief of losing their loved ones".
Read 'Truth comes out': Nawaz rejoices at Maryam's acquittal in Avenfield case
Maryam Nawaz is meeting her brothers for the first time after the passing of their mother in 2018.
The information minister questioned whether such "injustices" can ever be redressed, and commended Maryam for "not shedding a single tear in the face of hardships and cruelty".
یہ تصویر وہ کرب بیان نہیں کرسکتی جو نوازشریف اور بہادر مریم نے قیدناحق، بہتان، ذہنی اذیت، اپنوں کو کھونے کے غم کی صورت سہا۔الوداع کہتیں بیگم کلثوم سے دور کئے گئے جب انہیں قریب رہنا تھا۔ اس ناانصافی کا مداوا ممکن ہے؟ والد سے لپٹی سرخرو بیٹی، مگرمشکلات اور ظلم میں ایک آنسو نہ گرا pic.twitter.com/yV3A86rhpx

— Marriyum Aurangzeb (@Marriyum_A) October 7, 2022
Maryam's stay
According to family sources, Maryam will supervise Nawaz's medical treatment, hold detailed political consultations with her father and take important decisions regarding the party's future strategy.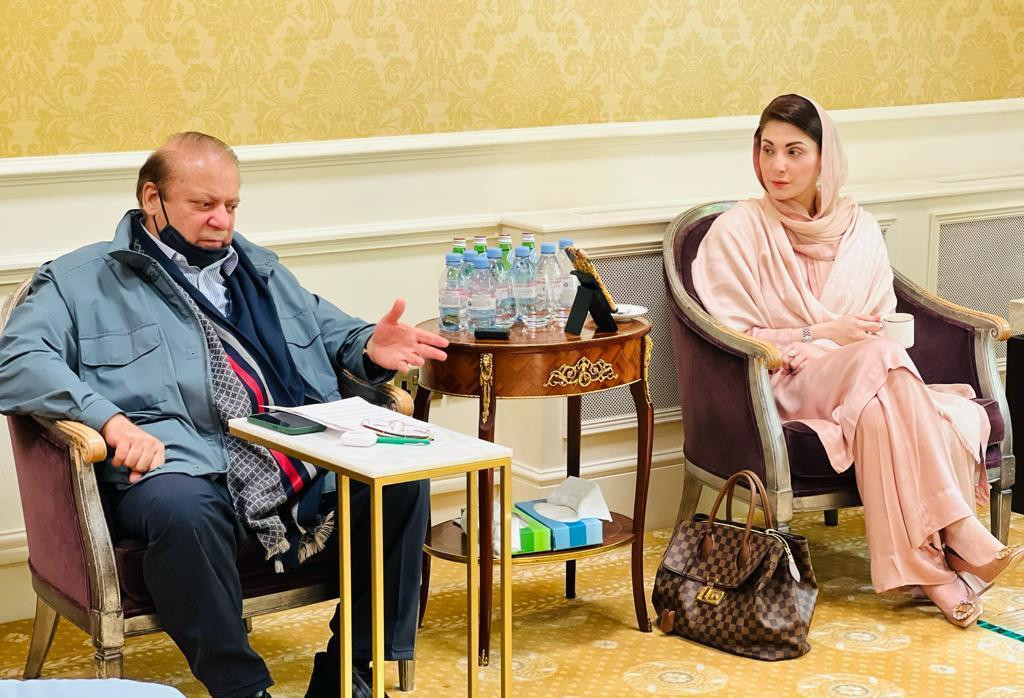 She is scheduled to return to Pakistan in a month's time, on November 6, and is expected to be accompanied by Nawaz on her return.
Passport returned
Earlier this week, the Lahore High Court directed the deputy registrar to return Maryam's passport, following four years of back and forth and petitions before the court.
She had surrendered her passport before the LHC in 2019 after she had been granted post-arrest bail in the Chaudhary Sugar Mills Limited (CSML) case.
The PML-N supremo Nawaz was sentenced to 11 years of imprisonment in 2018 in the Al-Azizia Steel Mills and Avenfield properties references.
However, his sentence was suspended in 2019 by the LHC on medical grounds and he was permitted to fly to London to seek treatment, after which he went into self-imposed exile.
Shortly before being returned her passport, the PML-N leader was acquitted by the Islamabad High Court (IHC), on September 29. The high court set aside her and her spouse Capt (retd) Mohammad Safdar's conviction, handed down by an accountability court in the Avenfield reference four years ago.
COMMENTS
Comments are moderated and generally will be posted if they are on-topic and not abusive.
For more information, please see our Comments FAQ