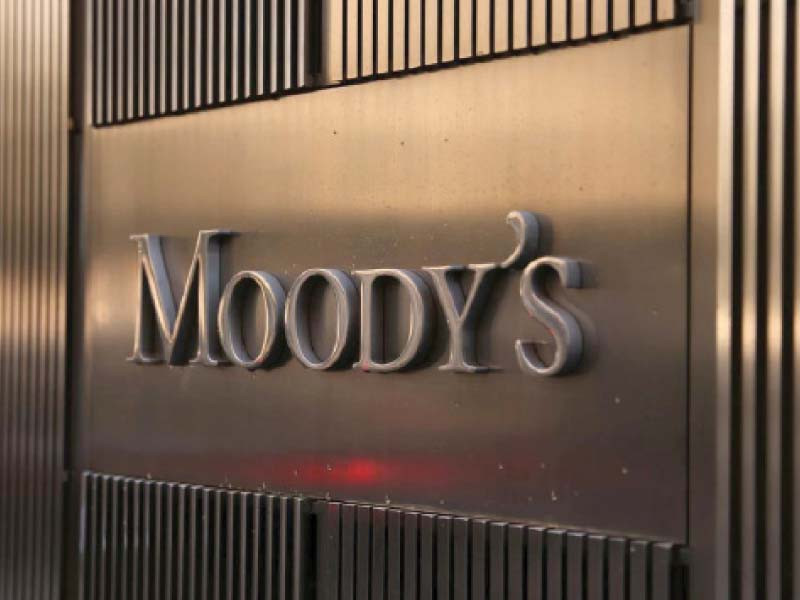 ---
KARACHI:
Moody's Investors Service on Thursday downgraded Pakistan's credit rating to 'Caa1' from 'B3' and maintained the outlook at negative, as the government's dollar requirement for financing a widening current account deficit and the risk to sustain debt increased in the wake of recent devastating floods.
Though Moody's did not foresee Pakistan failing in arranging the required foreign financing as Islamabad remained under the International Monetary Fund's (IMF) loan programme, it anticipated an increased reliance on multilateral and bilateral creditors instead of going to global financial markets to raise new debt.
The Pakistan government, however, strongly contradicted the Moody's unilateral decision of downgrading its credit rating, saying that the rating agency verdict was based on incomplete information.
Pakistan team held at least two meetings with Moody's in the past 24 hours – till Thursday evening – to update the global rating agency on debt sustainability and pledges worth billions of dollars from global community to fight the flood devastation.
"The Caa1 rating reflects Moody's view that Pakistan will remain highly reliant on financing from multilateral partners and other official sector creditors to meet its debt payments, in the absence of access to market financing at affordable costs," Moody's said in an announcement.
"In particular, Moody's expects that Pakistan's IMF Extended Fund Facility (EFF) programme will remain in place and provide an avenue for financing from the IMF and other multilateral and bilateral partners in the near-term," the announcement added.
Moody's downgraded the Pakistan government's local and foreign currency issuer and senior unsecured debt ratings to Caa1 from B3. It also downgraded the rating for the senior unsecured MTN programme to (P)Caa1 from (P)B3, while the outlook remained negative.
Giving its rational for the revised rating, Moody's said that Pakistan's economic outlook in the near- and medium-term had deteriorated sharply as a result of the floods, as the government's preliminary estimates put the economic cost of the floods at about $30 billion.
The $30 billion estimate, amounting to 10% of the country's gross domestic product (GDP), is far above the estimated economic cost of $10 billion during the 2010 floods, which had been the country's worst flooding episode until this year.
Moody's also projected Pakistan's real GDP growth at 0-1% for the current fiscal year 2023, much lower than the pre-flood estimate of 3-4%. It said the floods would affect all sectors, but more acute impact was likely on the agriculture sector, which made up for about one-fourth of the national economy.
As the economy recovered from floods, Moody's expected growth would pick up next year but stay below trend. The supply shock due to the floods would increase prices at a time when inflationary pressures had already been elevated.
The monthly inflation averaged 25% from July-September 2022.
Moody's expected inflation to pick up to 25-30% on average for fiscal 2023, compared to a pre-flood estimate of 20-25%. Social risks might also increase as households faced higher costs of living for a more protracted period of time, which would have attendant negative economic and fiscal implications.
The growth shock would lower government revenues, while the expenditures were expected to rise on the back of the costs of rescue and relief operations. Moody's expected that the fiscal deficit would widen to 7-8% of GDP for fiscal 2023, from a pre-flood estimate of 5-6% of GDP.
"Accordingly, Pakistan's debt affordability – which is already one of the weakest among the sovereigns Moody's rate – will worsen. Moody's estimates that interest payments will increase to around 50% in fiscal 2023, from 40% of government revenue in fiscal 2022, and stabilise at this level for the next few years," it said.
"A significant share of revenue going towards interest payments will increasingly constrain the government's capacity to service its debt, while also meeting the population's essential social spending needs."
Moody's expected that the current account deficit would widen to 3.5-4.5% of GDP for fiscal 2023, compared to the pre-flood estimate of 3-3.5%. It also expected that a larger trade deficit would be partially offset by an increase in remittances, which rose at times of crises.
Govt contradicts
The rating action by Moody's was strongly contested by the Finance Ministry, which said that it was carried out unilaterally and "without prior consultations and meetings with our teams from the Ministry of Finance and State Bank of Pakistan".
After a regular stocktake of the economic and fiscal conditions, the ministry informed that the government policies over the last few months had helped in fiscal consolidation. "Government of Pakistan has adequate liquidity and financing arrangements to meet its external liabilities," it said.
"Pakistan is currently under the IMF Programme, the continuity of which is based on the confirmation and confidence in country's ability to maintain the fiscal discipline, debt sustainability and its ability to discharge all its domestic and external liabilities."
The ministry said that Pakistan remained committed to the agreements reached under IMF prorgamme. It stressed that Moody's "worsening near- and medium-term economic outlook" did not depict the correct picture due to gaps in information available with Moody's and "its use of estimations is not grounded" in fundamentals.
"As such, the estimate of economic cost of the floods at $30 billion is premature as the data is still being compiled in collaboration with World Bank and other partners, to ensure transparency and accuracy, and will be available once the figures are firmed up."
Thus, the impact on GDP growth rate could not be "fully and accurately assessed at this time" and so Moody's downward revision of GDP growth rate at 0-1% had no solid basis. Similarly, translating economic losses into fiscal deficit was also contested.
On the expenditure side, the government would largely be involved in public infrastructure rebuilding, and that too, over a number of years. The uptick in urgent current expenditure was being met through re-allocations and re-appropriations of budgeted funds thus mitigating the risk of rising deficit. On the revenue front, the increase in nominal GDP was likely to compensate for any dip in revenues.
During recent meetings with multilaterals, the government received additional funding commitments from the Asian Development Bank (ADB) of more than $2.5 billion. Similarly, the World Bank also pledged additional funding of around $1.3 billion for infrastructure and other projects in fiscal 2023.
"These are in addition to Ministry's financing plan at the start of the financial year," the government said. On the appeal of UN Secretary General, funds to the tune of $ 816 million were pledged by countries in a conference in Geneva on October 4, 2022, it added.
COMMENTS
Comments are moderated and generally will be posted if they are on-topic and not abusive.
For more information, please see our Comments FAQ