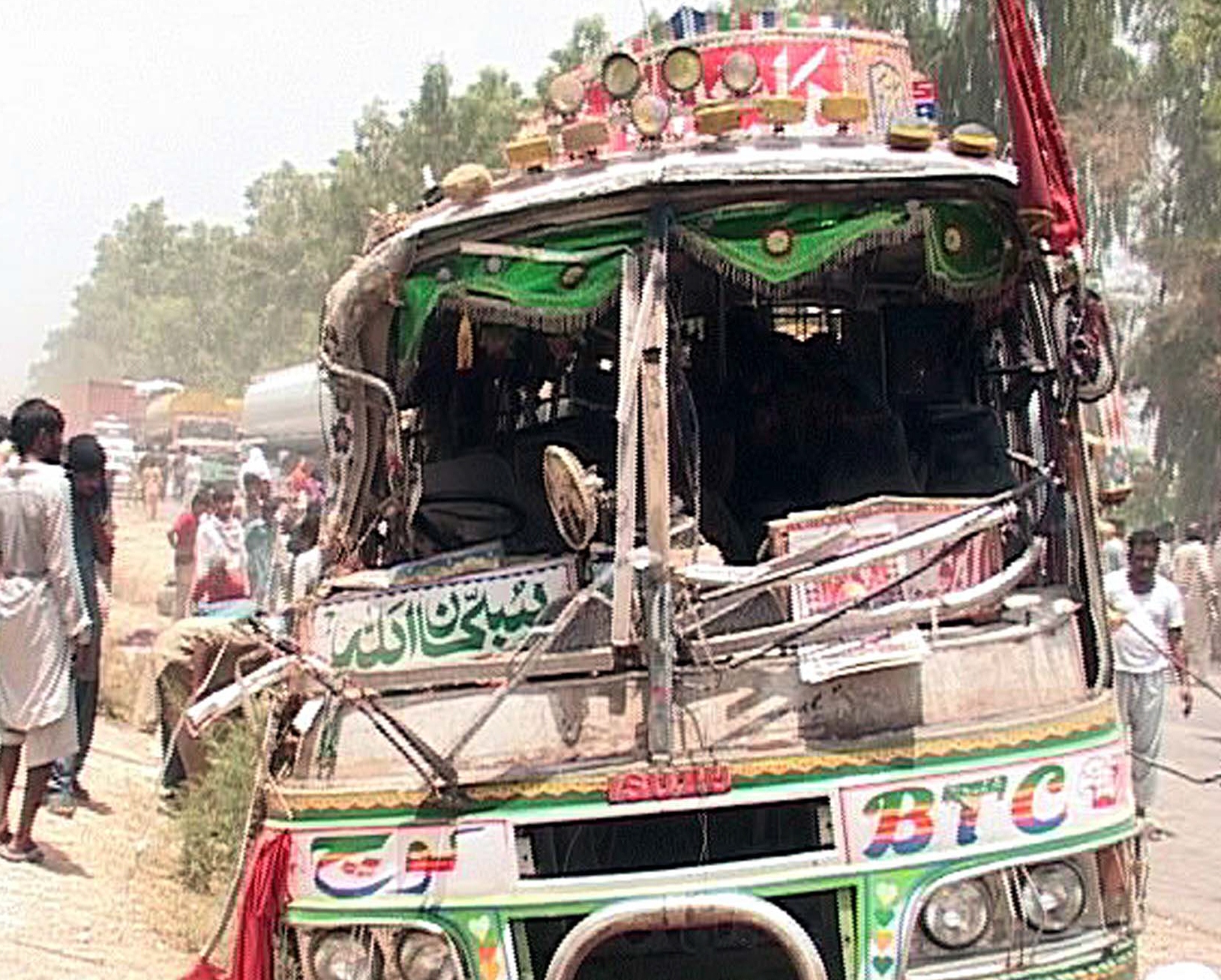 ---
HYDERABAD:
Fourteen people died and at least 20 sustained serious injuries in a tragic head-on collision between a passenger coach and a truck on the Indus Highway in Jamshoro district on Thursday.
Three women and two children were among the deceased, most of whom belong to Punjab and were travelling to Karachi.
The bus was coming to Karachi from Vehari, Punjab, while the truck was heading to Sehwan from Jamshoro.
Police and some injured passengers believed that the driver of the bus, who lost his life in the mishap, was responsible for the accident, which occurred at around 4 am, as he was seen dozing.
The sheer impact pressed the body of the bus and volunteers and police had to cut it to pull out the dead bodies and the injured.
The highway, which has been recently reopened for traffic after around three weeks long closure because of flooding, remained blocked for the movement of traffic for at least two hours following the accident.
Initially eight deaths were reported. Two persons died at the government hospital in Manjhand and four others while being shifted to Liaquat University Hospital, Hyderabad, which is around 65 kilometers away from Manjhand.
According to the injured, only one doctor and three paramedics were present at the Manjhand Hospital when they were shifted there.
The corpses were placed on the floor because of shortage of beds at the medical facility. Some injured complained of having their cash and mobile phones either lost or stolen.
Read 11 die in DI Khan tractor crash
Manjhand to Khanote portion of the Indus highway, which is over 30 kilometers long, is awaiting its expansion from the existing single carriageway, and that too without a barrier in the median, to the double carriageway.
The injured and some of their attendants demanded that the case of the accident should be registered against Sindh Chief Minister Syed Murad Ali Shah and other relevant government functionaries.
Drivers of both the vehicles lost their lives in the accident while bodies were sent back to their cities in ambulances. All the injured were under treatment at the LUH Hyderabad.
The deceased have been identified as 38-year-old Noreen Zulqarnain, her 18-month-old daughter Khadeeja and son Hasnain, 44-year-old Izzat Ghulam Haider, and his eight-year-old son Ayan Ali, 18-year-old Samar Abbas, 35-year-old Nadeem Ahmed, 45-year-old Mumtaz Shareef, 60-year-old Pehalwan Tanwari, 44-year-old Rashid Kareem Bux, 45-year-old Mukhtiar Ali and 45-year-old Haq Nawaz.
The police have impounded both the vehicles but no FIR was registered till the filing of this report.
COMMENTS
Comments are moderated and generally will be posted if they are on-topic and not abusive.
For more information, please see our Comments FAQ