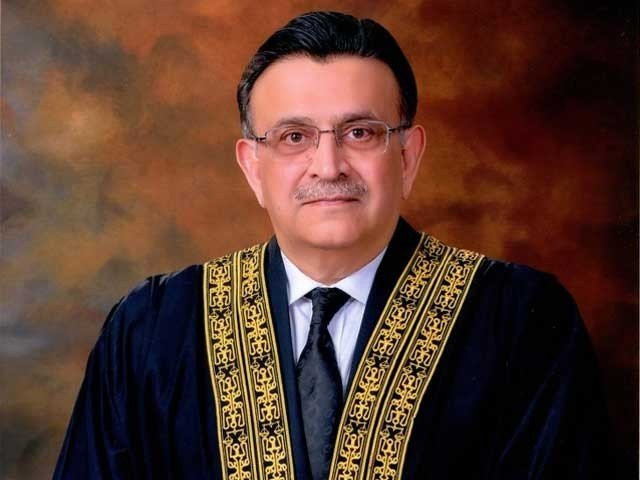 ---
ISLAMABAD:
Chief Justice of Pakistan Umar Ata Bandial remarks on Tuesday that Article 62(1)(f) was "draconian" have once again triggered the debate about reviewing the lifetime disqualification under this provision of the Constitution.
CJP Bandial made this observation during the hearing of PTI leader Faisal Vawda's disqualification case.
However, some segments of the media misreported that the CJP had described this provision as a 'black law'.
There is a difference between both the words.
Former additional attorney general Tariq Khokhar said black laws were enacted in the US in the 1860s to continue the oppression and inferiority of the recently freed black slaves and ensure white supremacy.
Today, any law that is oppressive, manifestly unjust, discriminatory or inhumane, especially in relation to minorities, is termed a 'black law'.
Khokhar elaborated that Draco was an ancient Greek lawgiver.
His 'Draconian' laws were extremely harsh, written in blood rather than ink. Both trivial and serious crimes were punishable with death.
"Draconian today means exceptionally repressive or unusually harsh punishments," Khokhar added.
Interestingly, there is nothing in the Constitution that disqualification under Article 62(1)(f) would be permanent.
It was a Supreme Court judgment authored by Justice Bandial four years ago that held that disqualification under this provision would be permanent.
Consequently, PML-N supremo and former premier Nawaz Sharif and estranged PTI leader Jahangir Tareen were disqualified for life.
Justice Bandial in his 52-page ruling had justified the permanent disqualification of parliamentarians under this constitutional provision.
Instead of referring the matter to parliament for making a final decision on the duration of disqualification, the judge comprehensively discussed the importance of Article 62(1)(f) of the Constitution.
His main reliance was on Article 2A of the Constitution as well as verses of the Holy Quran.
The verdict read that Article 62(1)(f) of the Constitution imposed Islamic ethical conditions for the eligibility of a candidate for election to parliament. However, they were applicable to both Muslim as well as non-Muslim candidates for parliamentary membership.
"One reason that the conditions of Article 62(1)(f) are made a criterion of the eligibility of all candidates for election is the universality of their ethical prescription. Their content constitutes a basic norm in all progressive democratic societies that are governed by the rule of law," the verdict read.
After this ruling, the apex court realised that the punishment under Article 62(1)(f) was harsh.
In the case of PML-N Khawaja Asif, the SC had held that no one could be disqualified under this provision without a trial.
In another judgment, the court held that a returning officer had no authority to apply Article 62(1)(f).
However, senior lawyers wonder if no one can be disqualified for life without a trial, then how the superior courts excercising quo warranto jurisdiction can carry it out without recording evidence.
In May last year, the apex court reiterated that it was now a well-settled principle that the lack of disclosure of assets or misdeclaration would not be sufficient enough to permanently disqualify a member of parliament or a candidate under Article 62(1)(f).
"The purpose and intention need to be seen behind the non-disclosure or misdeclaration. The returned candidate would be disqualified only when he/she has dishonestly acquired assets and is hiding them to derive certain benefits," read an 11-page judgment authored by Justice Sayyed Mazahar Ali Akbar Naqvi.
CJP Bandial was also a signatory to this judgment.
The verdict was issued on a petition filed by a politician, Shamona Badshah Qaisarani, who was disqualified for life over not mentioning her agricultural property inherited from her parents in her nomination papers.
The court observed that it was the credibility of the explanation that would be the determining factor whether or not the lack of disclosure of an asset carried with it the element of dishonesty.
In view of the latest judgment, several lawyers contend that Tareen cannot be disqualified for life.
Justice Qazi Faez Isa had also posed seven questions to determine the eligibility criteria of lawmakers.
Supreme Court Bar Association (SCBA) President Ahsan Bhoon had moved a constitutional petition for the removal of lifetime disqualification.
Later, the SC registrar office raised objections to that petition.
The SCBA, through its counsel Mansoor Awan, moved an appeal against the registrar office's objections. The matter is still pending in the apex court.
Senior lawyers also believe that there is a realisation that this provision should be applied very carefully.
However, they say that it is unclear whether or not the SC will overturn its judgments, which justified the lifetime disqualification of Nawaz and Tareen.
The timing of CJP Bandial remarks is also significant. He gave this observation at a time when an informal discussion started among the government representatives in the Judicial Commission of Pakistan on the appointment of five SC judges.
No SC judge has been appointed since February. The government representatives, the law minister and attorney general of Pakistan (AGP), will play an important role in approving the CJP's nominations.
COMMENTS
Comments are moderated and generally will be posted if they are on-topic and not abusive.
For more information, please see our Comments FAQ