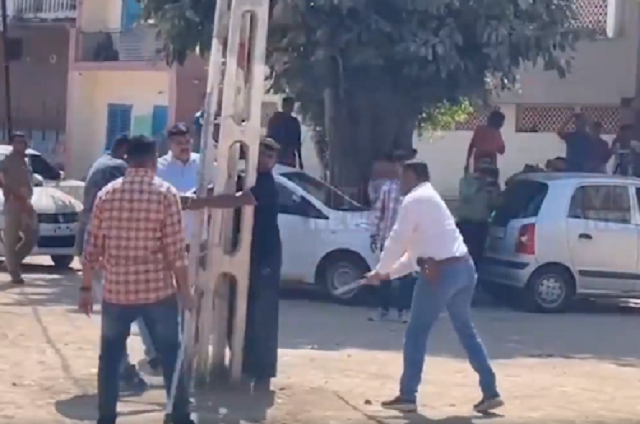 ---
In a new low, Indian police tied Muslim men to a pole and publicly flogged them with canes after they were arrested for allegedly throwing stones at a Hindu religious event, Navratri Garba, in Gujarat state.
Viral videos show policemen in plain clothes were beating Muslim men with their hands tied. Police officials in uniform were also present while a huge crowd cheering and chanting slogans, reported NDTV.
Local news outlet VTV Gujarati News also shared the video, saying: "10-11 heretics were brought to the village, where the police taught them a lesson in public" in Undhela village.
The men were asked to "apologise to the public" and the police inspector in charge of the area was present too, the report added.
On Twitter, people in response to the video questioned the police's "kangaroo justice".
Indian news agency PTI had reported that a mob of around 150 people threw stones at a Garba event on the premises of a temple last night and 43 were named in the case.
According to the first information report (FIR) members from the Muslim community in the village objected to the Garba event being organised near a mosque, which is located across the temple.
COMMENTS
Comments are moderated and generally will be posted if they are on-topic and not abusive.
For more information, please see our Comments FAQ