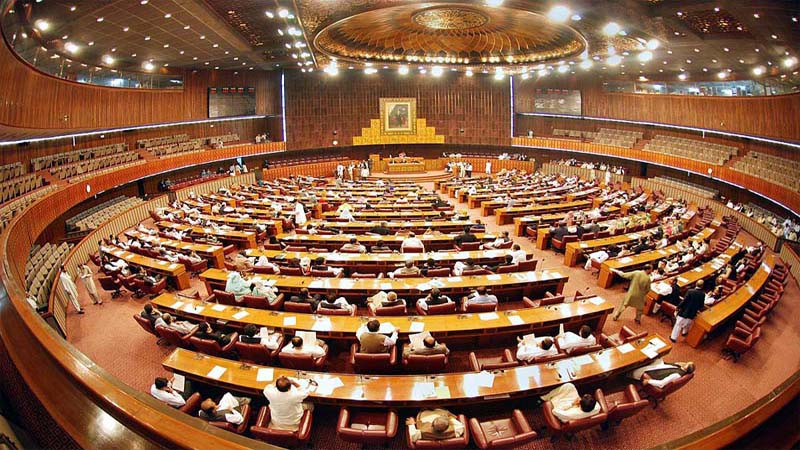 ---
ISLAMABAD:
A Pakistan Peoples Party (PPP) lawmaker on Monday tabled a bill in the upper house of parliament, seeking to amend Article 62(1) (f) – a clause under which former prime minister Nawaz Sharif was disqualified in 2017 by the Supreme Court.
Subsequently, Senate chairman Sadiq Sanjrani referred PPP Senator Palwasha Khan's bill, stating that the words 'sadiq and ameen' – truthful and trustworthy – be replaced with "veracious and devoted" in Article 62 (qualifications for membership of parliament) to the committee concerned.
Surprising as it may seem, it was earlier reported that the removal of articles 62 and 63 from the Constitution during the preparation of the draft of the 18th Amendment was opposed by none other than the Pakistan Muslim League-Nawaz (PML-N) itself.
However, on July 28, 2017, history went full circle when, based on a reading of Article 62, the Supreme Court had ordered Nawaz's disqualification from the National Assembly for 'dishonesty' – namely his failure to declare certain assets.
"This bill has nothing to do with Nawaz Sharif or his disqualification; it's my own bill and I haven't had any consultation with the PML-N about it before tabling it in the Senate," Senator Palwasha said while talking to The Express Tribune.
The senator added that "the bill seeks to curb the misuse of titles of Sadiq and Ameen as these are divine attributes and neither could anyone claim them for himself nor could they be awarded to someone except the Prophet Muhammad (PBUH)."
Read PTI seeks inquiry into govt's audio leak on resignations
She said that "assuming the titles of sadiq and ameen by oneself is not right". She also alleged that former premier Imran Khan "exploited" the titles in his favour, saying the expressions should not be allowed to be used for political purposes.
"Article 62(1)(f) should be omitted instead of changing a few words; it's a vague article," Pakistan Institute of Legislative Development and Transparency (PILDAT) President Ahmed Bilal Mehboob said, saying nevertheless it was first step for improving the clause.
The PILDAT president conjectured that the bill, if passed, might provide some relief to former premier Nawaz Sharif in the longer run but the clause was needed to be entirely removed because there was no way to measure one's truthfulness and trustworthiness.
"At the moment, the clause serves as a sword in judiciary's hands," Mehboob said, adding that the politicians were the ones facing the consequences. If passed with certain amendments, he wondered, it would be interesting to see if it has any retrospective effect or not and what would the courts do when it is challenged.
The PPP senator's bill seeking constitutional amendment stated that in Article 62, in clause (1), in sub-clause (f), for the expression "honest and ameen" the expression "Veracious and devoted" shall be inserted.
According to Articles 62 and 63 of the (1973) Constitution, Palwasha stated that a person may be qualified or elected as a Member of Parliament provided he has adequate knowledge of Islam and is essentially 'Sadiq and Amin' (Honest and Righteous).
In literal terms, Palwasha said, Sadiq is a qualitative metaphor used for one who has never spoken a lie and Amin refers to one who has never breached anyone's trust. She added that these two words are used in Arabic as Laqab for the Holy Prophet (PBUH) for his unprecedented truthfulness and honesty which no man can practice and reach the level.
Read more Reko Diq: Cabinet approves presidential reference
Palwasha said that Article 62(1)(f) imposes Islamic ethical conditions for eligibility of a candidate for election to the parliament but these are made applicable to both Muslim as well as non-Muslim candidates for parliamentary membership.
In this regard, she maintained, the current code of conduct of the members of United Kingdom can be a good example as the universality of standards of honourable conduct in public life in the contemporary democratic world, irrespective of faith or culture, makes it plausible for all candidates for the parliament including non-Muslim candidates to be eligible.
Earlier, it was reported that Justice (retd) Asif Saeed Khosa in Ishaq Khan Khakwani case had described the words 'sadiq' and 'ameen' as obscure and impracticable and had also talked about 'nightmares of interpretation and application that they involved'. However, the reports added, in his 192-page dissenting note in the Panamagate case, Justice Khosa had discussed in detail the applicability of articles 62 and 63 of the Constitution and tried to settle the longstanding debate on the applicability of the terms.
Justice Khosa said that some provisions of Article 62 of the Constitution certainly contain strong moral overtones but those provisions introduced into the Constitution by a military dictator [General Ziaul Haq] were not undone by the elected parliaments in the last many decades.
As long as the said provisions are a part of the Constitution, he had said, the courts were obliged not only to decide matters according to the same but also to enforce them whenever called upon to do so.
COMMENTS
Comments are moderated and generally will be posted if they are on-topic and not abusive.
For more information, please see our Comments FAQ