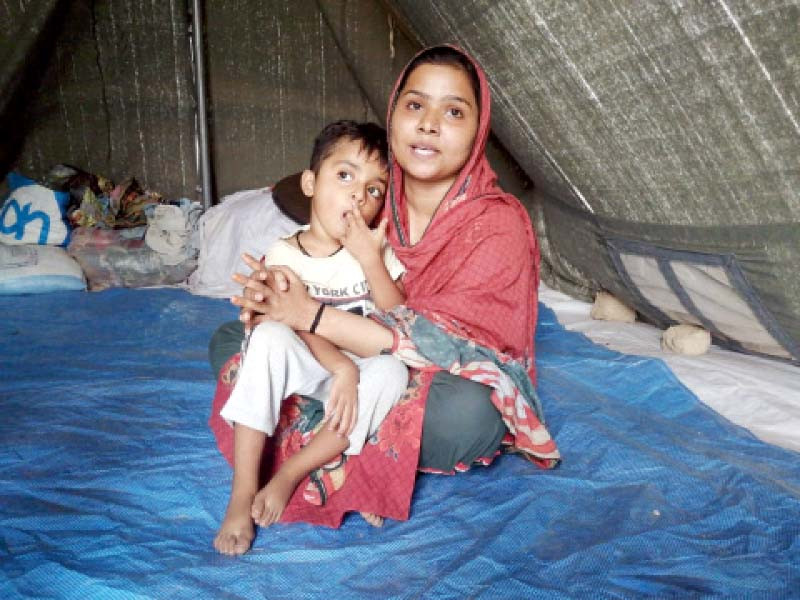 ---
KARACHI:
Like millions of people of Sindh, the floods changed the life of Sufi singer Soonh Laghari.
The house of the folk singer, who spreads the universal message of peace and harmony and tolerance through Sufi music, was washed away in flood.
During a survey at the Malir tent city, Express team came to know about a celebrity living in one of the tents and asked her if they could meet her.
A woman sitting on a plastic sheet on the floor of a tent, holding her four-year-old son in her lap, was none other but Soonh Laghari, Sindh's emerging folk singer. A celebrity in Sindh, she was now forced to take shelter in the tent city of Sindh government in Malir. Soonh has been singing mystic and Sufi songs at cultural gatherings, folk fairs and national media shows for the past eight years. Most of her lyrics were written by her father, who himself was going through the ordeal of being homeless and displaced due to the flood.
Sohn told The Express Tribune that the trials and tribulations of her life are unending. At first, she had to go through severe difficulties to promote her art, her relatives did not help her, whereas government institutions for the promotion of culture also ignored her.
"I did not give up and with the power of love for the Sufis, I continued till I got the limelight," she said. Soonh said she settled in Jhado after her marriage in 2017, where she and her husband built a humble home on a landlord's land.
"The flood, like ill fate, soon found us and washed away our mud house scattering the nest we havd made," Soonh said recalling with voice choked with tears that when the house began to sink in the flood water, she along with her husband stood in water up to their waists and were busy saving the baby and draining the water, which resulted in the loss of a few weeks of her pregnancy.
Her husband put her on a city-bound bus with a four-year-old child and sent her off in the hope of help to Karachi.
According to Soohn, she traveled alone in a bus without any family male for the first time. Anyhow, she reached Karachi and took shelter at a relief camp and then she was shifted to a tent settlement.
She said there are no special facilities in the tented settlement, one has to face extreme heat and dust all day long, it is usual to have lunch late, similarly dinner is served around midnight, while those living in villages, they are used to take their meal in the evening, after which they go for a sleep.
Her four-year-old son Ali is also with her, for whom she is more worried, her husband also lost his job due to the flood situation.
Soonh says that she has a complaint with the culture department of the Sindh government that the department has neglected the artists and in this situation no one is going to ask the artists who are passing a miserable life along with other flood victims in the tent-city.
Soonh says that she has had an affinity for mysticism and music since childhood and considers world-renowned folk singer Abida Parveen as her spiritual teacher.
According to Sohn, in these difficult situations, faith in Allah through Sufis is her strength and when she feels afraid of difficulties, she hum the words of the Sufis, which gives her courage.
The folk singer says that the situation is such that she cannot demand facilities for herself only. In her eyes, all the victims are the same, all are suffering from the same problems, especially women and children are the most worried in these situations.
Soonh says she wants to raise funds for the victims through her folk singing, but it needs government patronage and support from Sufi devotees.
Soonh says that by giving her child a good education, she wants to make him a person who works for the suffering humanity. She added said that, spreading the message of peace and love around the globe is her life's mission, which is temporarily being stopped due to the flood situation. but as soon as the situation improves, she will again start spreading the message of peace and harmony in the world through folk singing.
.Published in The Express Tribune, October 4th, 2022.
COMMENTS
Comments are moderated and generally will be posted if they are on-topic and not abusive.
For more information, please see our Comments FAQ