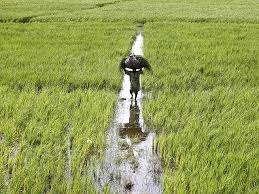 ---
SWABI:
Hailstorms accompanied by torrential rain and severe thunderstorm twice in eight hours have destroyed crops and vegetables in Swabi district of Khyber-Pakhtunkhwa (K-P) on Saturday night and early Sunday.
Farmers said that a hailstorm hit the area and continued for 40 minutes which was followed by another one for 30 minutes after a few hours, destroying the standing maize crop, sugarcane, rice and different kinds of vegetables.
"Our maize crop, which was expected to be harvested after a week was completely destroyed by the storm," said Rukhdar Ali of Pirtab village
while talking to The Express Tribune.
The growers said that the impact of the storm was so severe and prolonged that nothing was left standing in the fields, even the leaves of the trees were destroyed and only their stems remained.
The badly hit villages are Maneri Payan, Maneri Bala, Shahmansoor, Proper Swabi, Gohati, Pirtab, Adina, Ismalia, Saleem Khan, Yar Hussain, Dagai, Baja Bamkhel, Zarobai, Kalabat, Zaida, Kinda, Sheikh Dheri, Beka, Kata, Chota Lahor, Charbagh, Sheikh Jana, Mani and various other regions.
Central President of Tobacco Growers Association Pakistan, Liaqat Yousafzai, said that the district should be declared a calamity-hit region and the provincial government should depute a team to assess the damage caused by the storm and how the farmers could be financially compensated by K-P government.
The hailstorm also up-rooted many trees which had fallen on the electricity transmission lines, causing suspension of power to many regions for over 20 hours.
"The Peshawar Electric Supply Company (PESCO) staff has worked the whole day to restore electricity supply to the consumers," said a PESCO official.
However, rain made the weather pleasant.
COMMENTS
Comments are moderated and generally will be posted if they are on-topic and not abusive.
For more information, please see our Comments FAQ