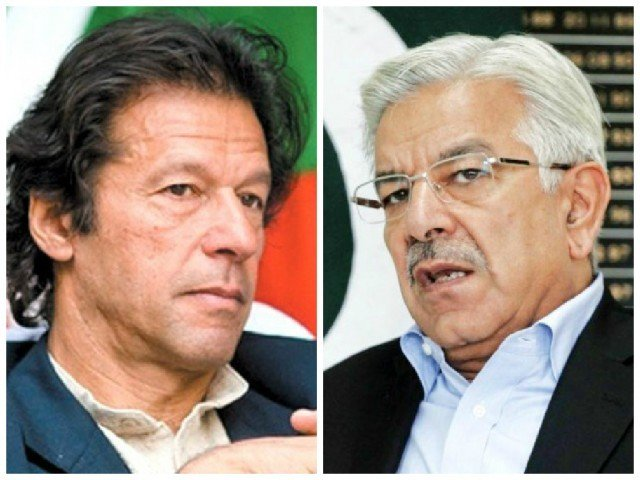 ---
ISLAMABAD:
Pakistan Tehreek-e-Insaf (PTI) chief Imran Khan was fined Rs5,000 on Saturday, for a second time, for seeking adjournment in the hearing of the Rs10 billion defamation case filed against Defence Minister Khawaja Asif.
A sessions court heard the case, in which the former prime minister's lawyer requested for the hearing to be adjourned since the main counsel was out of the country, and Imran could not appear because of a meeting.
The court adjourned the hearing till October 22, but not without imposing a fine on the former premier.
The former prime minister was fined Rs5,000 earlier as well, on September 10, for the same reason.
The PTI chief had at that time sought adjournment due to his engagement in the party's ongoing rallies.
The PML-N leader's lawyer Advocate Ali Shah Geelani appeared before the court during the hearing, but his cross-examination on Khan's statement had to be postponed.
Read 'Long legal battle' against Imran to begin soon, says Khawaja Asif
Earlier this year, the Islamabad High Court (IHC) had accepted Asif's petition challenging the decision to disallow the right to cross-examine then premier with reference to Khan's defamation case against him.
IHC Chief Justice Athar Minallah remarked that the case should be heard on a daily basis and decided in due course.
He further stated that the court would order the trial court to decide the case within two months.
During the proceedings, the court asked Khawaja Asif's lawyer why he was postponing the case, claiming that he was unnecessarily delaying the case, cautioning him against doing so.
The PTI chief, in 2012, had filed a defamation suit worth Rs10 billion against Asif for levelling allegations of non-transparency, money laundering and use of anonymous companies in Shaukat Khanum Memorial Trust funds.
In his lawsuit, the former prime minister had referred to Asif's press conference from August 1, 2012, in which he alleged that the PTI supremo had lost a massive amount of funds donated to his cancer hospital in "real estate gambling". Khan termed the allegations 'false and defamatory'.
COMMENTS
Comments are moderated and generally will be posted if they are on-topic and not abusive.
For more information, please see our Comments FAQ