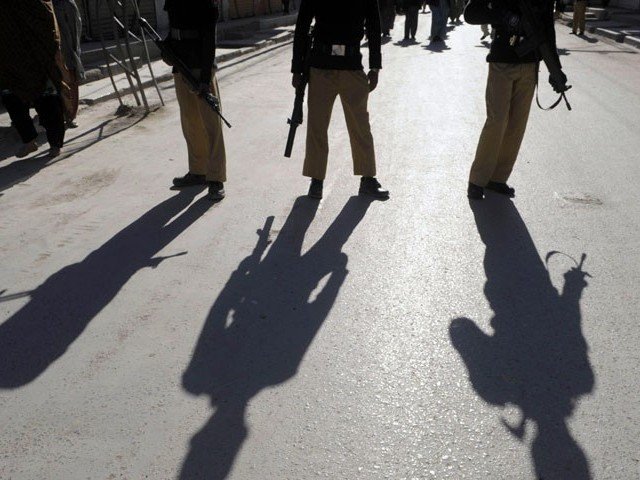 ---
KARACHI:
Rangers and police conducted raids in different areas, arrested 12 suspects, including four injured dacoits, and recovered weapons, cash, and gold jewellery.
According to the details, two accused motorcycle riders were looting the citizens near the Safora Chowrangi area of Sachal, during which the police reached the spot.
As the accused saw the police, they opened fire and tried to escape. In the retaliatory firing by the police, two suspects, Akhtar Mahmood and Zahid Hussain, were injured, and police arrested them and recovered weapons from their possession. During the investigation, the accused confessed to several incidents and told about other accomplices. Police are conducting raids to arrest them.
In another incident, as two suspects were fleeing after snatching laptops, mobile phones, and cash from citizens near Super Highway, Jamali bridge, police stopped them, but the accused retaliated and opened fire. Police arrested and charged Salman Javeed in injured condition after retaliatory firing and recovered looted goods. One accused fled from the spot. The arrested accused revealed that he had snatched cash, mobile phone and laptop from the citizens of Gulshan Maymar Mor. The citizens at the location praised the police's efforts and raised slogans in favour of the police.
During another encounter, police arrested accused Sanaullah in an injured condition near National Highway Razaqabad and recovered weapons. Bilal Colony Police arrested six accused, Adnan, Akhtar, Sarwar, Muhammad Amir, Talha Ahmed and Sahil, involved in robbery and extortion and recovered illegal weapons, stolen mobile phones, cash and gold jewellery. During the investigation, the accused admitted to committing more than 30 crimes.
While conducting operations in the Mahmoodabad area, the Rangers arrested two suspects, Mast Ali and Muhammad Akram, who committed more than 500 crimes.
Published in The Express Tribune, October 1st, 2022.
COMMENTS
Comments are moderated and generally will be posted if they are on-topic and not abusive.
For more information, please see our Comments FAQ