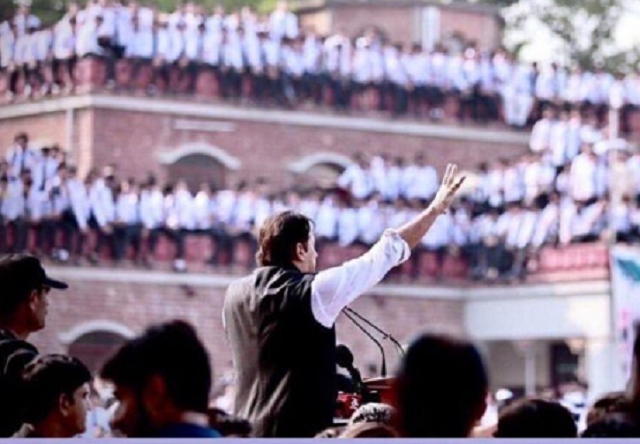 ---
Former prime minister and PTI Chairman Imran Khan has lashed out at his political opponents over accountability law amendments, saying "how can a watchman stay neutral when the country is being looted".
Addressing a ceremony at Edward College Peshawar on Friday, Imran took a veiled jibe at the establishment, saying "whenever someone claims to be 'neutral' consider him an animal".
Imran said that the country's political leadership emerged from the educational institutions and added that the efficient education system produced great leaders.
He said that the only difference between a civilised society and a cruel society is justice.
"The path of destruction is coming in front of you in the coming days… NRO has been given to big thieves and their cases are being closed," he said while referring to the NAB amendments which deprived the accountability courts of jurisdiction to hear corruption references of many political bigwigs.
Quoting PML-N leader Maryam Nawaz's acquittal in Avenfiled reference, Imran said if graft cases worth billions of rupees continue to be forgiven then the country will have no future.
Imran said "thieves" who plundered nation's wealth were being given relief in corruption cases while the nation was being "pushed into debt and inflation".
He added that in white collar crime all over the world, it is the responsibility of the accused to explain his sources of wealth.
"But these people changed the NAB law so that the NAB will prove it."
Speaking about the curbs on media freedom, Imran said, "If you have to impose ban on social media and TV channels then who will protect the interest of the country?"
The former prime minister said that since the "imported government" came into power, the rupee has fallen by 33%.
Imran said he was preparing the nation to for his final call against the incumbent rulers. "I am not afraid of anything, neither of prison nor of my life, but I will never accept these thieves," he added.
Imran said his much-hyped ultimate call for protest to force the government to call early elections will be the last and the "point of no return".
COMMENTS
Comments are moderated and generally will be posted if they are on-topic and not abusive.
For more information, please see our Comments FAQ