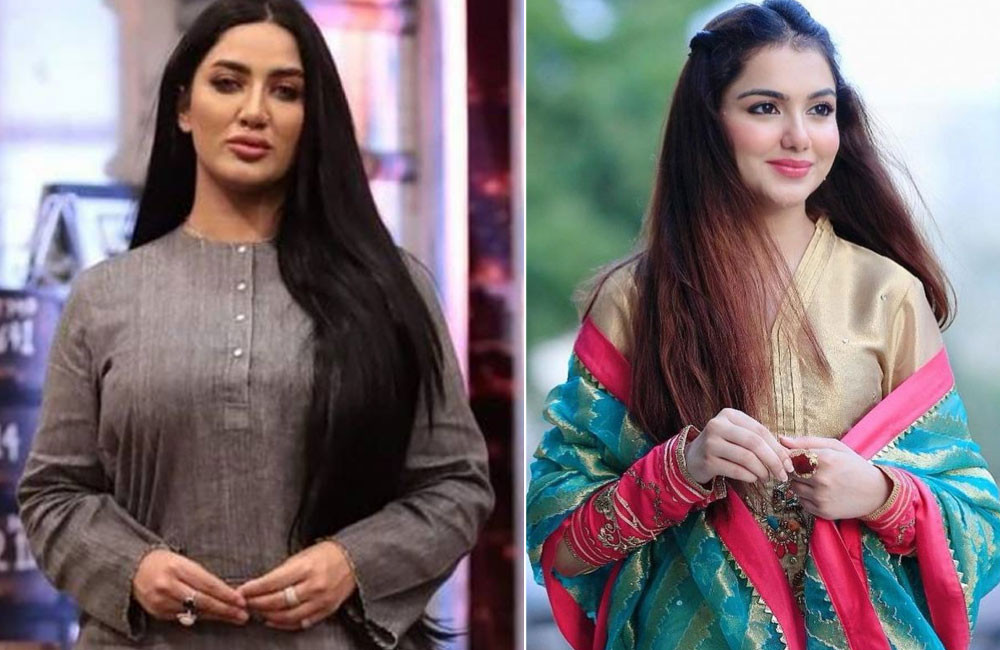 ---
Actor Syeda Tuba Anwar, the former wife of late televangelist Aamir Liaquat Hussain, has been outspoken about violence against women and the victim blaming it frequently results in. Discussing her personal experiences in an interview, she touched upon how she felt about the Noor Mukadam case, especially because she was going through a "similar time".
Commenting on a quote from her interview under the post of a local magazine, TV host Mathira expressed her dislike at the comparison Tuba made between herself and Noor. Mathira addressed Tuba and wrote, "Aamir Bhai gave you career and what not, he didn't murder you. Stop comparing." Offering a prayer of protection for "every girl" Mathira then went on to label Tuba's statements "attention seeking bullsh*t."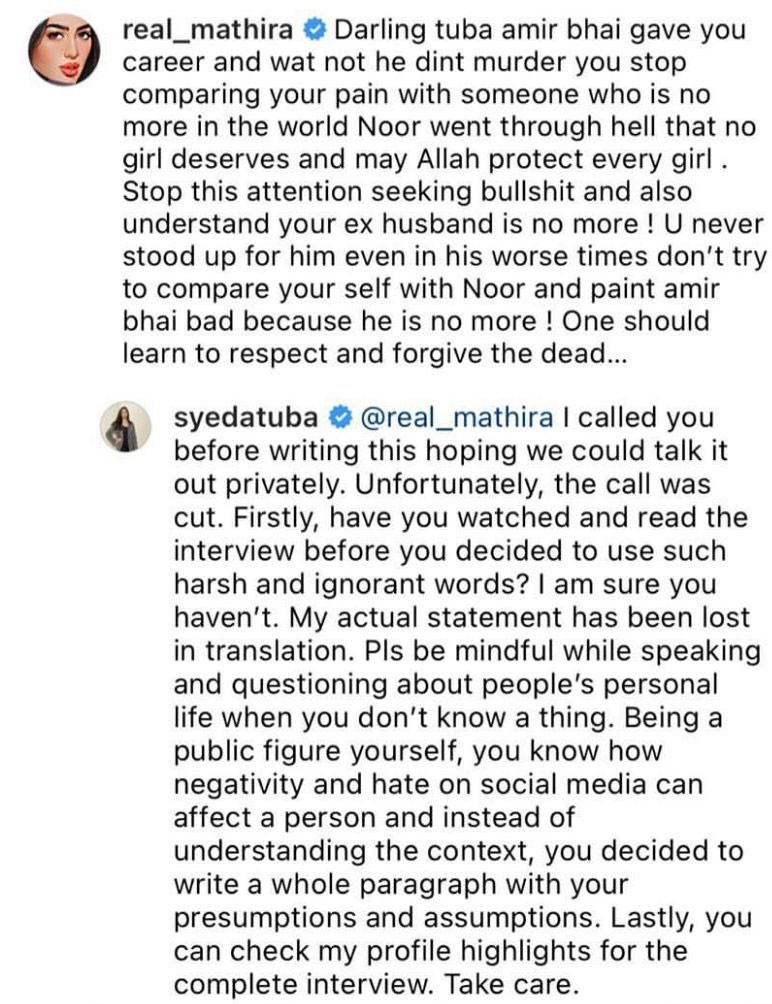 According to Mathira, since the late popular television personality is not only an ex but also no longer living, Tuba should "learn to respect and forgive the dead." Before giving her final advice, Mathira also reminded the actor that she "never stood up for him even in his worse times."
Tuba replied under her comment, but before that, she offered a disclaimer that she had indeed tried to solve the matter by attempting to connect with Mathira privately. Since Tuba's call was "cut," she decided to respond on a public forum.
"Have you watched and read the interview before you decided to use such harsh and ignorant words?" Tuba started with a question before answering it herself, "I am sure you haven't." She then offered clarification and said that her "actual statement had been lost in translation," perhaps implying that she didn't mean to say what the statement came across as.
Urging Mathira to respect people's privacy instead of making "presumptions and assumptions," Tuba requested her to "be mindful while speaking and questioning about people's personal life when you don't know a thing." Whilst reminding Mathira about the impact of the hate they receive as public figures, Tuba expressed her disappointment at Mathira's public statement. "You can check my highlights for the complete interview," said Tuba before ending her note with a firm "take care."
Previously, speaking to BBC Urdu, Tuba shared how the news of Noor's brutal murder happened at a time when she was struggling the most. "I particularly started speaking up because it happened in my life at a point where I was personally suffering through a tough time in my life. I could connect to Noor. I never met her, never knew her before this but I felt so deeply for her on so many levels," she said.
"There's a norm of victim blaming in our society. I don't understand why it happens, to be honest, maybe it's a lack of education or perhaps awareness, but I feel like it is my responsibility as a public figure to aware people of what's happening around them. If around such sensitive topics, even if one person learns or unlearns their toxic behaviours from me, then I feel like my purpose is complete," she added about the need to make people aware of how blaming the victim only makes the problem worse.
Arguments between celebrities and other public figures, especially on social media, have become an increasingly common theme in the Pakistani showbiz industry. Seeing celebrities on good terms, respecting each other and reaching out privately in case of a misunderstanding is undoubtedly a pleasant sight. Nevertheless, when it comes to sensitive issues such as domestic violence or violence against women, people, specifically public figures, must be careful with their words.
Have something to add to the story? Share it in the comments below.
COMMENTS
Comments are moderated and generally will be posted if they are on-topic and not abusive.
For more information, please see our Comments FAQ