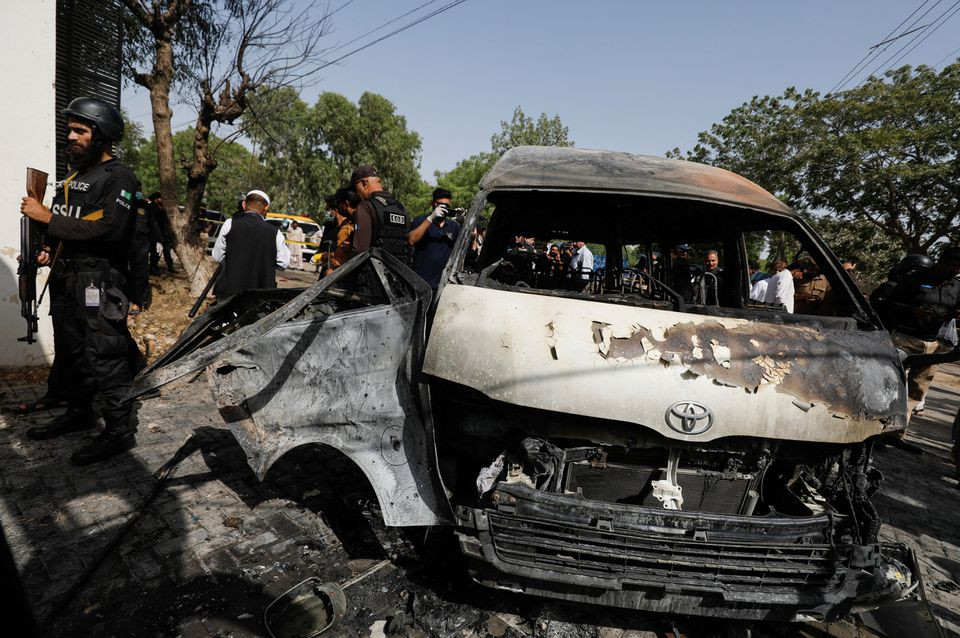 ---
KARACHI:
Most of the fugitives in the University of Karachi (KU) suicide attack are hiding in Afghanistan and remain a threat to the lives and property of the Chinese nationals working in Pakistan, a police investigator told an anti-terrorism court on Wednesday.
The Anti-Terrorism Administrative Court approved an interim challan of the suicide attack on the Chinese teachers at the University of Karachi.
On 26 April 2022, a suicide bomber hit a van near the University of Karachi's Confucius Institute, killing three Chinese teachers and their Pakistani driver. The Balochistan Liberation Army (BLA) a banned separatist and global terrorist group claimed responsibility for the heinous act.
The investigation officer stated in the interim challan that an accused Dad Baksh has been arrested in connection with the case.
Read more: Alleged 'facilitator of KU attack arrested'
Haibatan Baloch, husband of suicide bomber Shari Baloch, BLA Commander Bashir Zeb, Commander Rehman Gul, Commander Khalil Waja, the spokesman of banned BLA Mir Safeer have been declared fugitives in the case, the IO said.
"Most of the fugitives are hiding in Afghanistan and are involved in terrorist activities in Pakistan. The purpose of the accused's actions is to destabilize Pakistan's relations with China," the investigator told the court.
The challan stated that Shari Baloch had recorded a video statement with her children in the park before the suicide attack. She was wearing a suicide jacket under her abaya in the video. As per the police document, Shari Baloch's husband was involved in brainwashing her and pushing her to join the proscribed organisation.
Also read: Female suicide bomber kills 3 Chinese nationals at KU
Shari Baloch's husband was residing in the Delhi Colony neighbourhood of Karachi, the IO told the court, adding all the evidence was collected from the residence. Some of the fingerprints recovered from the residence of Shari and Haibatan did not match any Pakistani citizens, according to the NADRA database.
The challan stated that On July 4, 2022, on the tip of a special informant, suspect Dad Baksh was arrested from Machli Chowk on Hawke's Bay Road.
Read more: China strongly condemns KU terror incident, demands thorough investigation
As per the document, accused Dad Bakhsh used to conduct recce and provide information to BLA Commander Khalil, Dr Haibatan Baloch and Commander Zeb.
Bakhsh along with his co-accused Nasir revealed that they targeted Chinese nationals. He Bakhsh revealed that he had obtained the identity card by adding Azam Khan's name to the family tree at the request of the banned organisation.
COMMENTS
Comments are moderated and generally will be posted if they are on-topic and not abusive.
For more information, please see our Comments FAQ