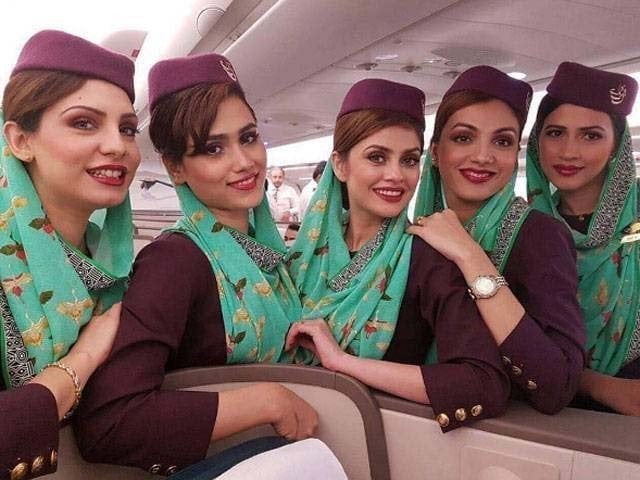 ---
ISLAMABAD:
The Pakistan International Airlines has made it mandatory for its air crew to wear undergarments while wearing plain clothes.
The national carrier's flight services general manager has raised objections over the dressing of the airline's air hostesses and issued guidelines in this connection.
The official, Aamir Bashir, observed that there had been complaints about the attire of the air hostesses when they reach their offices, stay at hotels and travel to other cities.
He added that the lack of better attire by the air attendants was ruining the PIA's image.
It has been made mandatory for grooming instructors and senior shift in-charges to monitor the dressing of flight attendants.
Read more: Mid-air scare: Man kicks window, acts strangely on Dubai-bound PIA flight
The flight services general manager warned that strict action would be taken against those flight attendants who did not follow the guidelines.
Separately, the International Transport Workers Federation has expressed concern over the extra duty timings of the PIA pilots and flight attendants.
The federation has written a letter to PIA CEO Aamir Hayat over the matter.
It read that the national carrier had unilaterally changed the working hours of the cabin crew in recent times.
It added that unilateral changes in working hours were affecting the productivity and performance of the cabin crew. Besides, the move was in violation of the rules.
The letter stated that the matter should be resolved urgently for the protection of human lives as unnecessarily lengthy working hours for pilots and air hostesses might cause accidents.
It added that the federation had sent a similar letter to the Civil Aviation Authority director general two years ago.
Also read: PIA losses top Rs100b since pilots' exam controversy
In another development, Aviation and Railways Minister Khawaja Saad Rafique held a meeting at the PIA office to discuss steps to improve the services of the national carrier.
The minister issued instructions to make the in-flight entertainment system functional for the passengers as soon as possible.
The participants of the meeting were also briefed on the plan to replace the old seats with better and comfortable ones.
The minister observed that an in-flight entertainment system and better seats were a long-standing demand of PIA passengers.
He added that Pakistan was one of the biggest countries in the world and there was a need for taking many steps for the development of the aviation industry.
Rafique further pointed out that airport facilities were available in many important or medium-sized cities, but they did not have air connectivity.
The minister issued instructions to plan multi-purpose initiatives to connect these cities with the air network.
COMMENTS
Comments are moderated and generally will be posted if they are on-topic and not abusive.
For more information, please see our Comments FAQ