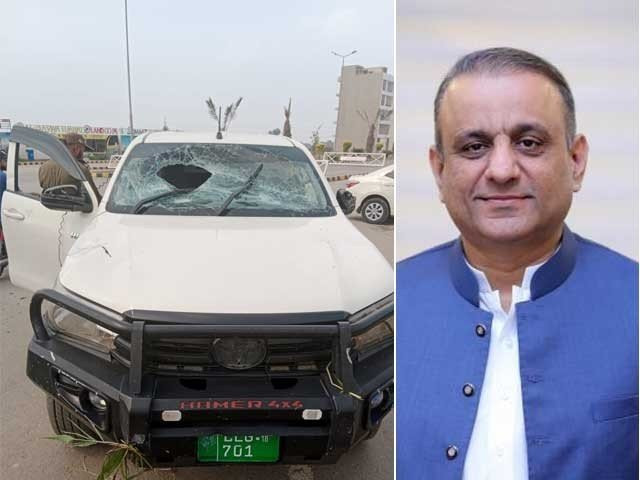 ---
LAHORE:
Pakistan Tehreek-e-Insaf (PTI)'s estranged leader Aleem Khan's security staff was booked in a terrorism case on Wednesday after they allegedly attacked government employees.
According to Punjab Home Minister Col (retd) Hashim Dogar, security officials of Khan's Park View Housing Society in Lahore reportedly attacked assistant commissioner Lahore and other government employees.
The minister added that by attacking government officials, the attackers "challenged the writ of the state".
Read: Aleem Khan emerges as richest lawmaker in Punjab
"Two FIRs have been registered against them under Section 7 ATA. Seven people have been arrested after the raid," he added.
آج صبح علیم خان کی سوسائٹی پارک ویو کے سیکورٹی سٹاف نے علیم خان، شعیب صدیقی اور دیگر کی ایما اے سی سٹی اور دیگر سرکاری ملازمین پہ حملہ کیا اور ریاست کی رٹ کو چیلنج کیا۔ ان کے خلاف دفعہ 7ATA کے تحت دو ایف آی آر درج ہو چکی ہیں۔ ریڈ کے بعد 7لوگ گرفتار ہو چکے ہیں۔ مزید کاروائ جاری

— Col (R) Muhammad Hashim| Home Minister Punjab. (@ColhashimDogar) September 27, 2022
In 2018, Khan was grilled by the National Accountability Bureau (NAB) team in connection with different graft cases.
He was accused of initialing Tulip and Gold blocks in the housing society without following proper procedures.
COMMENTS
Comments are moderated and generally will be posted if they are on-topic and not abusive.
For more information, please see our Comments FAQ