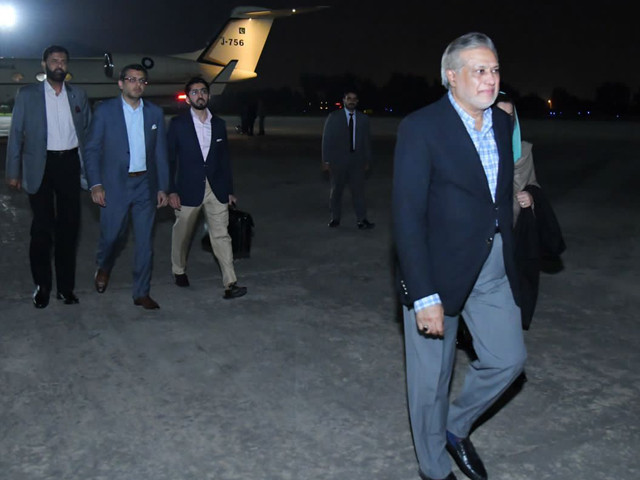 ---
ISLAMABAD:
A petition, with the Election Commission of Pakistan (ECP), seeking disqualification of former finance minister and Pakistan Muslim League-Nawaz (PML-N) leader Ishaq Dar from the Senate was withdrawn on Tuesday.
The senator-elect is expected to take oath of the upper house of parliament today (Tuesday) to become the new financial czar of the country in what appears to be a move by the bigwigs of the PML-N to not only to revive the country's faltering economy but to regain its lost political capital ahead of the next general elections.
During the proceedings at the ECP today, the petitioner's lawyer said that he wished to pursue the case in a high court.
"The decision was already reserved," said the K-P member of ECP adding that "the case was only reopened on the request of Ishaq Dar".
Submitting a written request for withdrawal of the reference as per the ECP's orders, the petitioner said that "the Supreme Court (SC) has declared that the ECP is not a court".
"The case requires the law to be interpreted," the request added, saying that the "relevant forum" would be approached.
Read Rupee continues upward gains against USD as Dar returns
The request made a reference to a SC judgment made in August last year, where the top court held that the ECP has no power to consider the qualification or disqualification of an election candidate or an assembly member.
"In our view, there is no power or jurisdiction inherent in the commission itself in terms of Article 218(3) to consider the qualification/disqualification of a candidate/member, whether as an independent, standalone issue or as part of an election dispute," said the majority judgment authored by Justice Munib Akhtar and endorsed by Justice Syed Mansoor Ali Shah.
According to the judgment, the ECP decided the eligibility of lawmakers in matters which were referred to it by the superior courts.
It may be noted that the petition at the ECP had sought Dar's disqualification on the basis of him being accused of defaulting on a fine imposed on him in the Atta-ul-Haq Qasmi case.
In a Lahore High Court hearing of a petition that had sought an early decision on the disqualification of Dar as a member of the Senate the petitioner's counsel, Advocate Azhar Siddique, had highlighted that the Supreme Court had declared the former finance minister a "defaulter" by the three-judge bench headed by ex-chief justice of Pakistan Saqib Nisar when he heard the suo moto case against Attaul Haq Qasmi's "illegal" appointment as PTV chief.
COMMENTS
Comments are moderated and generally will be posted if they are on-topic and not abusive.
For more information, please see our Comments FAQ