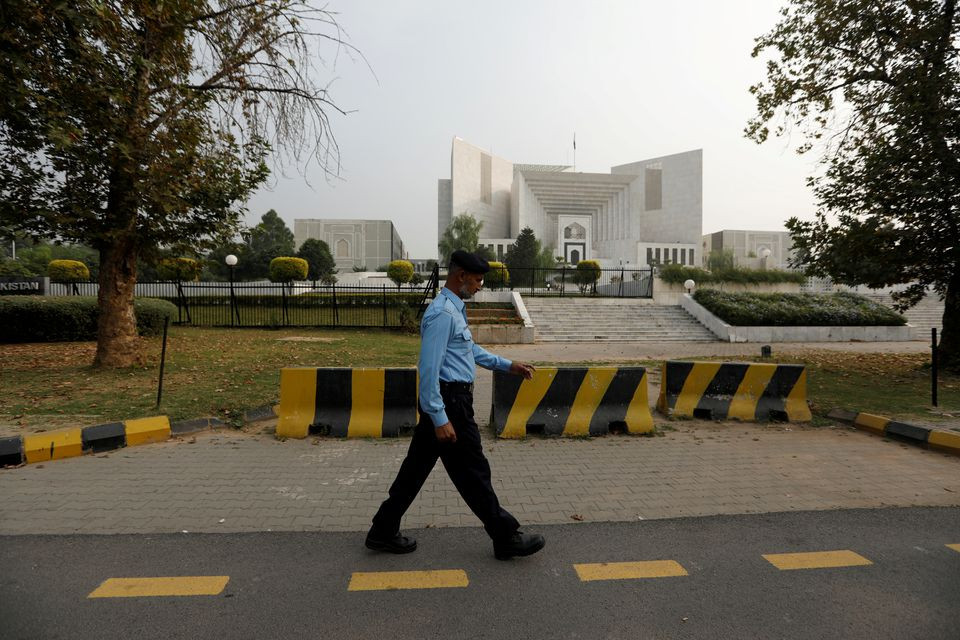 ---
ISLAMABAD:
Attorney General for Pakistan (AGP) Ashtar Ausaf Ali has urged the Supreme Court to restore the status of parliament to its "rightful place".
"If we indeed have made the journey from a despotic dominion, from four full-blown military dictatorships, from elected autocrats, to a free, parliamentary democracy, it is time to restore the status of our parliament to its rightful place. There can be no greater legacy for the Supreme Court than that", the AGP said in his speech which was read out by Additional Attorney General Chaudhry Amir Rehman during the ninth International Judicial Conference.
The AGP stated that the Constitution was a creature of parliament and not vice versa.
"The Constituent Assembly of which Mr Muhammad Ali Jinnah was the first President, the sovereign body, was to have full powers to free us from our colonial shackles and enjoy the fruits of a republican democracy. It was first dissolved by a usurper governor-general, and then stripped of its sovereignty by Justice Munir in the Federal Court. It is recent decisions such as this august Supreme Court made in the Pakistan Peoples Party Parliamentarians case that repair the past and reassure us of a better tomorrow," he said.
Read more: G-B moves apex court against appointment of judges
"But that betterment must now be sustained: in allowing parliamentarians full right to air their views, to represent their constituents, and to vote according to their conscience – no matter what the outcome," he added.
"When asked to speak on the subject at hand – titled 'supremacy of the Constitution' – I thought to consult the debates of the very first framers of our Constitution, the founding fathers in the Long Parliament (1947–1954)."
The AGP stated that on August 11, 1947, Quaid-i-Azam Muhammad Ali Jinnah told the Constituent Assembly, "The first and foremost thing that I would like to emphasise is this – remember that you are now a Sovereign legislative body and you have got all the powers."
"On 2 March 1948, our first Prime Minister, Shaheed-e-Millat Liaquat Ali Khan said, '…There is no question taking away any powers from the Constituent Assembly. The Constituent Assembly will continue to enjoy all the sovereign powers that it does enjoy…[it] will continue to enjoy all the powers."
The AGP noted that a legal system cannot be stated to be performing its duty if it cannot enforce the most basic of contracts.
"At the highest level, we have seen this sort of oversight translate into billions of dollars being awarded against the state of Pakistan by international investment dispute tribunals; we have seen state-owned white elephants continue to bleed the exchequer; we have seen the salient judicial principle pertaining to the rule of law, as enshrined by My Lords – that the judicial system must tread lightly in economic matters – forgotten," the AGP said.
"The rule of law is not just meant to protect federations like ours from palace intrigues; that may well be a high calling, but it is in everyday lives, in the courts of plenary jurisdiction, where it must be most in evidence," it added.
"We may decry international metrics all we want, we may say their methodology is unfair, we may point to those aspects where we are making progress; but I ask my esteemed friends, just as I ask myself, how successful can any legal system be when a former Chief Justice of Pakistan determines that the average case – from institution in the plenary jurisdiction to its ultimate disposal via appellate fora – takes 25 years?"
The AGP called for reforming the district courts on "war footing", saying the weight and magnitude that by rights belonged to the plenary jurisdiction must be restored.
"To that end, we look to the senior judiciary in the High Courts of Lahore, Balochistan, Sindh, Peshawar, and Islamabad; their legacy will be defined as much by the quality of their judgments as by the functioning of the Civil and Sessions Courts that I may go so far as to say are in no way 'subordinate' to them. Theirs is an even more onerous task – to seek justice through the densest thickets of fact and law," the speech read.
"May I add, in the same manner, that the High Courts too be accorded the weight of finality they deserve. There can be little justice, ladies and gentlemen, in a country of endless appellate fora. Our Supreme Court is this republic's most august body, its most rarefied body; it is in the fitness of things that it take up only those cases that are of pressing constitutional significance; for all else, the High Courts and courts of plenary jurisdiction are there to dispose of routine cases," it added.
"When we make our journey to Constitution Avenue, we do so to benefit from the wisdom of our most eminent jurists; may I also say that it amply inheres within the text of the Constitution that those jurists attend to such complex matters by way of a full Bench, rather than by necessity having to form multiple benches against the floodgates of appeals."
COMMENTS
Comments are moderated and generally will be posted if they are on-topic and not abusive.
For more information, please see our Comments FAQ