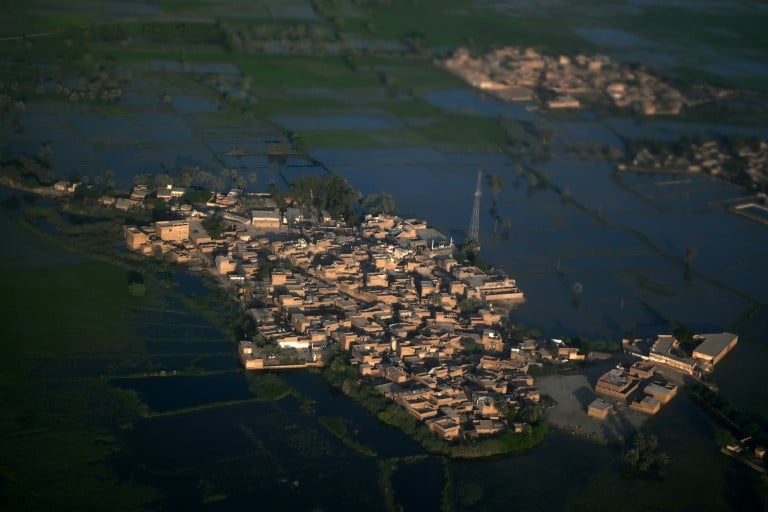 ---
ISLAMABAD:
In an early assessment report on the impact of flood on Pakistan's economy, the government revised the initial estimate of damages from $10 billion to upwards of $40 billion.
Furthermore, recent projections indicate that the nation's inflation may soar up to 26%, and the economy's growth rate may drop from the initially anticipated 5% to 2%. The government is contemplating approaching the IMF for a critical, condition-free loan to combat the onslaught of economic and financial issues. It seems like a high price to pay for a nation that contributes just 0.8% of global emissions.
A recent study at Dartmouth challenges the view that addressing climate change is a "collective action problem," whereby actions of one country would have little to no impact on global warming. Additionally, it offers an essential foundation for governments to bring legal claims for economic damages related to emissions and warming.
Amongst the data, the study discovered that from 1990 to 2014, a small number of the world's major emitters of greenhouse gases inflicted $6 trillion in economic losses on the world. The losses (incurred by the United States, China, Russia, India, and Brazil) amount to around 11% of the global GDP annually. One of the study's notable observations is that Pakistan may be linked to $130 billion in statistically significant losses.
However, since introspection is the hardest form of criticism, our role in this catastrophe cannot and should not be downplayed.
While it is true that the heavy, prolonged rainfall would have been a problem for Pakistan regardless of the circumstances, years of mismanagement, weak governance, and rampant anthropogenic activities likely exacerbated the problem. As a result, this year's flood is merely the most recent in a string of extreme weather occurrences the nation has endured.
The first factor is the lack of adequate monitoring systems. After massive floods inundated the nation between 2010 and 2012, Pakistan's government pledged new monitoring systems for glacier melt and flood warnings to help avert similar catastrophes.
Although some early warning systems saved lives in 2022, Pakistan has had five administration changes since 2010, and not all plans have been properly executed.
One such project was initiated in 2017, focusing on developing an early warning system for water inflows from more than 7,000 melting glaciers in Pakistan's northern areas.
This climate change adaptation plan aimed to reduce flood warning times, optimise the functioning of hydropower projects and barrages, and guarantee that future hydropower and major irrigation infrastructure was situated and constructed accordingly. However, the effort did not come to fruition due to a lack of follow through from the implementing body.
The second factor is the urbanisation of ecosystems, which has resulted in deforestation and altered water-flow patterns. For Pakistan, decades of deforestation have diminished the land's capacity to absorb rainwater. In addition to altering the terrain around rivers, people have also changed the waterways themselves.
The bulk of water in the upper Indus River basin flows from glaciers in the Himalayan and Karakoram ranges. Since the flow is not always enough to fulfill the requirements of the people living downstream, dams, levees, and canals have been constructed to redirect and store water for agricultural purposes. Consequently, when excessive volumes of water are pulled from a river channel, it loses its ability to move water fast. Levee construction results in silt deposits on the riverbank, which increases flood risk and makes it difficult for floodwater to retreat to the channel afterward.
During this year's monsoon season, man-made bottlenecks began to collect water, and structures that were previously incapable of holding back excess rainwater collected it in wrong places. This stagnant water has become a breeding ground for several viral and bacterial waterborne diseases, including cholera, malaria, diarrhea, and gastro.
Additionally, unplanned communities on or near the flood plains drastically altered the rivers' natural flow patterns. Decades of mismanagement and corruption at the local level (permitting illegal construction of restaurants, schools, and hospitals on riverbanks with electricity and gas connections) have demonstrated that such imprudence has extremely dire repercussions.
The third factor is localised emissions. Pakistan's less than 1% of global emissions are manifested via local meteorological abnormalities such as smog caused by inefficient automobiles, industries, power plants, and oil refineries.
Pakistan relies heavily on fossil fuels, which account for more than 60% of the energy mix. Since the early 2000s, the country's carbon emissions have increased by more than 160%. Despite assertions regarding the 1,320MW Sahiwal coal power project's ultra-low, even negligible carbon emissions, on-site accounts reveal a gloomy picture.
It is an incontrovertible fact that the severity of the climate crisis, described by the IPCC, has not been matched by corresponding efforts to lower emissions. Stopping global warming requires global cooperation but doesn't preclude individual countries from making a difference. Despite all the rhetoric, one fact remains clear: warming has global, regional, and local causes and effects.
While the bulk of climate change legislation and initiatives have focused on global and national levels, there is minimal opportunity for public participation at the local level. For any intervention to be successful, all levels of government, business sectors, individuals, and the community must work together to coexist.
The government should launch a community-focused, action-oriented climate change programme funded through the Green Climate Fund. Through a participative approach, scientists, decision-makers, and planners will be able to analyse climate change implications and devise workable solutions at the local level. The programme's objectives could include:
One – Transparent dissemination of information about public processes and climate change at the local level and involving local stakeholders in the decision-making process. Two – Employ exhaustive climate change scenarios incorporating causes, repercussions, responses, adaptation, and mitigation to simulate future climate projections; and,
Three – Encourage public participation in developing action plans and solutions through visual tools (media campaigns) that will increase interest and engagement, facilitate quick learning, and broaden participation.
As the globe grapples with economic and political challenges, the level of monetary and in-kind assistance available may fall short. Hence, Pakistan must now embrace a position of self-reliance and abandon the victim stance.
The writer is a Fulbright alumnus, passionate about sustainable energy consumption and climate change
Published in The Express Tribune, September 26th, 2022.
Like Business on Facebook, follow @TribuneBiz on Twitter to stay informed and join in the conversation.
COMMENTS
Comments are moderated and generally will be posted if they are on-topic and not abusive.
For more information, please see our Comments FAQ