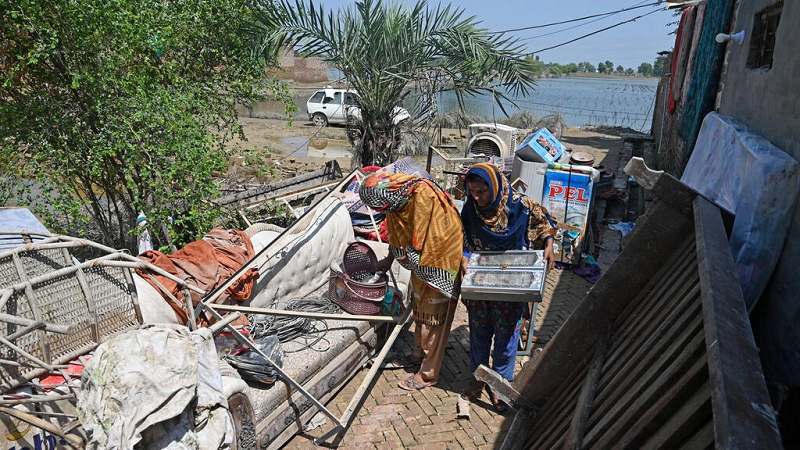 ---
Ambassador of Japan Wada Mitsuhiro called on Chief of Army Staff (COAS) General Qamar Javed Bajwa at the General Headquarters (GHQ) in Rawalpindi and pledged to extend all-out support to the flood-hit people of Pakistan.
The Inter-Services Public Relations (ISPR) said in a statement on Thursday that matters of mutual interest, regional security situation and collaboration/partnership in humanitarian measures were discussed during the meeting.
آرمی چیف جنرل قمر جاوید باجوہ سےجاپان کے سفیر کی ملاقات.ملاقات جی ایچ کیو راولپنڈی میں ہوئی. باہمی دلچسپی کے امور،علاقائی سکیورٹی صورتحال پر تبادلہ خیال.پاکستان عالمی اور علاقائی معاملات میں جاپان کے کردار کی قدر کرتا ہے.
1/2 pic.twitter.com/igHtskiLwG

— PTV News (@PTVNewsOfficial) September 22, 2022
"Pakistan values Japan's role in global and regional affairs and we look forward to enhance our bilateral relationship," the ISPR quoted Gen Bajwa as saying.
The envoy also expressed his grief over the devastation caused by ongoing floods in Pakistan and offered sincere condolence to the families of the victims.
He offered full support to the people of Pakistan and also appreciated Pakistan Army's efforts for assisting civil administration in rescue and relief efforts in the flood-affected areas, the statement added.
The military's media wing further said the COAS appreciated Japan's support and reiterated that "assistance from our global partners shall be vital in rescue/rehabilitation of the victims".
Also read: Pakistan gets another debt relief of $160m from Japan
A day earlier, Japan agreed on debt deferral amounting to approximately $160 million to Pakistan, as the last phase of "the G20 Debt Service Suspension Initiative (DSSI)".
According to an official statement, prior to this, both the governments agreed on the first debt deferral amounting to nearly $370 million on April 27, 2021 and the second debt deferral amounting to $200 million on October 22, 2021, under the same initiative.
The total amount of deferred debt has reached $730 million, which will widen the fiscal space for Pakistan to restore its economy affected by the Covid-19 pandemic and the flood disaster.
The concessional loans, subject to debt deferral, have been utilised for infrastructure development such as roads, tunnels, power plants and grids, irrigation, water supply, and drainage facilities in Pakistan from the early 1990s to the mid-2010s.
COMMENTS
Comments are moderated and generally will be posted if they are on-topic and not abusive.
For more information, please see our Comments FAQ