 ---
After months of speculation and rumours, actor Feroze Khan has confirmed that he and his wife of four years, Syeda Aliza Sultan have parted ways. Aliza, took to social media and shared she had to "endure infidelity, blackmail and degradation" by Feroze.
The Ae Qatil Haseenaon Ke Naam actor, Mehar Bano, while lending support to Aliza shared her stance on the former's allegations of abuse against her husband. Feroze has often faced criticism for playing troubling characters onscreen.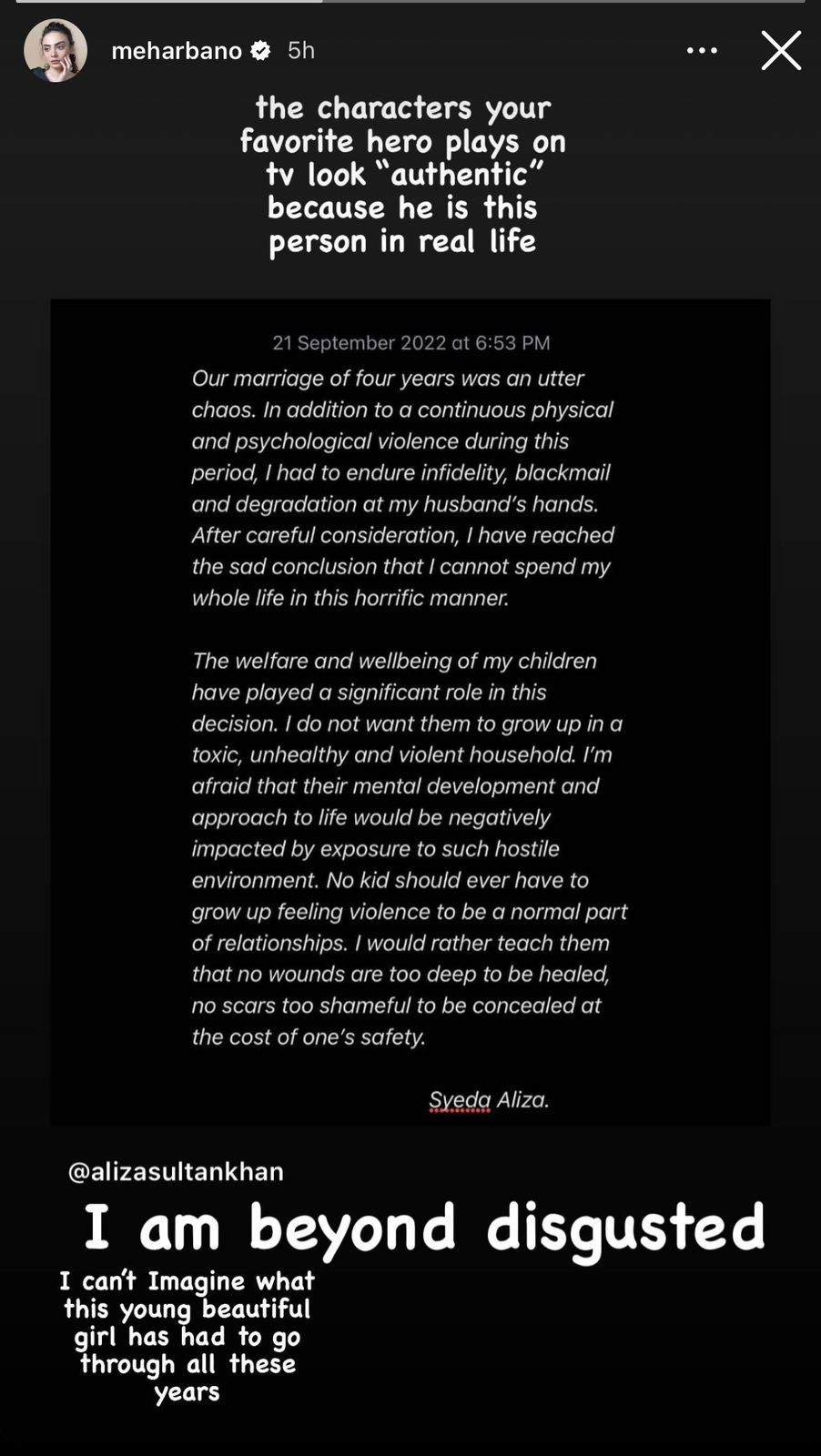 "The characters your favourite hero plays on television look "authentic" because he is this person in real life," Mehar Bano penned in an Instagram story. "I am beyond disgusted. I can't imagine what this young, beautiful girl has had to go through all these years."
In an interview with BBC Urdu last month, Feroze spoke about the portrayal of men on local television. He had said, "I think in dramas, a man should not be depicted as an animal every time. This creates an image in our society that if a man is standing beside you, he is bound to hit you, insult you, and destroy your life."
Referring back to his previous roles which have faced similar criticism, he adds, "I have also played characters like Azar in Chup Raho, Mir Hadi in Khaani and Mustajab in Aye Musht-E-Khaak who you can say are toxic, but they have never had an ending where their actions were glorified. In the end, they could never use their power to escape the consequences of their actions. They paid for their crime and their wrongdoings."
Aliza opens up about 'abusive marriage'
"Our marriage of four years was an utter chaos," Aliza said in a statement. "In addition to continuous physical and psychological violence during this period, I had to endure infidelity, blackmail and degradation at my husband's hands." She added that after careful consideration, she has "reached the sad conclusion that I cannot spend my whole life in this horrific manner."
Aliza went on to comment, "The welfare and wellbeing of my children have played a significant role in this decision. I do not want them to grow up in a toxic, unhealthy and violent household. I am afraid that their mental development and approach to life would be negatively impacted by exposure to a such hostile environment."
Further elaborating, she shared, "No kid should ever have to grow up feeling violence to be a normal part of relationships. I would rather teach them that no wounds are too deep to be healed, no scars too shameful to be concealed at the cost of one's safety."
Have something to add to the story? Share it in the comments below.
COMMENTS
Comments are moderated and generally will be posted if they are on-topic and not abusive.
For more information, please see our Comments FAQ