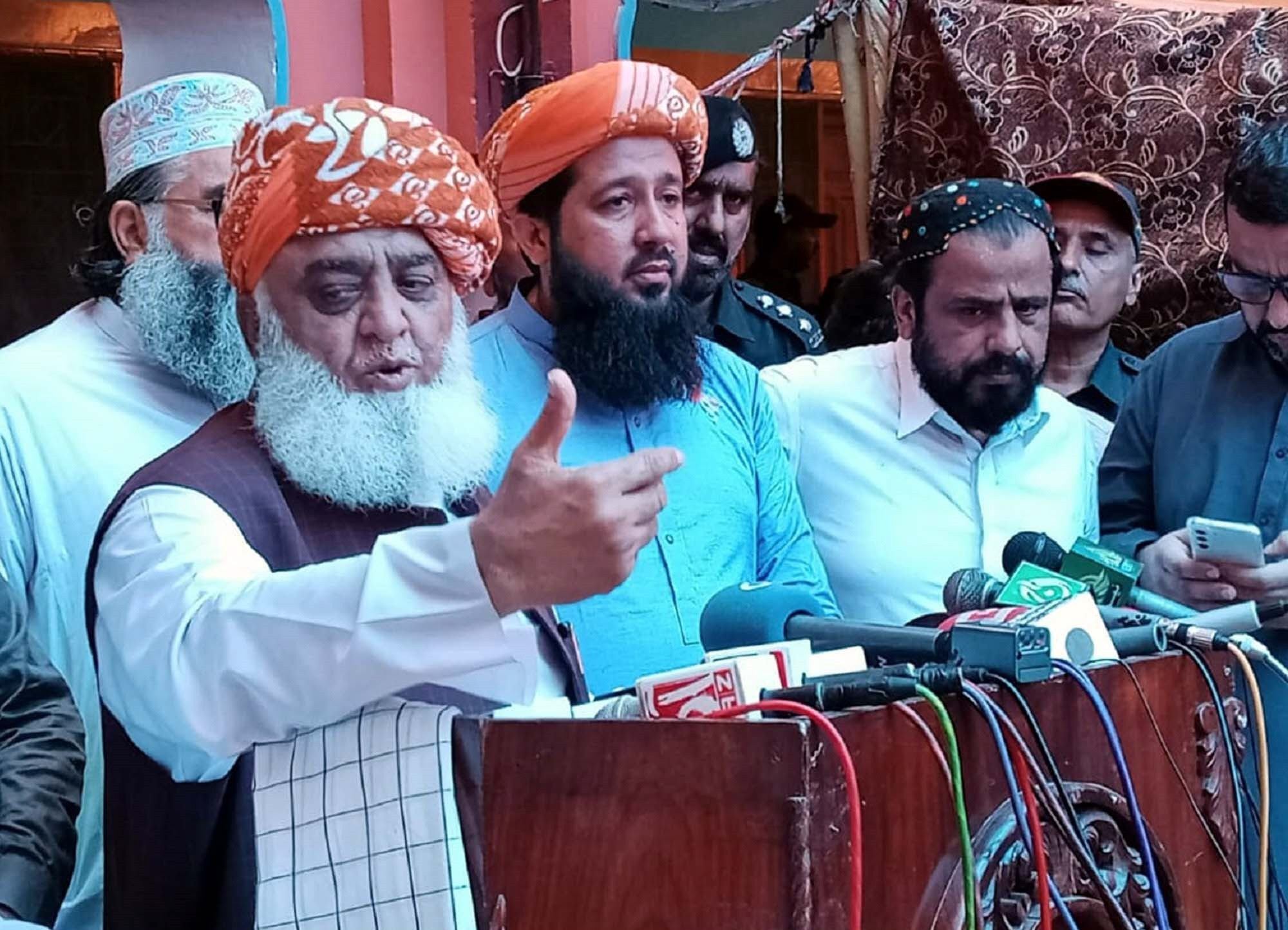 ---
LARKANA:
Jamiat Ulema-e-Islam-Fazl (JUI-F) chief and Pakistan Democratic Movement (PDM) President Maulana Fazlur Rehman said on Tuesday that Prime Minister Shehbaz Sharif would appoint the next army chief on merit.
Speaking to the media in Larkana, during a visit to the flood-affected areas, Fazl fired a broadside against Pakistan Tehreek-e-Insaf (PTI) Chairman Imran Khan, saying that the prime minister decision was "of no concern" for the former prime minister.
"The one who is responsible [for appointing the army chief] as per the Constitution will fulfil this task on the basis of merit," Fazl told reporters, when asked about the appointment of the next army chief, which due in the last week of November.
Fazl lambasted Imran for stirring chaos over the appointment of the chief of army staff. Who is he [Imran] to tell the government about who has to do this," Fazl said. "You [Imran] can cry and scream all you want," he added.
"Imran Khan is attacking all institutions, including the army," he said, adding that the PTI chief could not be allowed to "interfere in any way" in the army chief's appointment. "Imran Khan is finished. His politics have come to an end," Fazl said.
Fazl's comments came a day after Imran delivered a fiery speech at a public rally in which he castigated Prime Minister Shehbaz for allegedly discussing the matter with PML-N supremo Nawaz Sharif in London.
When asked about the Punjab government registering cases against federal ministers Javed Latif and Marriyum Aurangzeb, Fazl said: "The Punjab government is itself weak and it may be toppled."
Fazl also highlighted the level of destruction caused by floods in Sindh. He called for national unity in the wake of the calamity. "There is a pressing need for banding together and find ways out of this 'distressing' situation," he said.
(WITH INPUT FROM NEWS DESK)
COMMENTS
Comments are moderated and generally will be posted if they are on-topic and not abusive.
For more information, please see our Comments FAQ