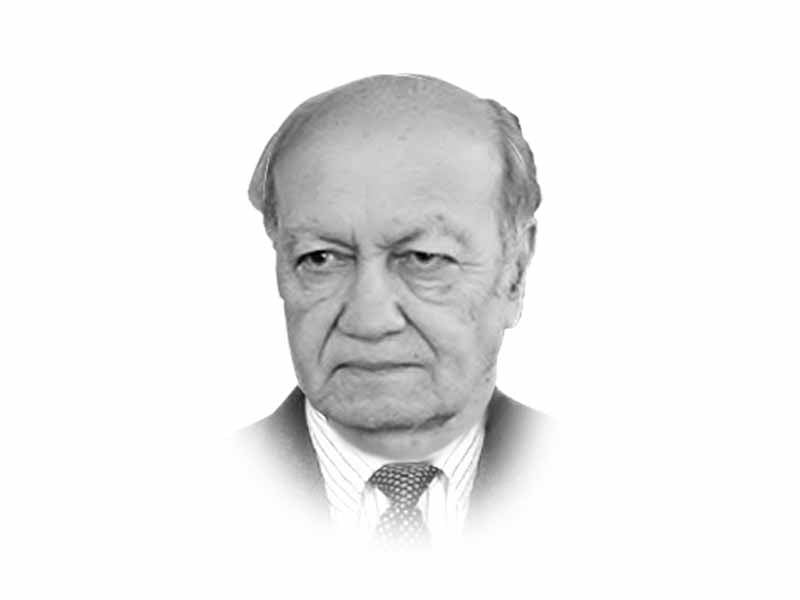 ---
At a time when the country is passing through an extremely difficult period at every level and more so after the advent of floods of unprecedented proportions it was expected that the leadership would focus singularly on policies that would assist in the rehabilitation and care of those millions that have lost everything. They would also address the severe economic challenge the country is facing, and not leave the serious militant threat that is emerging in Swat and Malakand to the military to deal with. Above all, take a break from personalised politics, focus all energies in supporting welfare activities, and ensure revival of the economy.
But the priorities of our politicians, with the exception of a few, are very different.
Imran Khan feels betrayed that he was ousted from premiership through a planned conspiracy and is not prepared to accept the change. His main demand is early elections as he knows he is riding the popularity wave and most likely win the next election probably by a two-thirds majority. His celebrity status is amazing and government's efforts to discredit him do not sell. The strategies to smear Imran Khan by digging the past and publicising the disposal of valuable state gifts has made no appreciable impact. It is the political opponents, establishment to an extent, some members of business community and a certain educated class that feel uncomfortable and opposed to his policies. As things stand, he seems to be politically in a better position than what he was when in power. One thing is clear politics is centering around the person of Imran Khan, irrespective of whether you like or dislike him. The opposition is vehemently critical of him but many well-meaning people are not sure if Khan's policies and style of leadership is good for the country. It is one thing to be popular but what the masses desperately need is that the political leadership in power or in opposition should make concerted effort to steer the country from the current political and economic mess. And take a long-term view of placing Pakistan on a sound footing. Khan's personalised politics and extremely hostile attitude toward opposition has made a sham of parliamentary democracy. And without a sound democratic or socialist system no country can achieve stability or progress. Going by the past there remains a risk that Khan when in power may not exercise restraint and moderation while dealing with external and national issues.
Moreover, there is not enough clarity or even reference from his side as how it is possible to hold elections when one-third of the country is submerged in water and millions of people have been displaced, including those of the election commission.
Pressure from the opposition apart, the government due to weak governance and a coalition of parties with diverse interests has failed to revive the confidence of the people and is faltering. The country clearly is adrift. Adding to the government woes is the lack of cohesion and diverse interest not only among the coalition partners but within the PML-N leadership itself. The recent public rebuke of the finance minister by Mariam Nawaz when she derided him for increasing the prices of fuel and gas is a classic example of how politicians detach themselves from hard decisions placing the burden on others to bear. In the long term it does not help and in fact damages the party and the person politically.
Imran Khan has been repeatedly stating that the conditions in the country during his party in power were much better. But the objective conditions now are very different and far more challenging than at that time. The Russia-Ukraine war and the flood within the country have brought about shortage of wheat and other crops and given rise to galloping inflation worldwide, with developing countries the worst sufferers. The hostility between the US and Russia with China expressing its solidarity with the latter and President Biden's approach to stifle China's rising economic power is ushering in a new complex and altered world order. It has consequences for Pakistan and demands a nuanced approach in dealing with these unprecedented complexities. The present government despite its inherent shortcomings has steered foreign policy fairly well. It is striving to maintain good relationship with all major and regional powers, with the exception of India with which, due to Modi's abstinence, the relations remain frozen. We, however, cannot overlook our weak economic situation and heavy dependence on donor agencies that is undermining national power and indirectly affecting major decision-making. This is one subject that hardly attracts a collective response and serious attention of the leaders. How long can this sad state of affairs continue? Moreover, our experience reminds us that there is a correlation between economic and political development. Although the example of India is sighted that democracy took root in a poor India. Notwithstanding the BJP has turned the country into a highly intolerant society and Kashmir is where its ugly and repressive face is for everyone to see.
Where Pakistan leadership has gone wrong is that it has not realised the significance of strengthening institutions or deliberately kept them weak given their self-interest. Unless they are fully respectful of institutions, develop strong traditions of giving parliament its importance and treat opposition with respect, democracy would remain shallow. Even the budget proceedings failed to engage the parliamentarians in examining the budget and the state of the economy seriously. Pakistan's politics and economic policies revolve largely around individual leanings and priorities and are influenced by the thinking of the military, bureaucracy and affluent politicians. The judiciary too has been undergoing an internal crisis and is looking at itself critically. The army's leadership also remains in the limelight. Should these trends and forces fail to move the country toward a more democratic, stable and prosperous Pakistan, political feuds and narrow partisan thinking will keep sinking the nation politically and morally, as the floods have done to us physically.
Published in The Express Tribune, September 21st, 2022.
Like Opinion & Editorial on Facebook, follow @ETOpEd on Twitter to receive all updates on all our daily pieces.
COMMENTS
Comments are moderated and generally will be posted if they are on-topic and not abusive.
For more information, please see our Comments FAQ