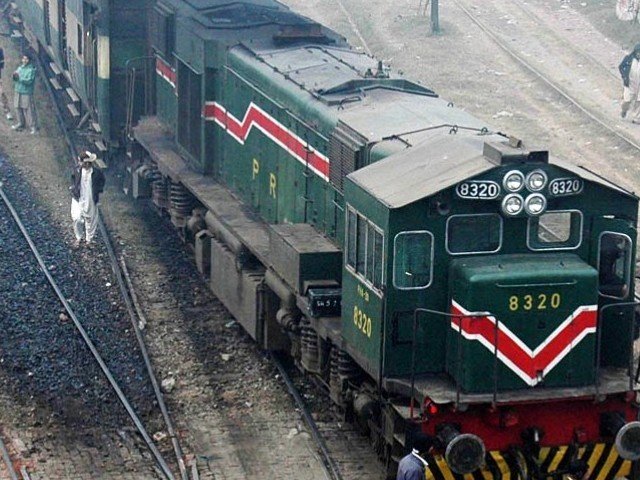 ---
QUETTA:
Federal Minister for Railways Khawaja Saad Rafique on Friday said that the Quetta-Taftan railway track, which was suspended after floods knocked down a vital bridge, would be restored by September 30.
The federal minister arrived in Quetta to visit the Hirak area of Bolan where torrents of deluge last month tore down the ancient bridge constructed during the British Raj. The major bridge had collapsed days after major arteries were washed away due to floods, leaving Quetta in isolation for an indefinite period.
While addressing a press conference on Friday, Rafique informed reporters that the railway track was damaged in 104 locations by the floodwater and assured that the technical staff would repair the railway track by September 30.
However, the minister said that the restoration of railway tracks in the rugged mountains of Bolan would take some time.
"As soon as the floodwater recedes, the pace of repair work on the damaged tracks will be accelerated," he said.
"Pakistan Railways suffered heavy financial loss in Balochistan due to floods," he said, adding that the state entity has never faced such a loss in its history.
Nonetheless, the government was determined to resolve issues by restoring the railway service day and night, he stressed.
The floods have badly affected train services in many parts of the country. The 11-kilometre railway track from Dera Allah Yar to Jacobabad was completely flooded, making it difficult to operate trains in the affected area.
Rafique said that Pakistan Army, Frontier Corps and civil administration assisted the staff of Pakistan Railways to enhance the restoration of railway tracks in Balochistan and other provinces of the country.
He said that the upgrade of Quetta Railway Station is also under consideration according to the requirements of the people.
Booking suspended
Meanwhile, the administration of Pakistan Railways has decided to close the booking of Lahore-Karachi trains till September 19 due to the accumulation of water on the track.
A notification in this regard has been issued to all commercial officers across the country.
At present, more than 28 up and down trains are closed on the railway system. Due to the condition of the track and the damaged signal system and bridges, train operations have come to a halt.
The department has lost more than Rs15 billion so far due to the closure of trains.
According to Additional General Manager Railways Infrastructure Arshad Salam Khattak, civil engineers and other staff members are working on the rehabilitation of railways infrastructure.
The official said that train operations will be resumed when the situation improves.
COMMENTS
Comments are moderated and generally will be posted if they are on-topic and not abusive.
For more information, please see our Comments FAQ