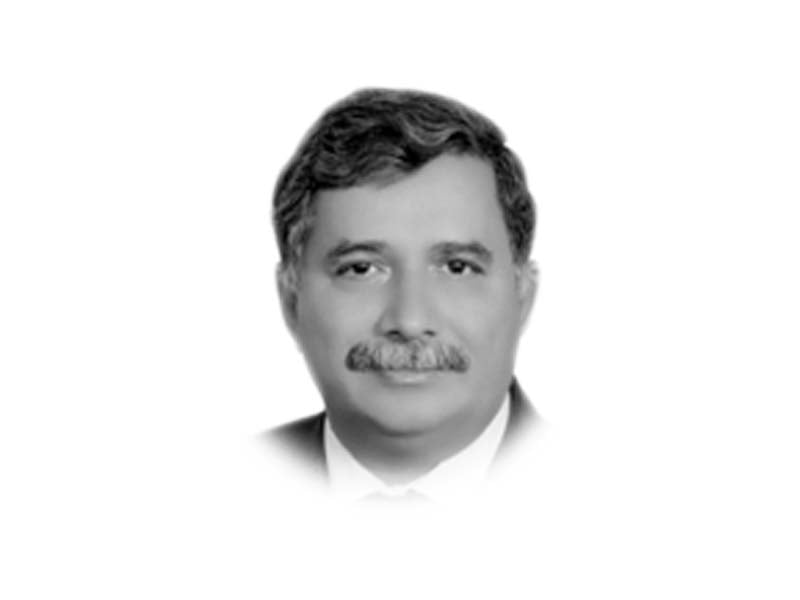 ---
Imran Khan's recent statement that PDM leaders want to appoint an army chief of their choice because a "strong and patriotic army chief" would question their "loot" has come under scathing criticism.
In its reaction, ISPR said that Pakistan Army was "aghast" at the "defamatory and uncalled for statement" about the institution's senior leadership. Prime Minster Shehbaz Sharif remarked that Khan's "despicable utterances to malign institutions" are "touching new heights every day". And PPP co-chairman Asif Ali Zardari labeled Khan an "insurgent".
While Khan's statement is against democratic ethos, unthinkable in a country ruled by a Constitution, it also raises questions as to why politicians pin their hopes on the security "establishment" to rise to power, and whether institutions are beyond criticism.
Politicians generally believe – and quite rightly so – that they cannot reach the corridors of power without the support of the "establishment". This impression has not emerged out of the blue.
A lot has been written on the indulgence of the country's most powerful institution in politics. Many books on the subject are even part of the syllabus. Some of them include Politics in Pakistan; Pakistan in the Twentieth Century: A Political History; The Idea of Pakistan; Between Dreams and Realities; Pakistan at the Millennium; Pakistan – The Garrison State, The Military & Politics In Pakistan; Friends Not Masters, In the Line of Fire; etc.
Rasul Baksh Rais in one of his article, Building State and Nation in Pakistan, writes that military and civil bureaucracies have formed the core of Pakistan's ruling establishment for well over 25 years, and have approached the issue of national solidarity from the angle of modernization. Ishtiaq Ahmad in his book Pakistan – The Garrison State holds that the military wields de facto veto power over politics.
Similarly Shuja Nawaz in his book Crossed Swords: Pakistan, Its Army, and the Wars Within quotes General Jehangir Keramat as saying: "Whenever there is a breakdown in stability, as has happened frequently in Pakistan, the military translates its potential into the will to dominate, and we have military intervention followed by military rule." The writer adds that while the military gained the respect of the people for its spirited defence of the country's borders against India, for example, and continued to attract number of youth to its ranks, its dominance of the polity of Pakistan eventually produced public questioning of its role.
Appointments and promotions of senior military leadership is an ordinary exercise in any developed democracy, but not so in Pakistan where the issue generates discussion even in the streets.
In this background, it should be mentioned here that democracy is based on the trichotomy of power; and Executive, Legislature and Judiciary are required to function within their own constitutional domains so as to ensure smooth functioning of the state. In the same spirit, all other departments of the state are required to act within legal parameters.
The mentioned institutions, being pillars of the state, are sacred. Of them, judiciary is the guardian and interpreter of the Constitution and is above all other institutions and departments. Despite that issues like the elevation to judges is not only debated but also bitterly criticised.
However, the civilian dispensation enjoys limited space to maneuver. It's because the political landscape in Pakistan has remained overshadowed by the country's most powerful institution.
Since any person or institution treading in the public domain cannot escape public discussion, it is advisable not to step outside one's sphere of activity.
One can, therefore, say that respect is not demanded but is earned – through exemplary conduct. Utterances on public platforms by political figures and others do trigger a public debate – for and against. Therefore those adopting public postures must be ready for such debates. Since accountability is the core the principle of good governance, based on participatory democracy, no institution is beyond criticism.
Published in The Express Tribune, September 15th, 2022.
Like Opinion & Editorial on Facebook, follow @ETOpEd on Twitter to receive all updates on all our daily pieces.
COMMENTS
Comments are moderated and generally will be posted if they are on-topic and not abusive.
For more information, please see our Comments FAQ