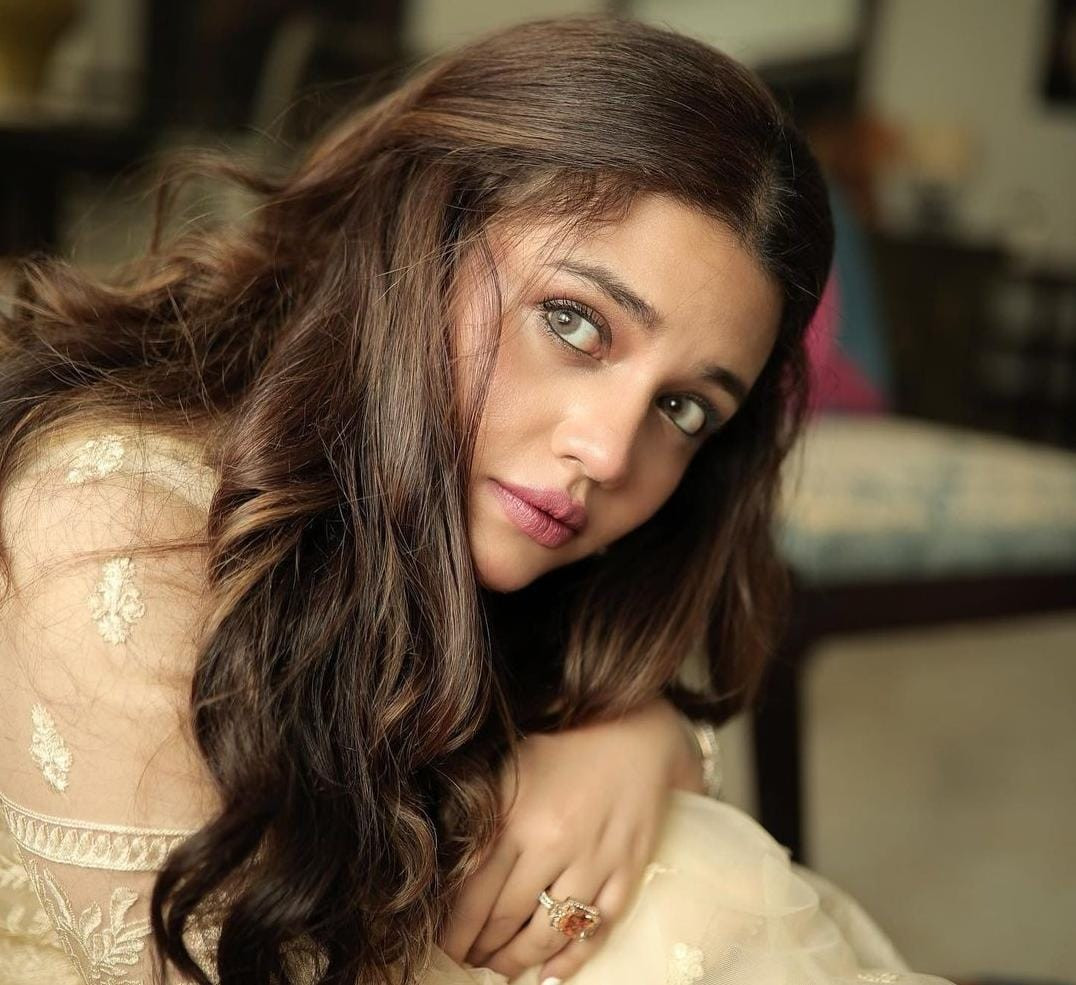 ---
Childbirth, while special for most, can be a traumatising experience for mothers especially those who end up losing their newborn right after giving birth or if the baby is stillborn. Actor Zara Noor Abbas, who went through the agonising process with her firstborn Aurangzeb, showed a great zeal of courage to not only speak about what she went through after the loss but also about how our healthcare system failed to accommodate her mental anguish at the distressing time.
On Sunday, Zara shared a clip from a podcast with Frieha Altaf on her Instagram where she spoke about the aftermath of her trauma, the negligence of the healthcare system and society's lack of applause for women who pick themselves up and are resilient after such a grave loss.
Arguing the need for greater empathy on the part of medical professionals, the 31-year-old actor also shared how she was denied anxiety medicines despite asking for them to help her sleep through the night — especially since she had a history of dealing with depression.

"It's always a task to talk about what you have lost forever. But after so much discussion and a few months later, I could finally talk my heart out with my beautiful and compassionate friend, Frieha Altaf and share my experience of the healthcare system, the negligence, the aftermath of trauma, and how women clap so little for themselves and don't know how brave and strong they are when it comes to resilience," read her caption.

She added that through her story, she wishes to gain some "hope from women who have been through the same or maybe worse", create awareness and establish support groups for women to have a safe space to share and navigate through their stories.

Frieha, the host of the podcast, encouraged the Badshah Begum actor to share her story with a reassurance that she isn't alone in this. "Of every 1,000 births, at least 53 were stillborn," she said and hence why her story is valuable to the many who struggle to process it.

Owing it all to her support system but also reflecting on who stayed with her during the tough time, Zara said, "Looking at it now, it is a lot of support from the family, very less [from] friends, I think one or two, maybe four. It has to do a lot with my family. Asad, of course, because it was his child also. When you have a child together, it makes your bond extremely beautiful but when you lose a child together, it makes your bond extremely beautiful also. I think Asad and I have seen the worst and now we ask, 'What else will we see? Okay, it's God's will.' Everything for me and Asad ends at whatever God wills because whatever is His will is His will. Yes, there's an extreme sense of loss and I think I'm still grieving."

Freiha shared that while mothers acknowledge that God has their best interest, in the end, the loss often comes with a lot of guilt. Zara admitted that she did suffer through feelings of self-blame too. "I did at a point. I thought maybe I didn't eat right, maybe I didn't make myself strong enough, maybe I should have lost more weight before conceiving, become thinner, maybe I should have had an intake of vitamins, maybe I should've taken folic acid. But all of that is a 'maybe'. God gives a child to even those who aren't physically stable. He gives to those He wants to give to and takes from those He wants to take from."

She said that when it happened, her parents were by her side consoling her with the thought that it is probably what was best for the future of the child and the parents, in terms of health. The Ehd-e-Wafa actor stressed on mothers taking care of their mental health as much as their physical health and on the importance of knowing that you do not have control over the works of nature.
"What I think women should know more about is that you can have a short cervix, you can have missing amniotic fluid in your system, you can have a weak uterus but all of these things you'll never know before time. That is the beauty and payback of it. Until and unless a woman is pregnant, you cannot figure out these things. And when you're pregnant, this is a huge miracle so try and take care of yourself mentally and physically as much as you can. Because as important as your physical being is, your mental being is much more important than that."

She also added that a stillbirth does not make you any less of a mother. "Loss, I think, is a lifelong thing. I am a mother and he was my firstborn," she said. Zara continued with how to deal with the sense of hopelessness that follows such a loss. "One more thing I'd like to add is that loss brings you to a point where you don't want to do anything again or try anything again or you're scared of getting attached to people again because you think that this might repeat like before," she said.
"But I think that is the breakeven point where you have to step up and be like no, even if I'm going to fall again, I will not stop trying and I will not give up on what I think will happen. I have to keep on going. This difficult work is what I think life is about because if there's no movement there's no constant, hustle — and there's no life."

Concluding, the Zebaish actor advised expecting mothers to have their gynaecologist's personal number handy, book an appointment beforehand in order to avoid waiting in that fragile state and have a plan B in case something goes wrong. She explained that she had gone for a regular check-up only for it to transition into the nightmare that premature birthing can become. She said she was in such as traumatic state that she needed someone to make decisions for her because she was unable to process her surroundings. The doctors made her sign papers that shifted the responsibility, in case of her death, off their shoulders. She wasn't even aware of what she had signed until much later.
COMMENTS (1)
Comments are moderated and generally will be posted if they are on-topic and not abusive.
For more information, please see our Comments FAQ