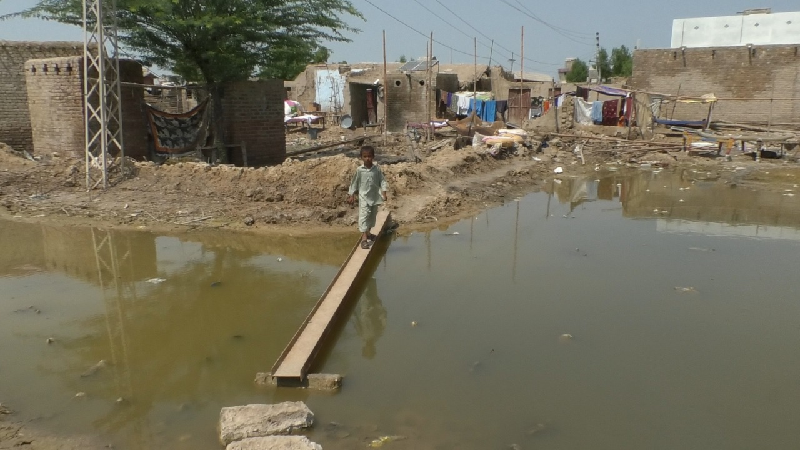 ---
KARACHI:
With floodwater receding and rain seizing its assault, people in an attempt to organise their unsettled condition are measuring the damages to their property and businesses.
Many believe that rapid urbanisation without corresponding infrastructures has led to the epic flooding as the available drainage channels cannot sustain the volume of storm water.
To sketch a regional comparison, The Express Tribune found one person familiar with similar matter in cities of Bangladesh.
Masudul Haque, tasked with the audit and submission of a financial report on a drainage channel project, while describing his visit to Mymensingh district on the bank of the River Brahmaputra, said that he along with his team made a comfortable walk through the newly developed channel from the middle of the city and reached the exit by evening located on the outskirts where it was designed to discharge the rainwater, to be recycled for multipurpose use. "Although we have deep monsoon drains, yet this development will save the city from urban flooding in case of any exceptional situation," he said.
"We are located at the verge of a bay with several rivers. Moreover, the monsoon climate of the country brings heavy rain in most of our parts. Keeping in view the regular rain and flood situation, the government aims to develop infrastructure that could help people cope with extraordinary circumstance."
The Express Tribune reached out to business leaders, artists and civil society members to seek their opinion over one of the persistently live civic issue of Pakistan's business nucleus that needs attention and the whys.
All Karachi Tajir Ittehad Chairman Atiq Mir said that there is no effective drainage network to flush out rainwater during monsoon rains. Eighty per cent of Karachi's commercial areas go under water that causes urban flooding. Karachi zoomed worst kind of civic mechanism in the city's municipal system that collapsed the entire business activities. Thousands of traders suffered and losses were in billions. Expensive electronic items, cloths, commodities and many other goods were damaged as their shops were flooded with rainwater.
Citing the example of damages, he said that Nursery Furniture Market is situated in a low-lying area. Earlier, there used to be two and a half feet standing water, but this year the level was higher than ever and water submerged the whole market area.
Similar views were expressed by Korangi Association of Trade and Industry (KATI) Chairman Salman Aslam. "Karachi suffers due to bulk of administrative failures. We badly need to develop and maintain a smooth flowing sewerage system. Rain in Karachi is becoming more significant and consequential. Business suffers huge losses due to the road situation as there is a decline in sales and revenues," he observed. Urban flooding adversely affects the financial performance of retailers while handling of consumer products, clothing, goods transportation, and food processing becomes difficult. Markets are deserted because of water on the roads. In case of urban flooding, water seeps into the shops and causes physical damages. Further, prolonged outages also affect business operations badly.
Once believed to be Karachi's stylish neighborhood, the Defence Housing Authority presents a scene similar to a slum. Residents never stop talking about the agonising events they went through due to drainage failures. While laying out a storm water drainage system, there should be provision of rainwater flow. These pipelines are laid in accordance with every possible eventualities followed by a maintenance ensuring -all well-running. Seemingly, none of the elements were measured or laid out.
"With water stagnating inside our home, we ran short of food. The eateries refused delivery to these areas. Even ambulance services refused under an emergency situation," a resident of Phase IV lamented while narrating his ordeal.
Well-known artist Shahid Rassam, told The Express Tribune that life is miserable not due to rain but because of flooding and poor civic system. "Unfortunately, they collect billions of rupees from the residents on account of different taxes and provide only suffering and loss of their valuables," he added.
"Moreover, we buy water and pay them water taxes. We suffer in many ways, keep paying them development charges. If one can see the list of taxes, (S)he can find that they charge even for the mosque. But in return, the DHA offers very little facility to its residents," Shahid said. In countries where rain comes as a season, houses are designed with the provision of exit drainage, while drainage systems are laid to challenge any possible flooding.
Published in The Express Tribune, September 13th, 2022.
COMMENTS
Comments are moderated and generally will be posted if they are on-topic and not abusive.
For more information, please see our Comments FAQ