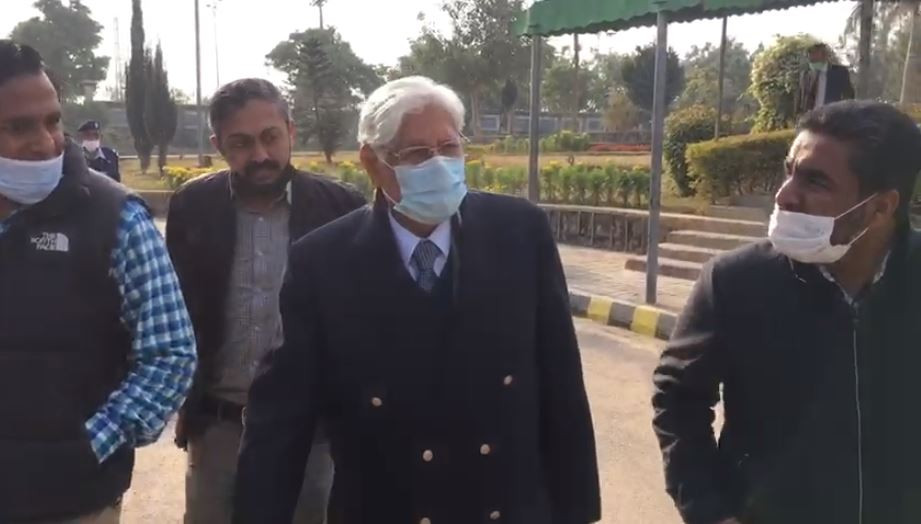 ---
ISLAMABAD:
Former Gilgit-Baltistan (G-B) chief justice Rana Shamim on Monday tendered unconditional apology in the contempt of court case against him in the Islamabad High Court (IHC), saying that he could not "even think of scandalizing" the judiciary.
IHC Chief Justice Athar Minallah heard the contempt of court case that started last year after the publication of an affidavit of Shamim regarding the appeals of the Sharif family, in a local newspaper.
The affidavit of Shamim had accused former chief justice Saqib Nisar of influencing the case against former prime minister Nawaz Sharif and his daughter Maryam Nawaz.
In his apology, submitted through his lawyer Latif Afridi, Shamim stated that the affidavit was written after three years, under "extreme mental stress" and at the age of 72. He added that he was "sorrowful and regretful" since the proceedings against him started last year.
"From the beginning of these proceedings, I have always shown deep regrets and have been apologizing for the circumstances that have been created due to my misunderstanding," Shamim said.
"I cannot even fathom of scandalizing the very institution I have served so dearly and with utmost professionalism," he said, adding: "I reiterate that no sitting Judge of this Hon'ble Court involves in controversy mentioned above."
He said, "I tender unconditional apology to all sitting Judges of this Hon'ble Court for the grave misunderstanding and mistake on my part & place myself at the mercy of this Hon'ble Court with humble request to graciously forgive me."
During the hearing, Afridi told the court that his client had asked for unconditional forgiveness and left himself at the mercy of the court. The chief justice said if a genuine apology was tendered, it was not a matter of ego.
Afridi then read from Shamim's statement. The chief justice told the lawyer that he was making the case even complicated. He asked whether Shamim was still sticking to his sworn statement, adding that sticking to the affidavit and seeking apology could not go together.
The chief justice said that the court could not ignore the allegations. He told the lawyer that the court was giving him one week's time to submit his affidavit after thinking carefully.
COMMENTS (2)
Comments are moderated and generally will be posted if they are on-topic and not abusive.
For more information, please see our Comments FAQ