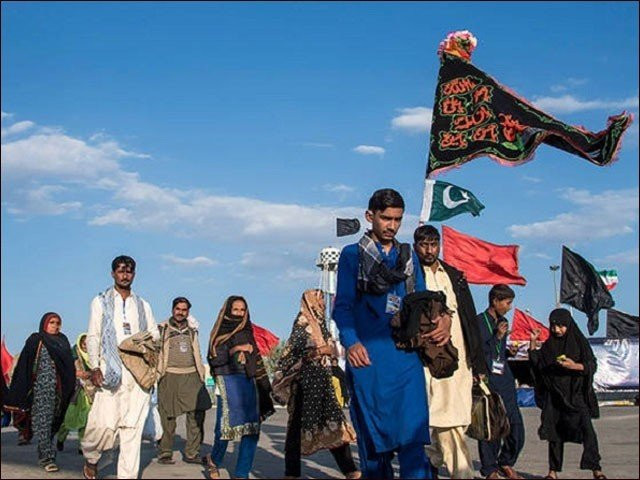 ---
ISLAMABAD:
Iraq's Interior Minister Othman Ali Farhood on Sunday permitted the entry of 5,000 Pakistanis stranded at the Iran-Iraq border and assured to open all entry points for Pakistani visitors.
According to Express News, Interior Minister Rana Sanaullah held a telephonic conversation with his Iraqi counterpart, where the two discussed the issue of delays in visa issuance, the increase in the number of visas as well as the many challenges being encountered by Pakistani pilgrims in Iraq.
The Pakistan Muslim League-Nawaz (PML-N) leader requested Farhood to permit 5,000 Pakistani pilgrims stranded at the Iran-Iraq border and requested to permanently open the border for Pakistani pilgrims entering Iraq through Iran.
Moreover, Sanaullah also put forward a request for the issuance of special visas to pilgrims wishing to visit the country for the chehlum of Hazrat Imam Hussain.
The requests were welcomed by the Iraqi minister as he assured immediate approval of the demands and their implementation, without any delays.
Read: Pakistan, Iraq sign tourism MoU
He also announced the opening of all entry points for Pakistani visitors and took action on the immediate processing of all visa applications of Pakistani visitors pending at the Iraqi Embassy.
Additionally, he also announced a special visa facility for Pakistani pilgrims going to Iraq for the chehlum.
During their discussion, the two also decided to increase the number of visas for aspiring pilgrims coming to Iraq from Pakistan.
Furthermore, they also agreed on the formation of a Pakistan-Iraq joint committee that will come up with sustainable solutions for all pilgrim-related issues and to take measures to promote peaceful relations between Pakistan and Iraq, along with improving coordination between the interior ministries of the two countries.
Sanaullah expressed gratitude to his counterpart for granting the requests and coming to the aid of the stranded Pakistanis.
He also invited Farhood to visit Pakistan, who accepted the invitation and expressed good wishes to his Pakistani counterpart.
COMMENTS (1)
Comments are moderated and generally will be posted if they are on-topic and not abusive.
For more information, please see our Comments FAQ