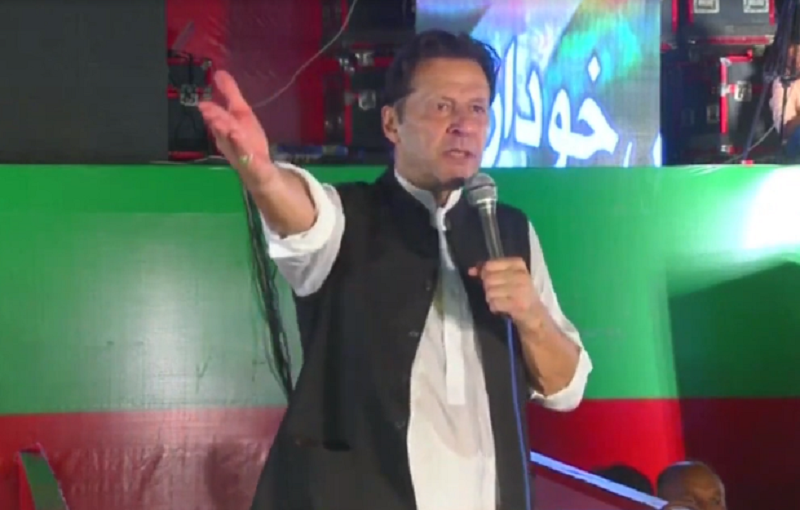 ---
SARGODHA:
Former prime minister and Pakistan Tehreek-e-Insaf Chairman Imran Khan has revealed that a conspiracy is being hatched to have him declared ineligible to contest elections, saying that four people sat in a closed room and conspired against him.
Addressing a rally in Sargodha, Imran said, "I have recorded a tape containing the names of four people who conspired against and planned to have my government declared ineligible."
Without naming anyone, Imran said: "If anything happens to me, that tape will come before the public and then the public will not leave those four people."
He said that they made the ineligibility plan after seeing the results of the Punjab election because now they know that the people will make the PTI successful with a two-thirds majority in the general elections. "They are trying to implement the plan by working with Chief Election Commissioner Sikandar Sultan Raja, but I can give it in writing that they will fail."
The PTI chairman said that the government filed blasphemy cases against them after the incident of Masjid-e-Nabawi (Peace Be Upon Him) and then filed terrorism cases, which brought Pakistan into disrepute around the world because his story was on the front pages of international organisations and newspapers which had never appeared before.
Imran said, "Now, they are coming towards Toshakha.
"I also want the Toshakha case to be conducted in an open hearing and then the details of the gifts given to Zardari, Nawaz Sharif, Yusuf Raza Gilani will come before the people and they will know how much who has benefited and harmed the country."
COMMENTS
Comments are moderated and generally will be posted if they are on-topic and not abusive.
For more information, please see our Comments FAQ