 ---
Amid the rampant influx of footages coming in from flood-affected areas like Sindh, Balochistan and KP, a heartbreaking video has surfaced which has several on social media perplexed. Having prompted a debate about the toxic and classist wadera culture, stemming from the dense feudal system in Pakistan, the visual was re-shared by rapper and comedian Ali Gul Pir.
Pir had a lot to say about the footage, suggested he has previously highlighted the issue with his song Waderai Ka Beta. While it couldn't be verified whether the clip is recent, it sees a man – reported to be Sindh's MNA Ameer Ali Shah Jillani – comfortably settled on his charpoy while the villagers surround him on the dusty ground. He sips from a can of soft drink until presented with a bottle of mineral water, which he uses to clean his shoes while the villagers stare at him.
The VIP rapper used the opportunity to empahsise on the need to end this modern-day slavery. Taking to Instagram on Tuesday, Pir penned, "These are the leaders of Sindh. Who sip cold drinks, get fanned and wash their shoes with mineral water while flood affected homeless people sit on the floor." In a series of Instagram Stories, he then acknowledged that the video may not be recent but "the issue is not this person, the issue is the mentality and then when these people are held accountable, [others] react and when they rebel, see what happens to them just like it did for Nazim Jokhio."
On November 3, 2021, Nazim Jokhio's tortured body was recovered from Pakistan Peoples Party (PPP) MPA Jam Awais's Malir farmhouse. Jokhio had protested against Awais and his brother's (MNA Jam Abdul Karim's) foreign guests to prevent them from hunting down the endangered houbara bustard in Thatta district.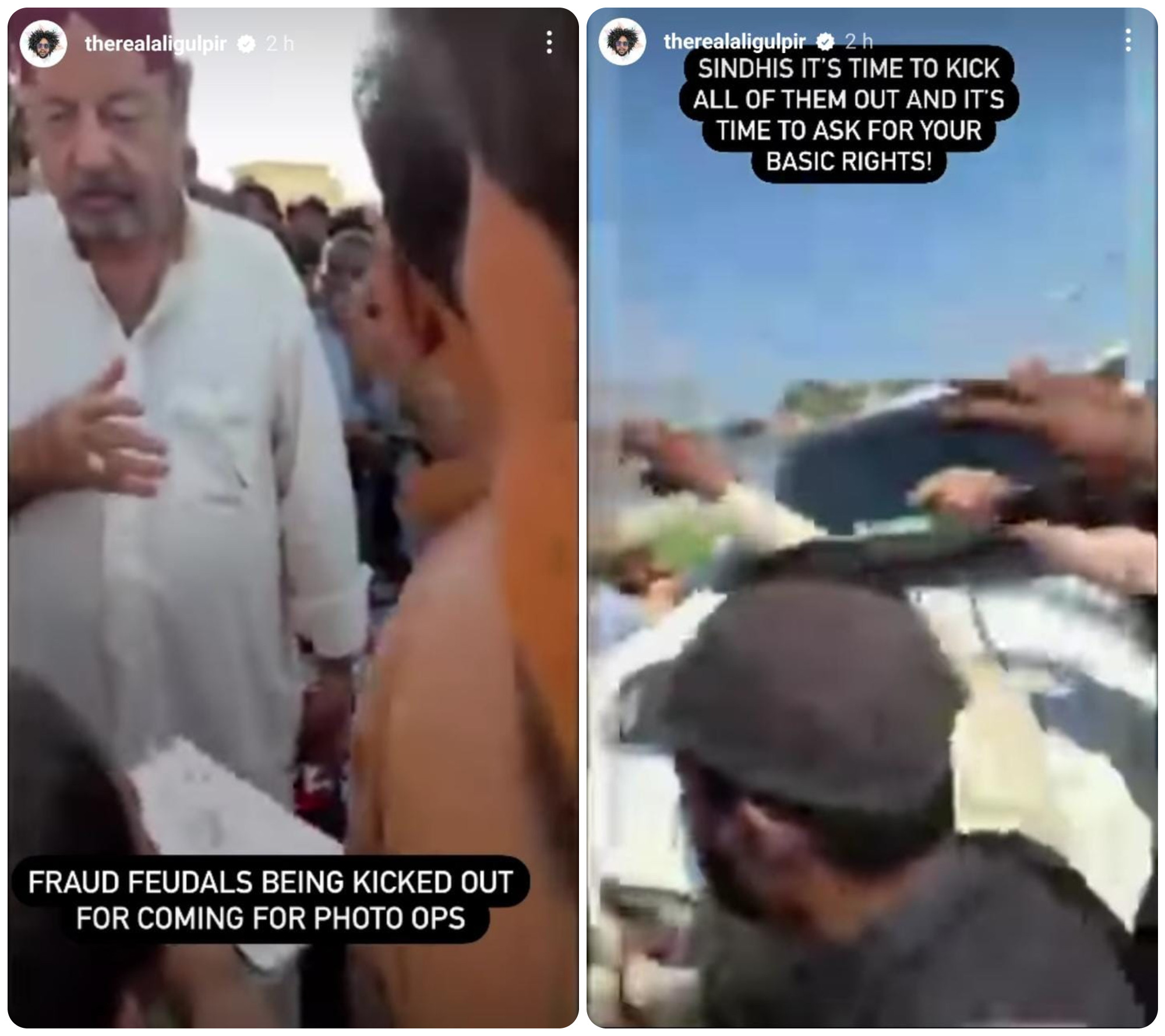 Pir went on to say that Sindh or for that matter, Pakistan, could not progress until the "wadera nizam [feudal culture] is dealt with." He added that "When people will be given opportunity, they won't fall for these tactics. If they have the right to make a choice, they will choose what they want." The artist and AGP podcast host also gave a shout-out to the people actually making in an effort in the flood-effected areas.
"There are a lot of good people who are doing good things in Pakistan with regards to the floods, there are a lot of people who are helping others out. I will share the names of those helping out and will dedicate a post to them. Let's support the people doing good and donate as much as we can so things get better for people," he stressed.
Pir also shared clips of people apparently demanding an explanation from feudal lords visiting them for "photo-ops" following the destruction caused by the floods in Sindh. "Fraud feudal being kicked out for coming for photo-ops," he captioned a clip. "Sindh, it's time to kick all of them out and it's time to ask for your basic right!" the rapper urged in another.
The rapper has raised his voice against the feudal system quite a few times. In 2012, he took a jibe at all feudal lords and their by-default, rich sons with his track Waderai Ka Beta, which became all the rage when it came out. The song sees Pir highlight the dressing, beliefs and attitudes of waderas from Pakistan's rural areas, as he mocks their constant show of power. The song shot him to fame and his most revered track till date.
Have something to add to the story? Share it in the comments below.
COMMENTS
Comments are moderated and generally will be posted if they are on-topic and not abusive.
For more information, please see our Comments FAQ