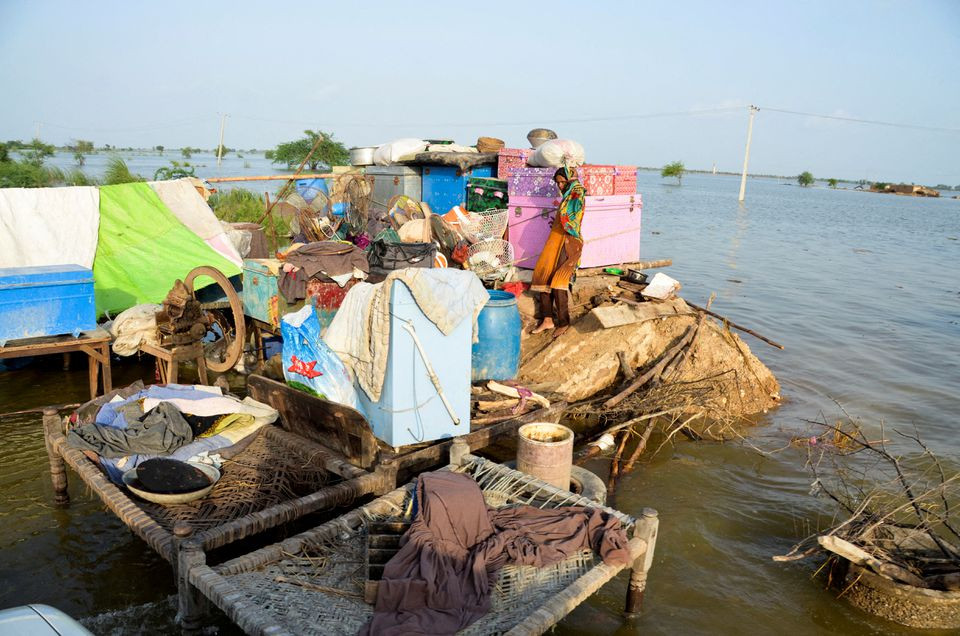 ---
ISLAMABAD:
More world leaders expressed solidarity with Pakistan on Tuesday in the wake of calamitous floods, raging up and down the country, and assured Islamabad of every possible help to mitigate the sufferings of the marooned people.
Britain's Prince of Wales Charles, Chinese Premier Li Keqiang and US State Department Counsellor Derek Chollet in their separate messages expressed solidarity with the government and the people of Pakistan over the human and financial devastation wrought by the floods.
Chinese Ambassador to Pakistan Nong Rong conveyed the special messages to President Dr Arif Alvi and Prime Minister Shehbaz Sharif from the Chinese leadership. The leadership expressed grief over the losses.
Chinese Foreign Ministry Spokesperson Zhao Lijian said in Beijing that after Pakistan was hit by the flooding, China had been feeling for the security of the people in the affected areas in Pakistan, adding, "we feel for the difficulties facing Pakistan".
Zhao said President Xi Jinping had already sent a message to President Dr Arif Alvi, expressing his sympathies over the severe flooding and disasters in Pakistan. "Premier, Li Keqiang also sent a message to Pakistani Prime Minister Shehbaz Sharif," he added.
Spokesperson Zhao told journalists that Beijing was among the first international responders to the flood disaster in the neighbouring country and would continue to provide emergency supplies to Pakistan to support its efforts in disaster relief.
Separately, Prince Charles said in his message to the prime minister: "My wife and I are deeply saddened by the devastation caused by the recent floods in Pakistan. Our hearts go out to all the victims and their loved ones and to the millions of people who have lost property and their livelihoods."
"Your country is very special to us, with deep and enduring bonds to the United Kingdom. We would like to pay a particular tribute to the government of Pakistan, the military and emergency services, the countless volunteers and aid agencies who are working tirelessly to save lives and support those in need."
Read UK to provide 'urgent support' of £1.5m for flood relief efforts
The heir to the British throne said that the times like these "remind us of the fragility of our planet and the urgent need for humanity to live in harmony with Nature. Our prayers are with all our friends in Pakistan."
Counsellor Derek Chollet of the US State Department expressed solidarity with the flood victims in Pakistan in a tweet, following a telephonic conversation with Pakistan's Ambassador to the United States Masood Khan. "We stand with Pakistan at this difficult hour," Chollet said.
Deeply saddened by lives lost and severe humanitarian impacts in Pakistan due to recent flood. We stand with Pakistan. Spoke to Pakistani Ambassador @Masood__Khan on U.S. assistance for flood relief, economic & people-to-people cooperation, & stability in Afghanistan. #PakUSAt75

— Derek Chollet (@CounselorDOS) August 29, 2022
Also US senators Jim Risch and Ted Cruz sympathised with the flood victims, families and the affected people, whereas Congresswoman Sheila Jackson Lee wrote to US President Joe Biden for immediate provision of assistance to the flood victims.
"My thoughts are with Pakistan as it contends with deadly and devastating flooding. Vicki and I are praying for the victims, their families, and all those affected by this disaster," Senator Risch wrote on his Twitter handle.
My thoughts are with #Pakistan as it contends with deadly and devastating flooding. Vicki and I are praying for the victims, their families, and all those affected by this disaster. https://t.co/tWL6MVlE37

— Senate Foreign Relations Committee Ranking Member (@SenateForeign) August 29, 2022
The messages of support came as in response to Ambassador Masood Khan's letters to the US lawmakers, sensitising them about the widespread devastation caused by the floods and seeking their support for relief, rescue and recovery operations.
Khan has been visiting Michigan, New York and Chicago to meet the US leadership, businessmen and Pakistani-American community to solicit their support for flood victims in Pakistan. "We should keep in mind those families in Pakistan right now who are experiencing devastation of the flooding," New York Mayor Eric Adams said.
(WITH INPUT FROM APP)