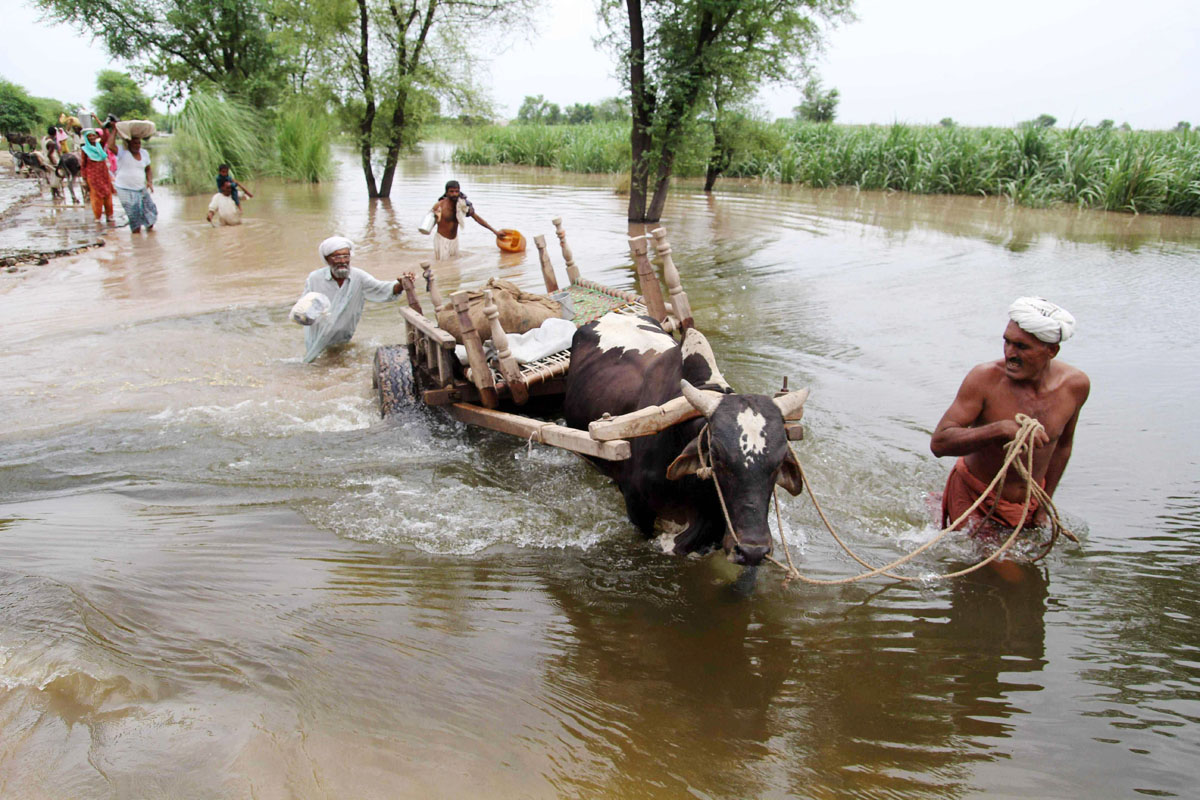 ---
LAHORE:
More than 727,000 cattle have died due to floods and rains across the country and the number is increasing rapidly.
Across the country, where hundreds of thousands of cattle died due to the Lumpy Skin Disease, now there have been large-scale deaths of cattle due to floods and rains.
According to the National Disaster Management Authority (NDMA), from June 14 to August 28, according to the data received from the district administrations across the country, 727,144 cattle have died so far.
More than 500,000 cattle have died in Balochistan, 8,771 in Khyber-Pakhtunkhwa, 23,000 in Punjab and 15,000 in Sindh.
According to Progressive Farms, due to the death of cattle, there is a shortage of meat, milk, curd and milk products in the country.
Punjab Livestock spokesperson Dr Asif Rafiq said that 266,700 cattle have died in Rajanpur, 1,784 in Dera Ghazi Khan, 331 in Mianwali and five in Leh.
He said that 7,759 animals were rescued from the flood-affected areas with the support of aid agencies, and around 250 animals were with the rescued families living in tents. Similarly, more than 187,000 small and large cattle were vaccinated.
According to the livestock officials, foot and mouth as well as stomach diseases among cattle could spread in the flood-affected areas.
According to the financial year 2021-22 economic survey, the livestock sector accounted for 61 per cent of Pakistan's agricultural value-added products, while the share of livestock in Pakistan's overall GDP was 14 per cent.
Eight million families of the rural population of Pakistan raise cattle and 35-40 per cent of their income came from livestock.
Also read: Distraught flood affectees hoping for a miracle
During the last financial year, however, the livestock sector had improved by 3% and steps were being taken by various provincial governments to promote this sector.
Talking to The Express Tribune, Progressive Farmer Aamir Hayat Bhandara said that the death of cattle due to floods and rains may be more than the government agencies' statistics because many cases of cattle death were not reported.
He said that due to the death of cattle and the destruction of crops, the economic condition of the families whose lives depended only on the income obtained from milk and meat of cattle would further deteriorate, but it would also "give a blow to the country's economy".
He said that shortage of meat, milk, curd and milk products had started across the country. He appealed to the aid agencies that where they were providing food to humans, they should also arrange fodder for cattle.
According to the Dairy and Cattle Farmers Association, there were currently more than 8,000 cows and buffaloes in Pakistan, whose value was more than Rs16,000 billion and they were the most valuable capital of the country.
They supply 130 million litres of milk to Pakistan daily, the value of which is Rs13 billion per day and Rs4,745 billion per year. According to the government estimates, 70 per cent of the country's total livestock was from Punjab and 85 per cent of the livestock was raised by small farmers with two to 10 cattle each.
COMMENTS
Comments are moderated and generally will be posted if they are on-topic and not abusive.
For more information, please see our Comments FAQ