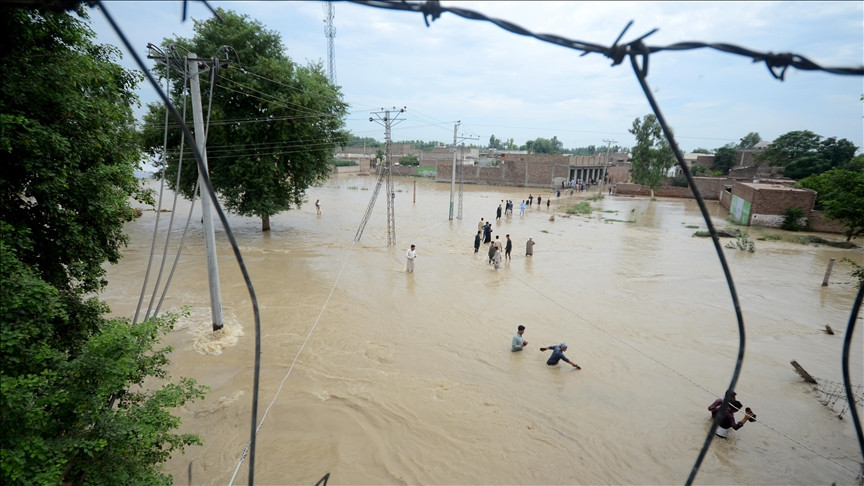 ---
KARACHI:
Sindh's displaced communities, who are already stuck in stagnant rainwater, face another challenge of the breakout of diseases and skin infections.
This is because of unhygienic conditions and contaminated water.
Health experts warn of outbreaks of diseases including malaria, dengue, typhoid, diarrhoea and skin infections among children, women and elderly persons.
The helpless, displaced and depressed people complain of lack of immediate health relief and medical camps near them.
"Every second person is sick," said Khan Muhammad Khaskheli, a resident of Nehal Khan Khorkhani of Khairpur district. "I see people helpless and mentally disturbed," he added. "There is no medical facility for the poor and some of them, who can afford it, are shifting their loved ones to the cities," he narrated.
Khaskheli said that one of his relatives was in dire need of medical support but had to tolerate excruciating pain the whole night.
"He was shifted to the hospital the next day," he added.
There are 2,257 health facilities in Sindh and the health authorities claim that only 200 of them are functional because of stagnant water in the buildings.
"All are actually functional as the staff have been ordered to set up camps in the damaged hospitals," maintained Sindh Health Services Director General Dr Juman Bahooto.
However, the victims negate this claim.
"I do not see people receiving medial relief," Rabail Siyal, a resident of village Pathan of Larkano district, complained.
"It is just a farce by the government. They cannot provide relief to the people and unfortunately can't accept it either," he said.
The health experts say that the government was practically unable to handle the prevailing situation.
"No one was ready to face this challenge and our system doesn't have capacity to respond to it," Pakistan Medical Association (PMA) Karachi Chapter's General Secretary Dr Abdul Ghafoor Shoro commented.
He added that dozens of volunteers as well as independent organisations had set up their medical camps across Sindh. "It confirms the absence of government machinery," he said. "Over 80% of patients were confirmed with malaria because of the presence of mosquitoes," he added.
Dr Shoro pointed out that the present emergency had exposed the government's primary healthcare system that was already weak.
"The government should call international health organisations to help it as the situation will be out of control in the coming days," he cautioned.
The displaced persons have been using contaminated water as well as unhygienic and not properly cooked food.
The health authorities claim that they have set up over 4,500 mobile and fixed medical camps in the last two weeks. "We regularly manage at least 500 medical camps and sometimes the number goes to 800," provincial health dervices DG Dr Bahooto claimed.
The government official further told The Express Tribune that most of the people coming to hospitals and medical camps had fever [malaria and dengue], diarrhea and skin diseases.
"It is because of the use of contaminated water. We have already advised people to use boiled water," he added.
Dr Bahooto did not agree that there was a shortage of medicines in any area but sources in the health department told The Express Tribune that the burden on regular OPDs had increased by about 40 times. "We are going to face medicine scarcity within days," a senior official claimed.
Despite tall claims by the health department, the displaced families and people living in far-flung places said its teams had not reached their areas.
The most affected areas include Dadu, Qamber-Shahdadkot, Jamshoro, Badin and parts of Mirpurkhas division.
"Yes, it is still difficult to reach areas with no road access," said Riaz Hussain Rahojo, the chief operating officer of the People's Primary Healthcare Initiative (PPHI).
"It has stopped raining for the last two days but it will take us time to reach everyone in the next few days," he told The Express Tribune.
Rahojo claimed that the burden on 1,300 health facilities, which were being looked after by his organisation, were functional and open to everyone round the clock.
"The burden on OPDs is huge these days and we all take it as a challenge," he said.